CSUSB's survey research capacity is world-class
Editor's note: This part of a series of profiles of faculty and their research by Montgomery Van Wart, a professor of public administration and a CSUSB Faculty Research Fellow in Faculty Affairs and Development. In this article, he features Miranda McIntyre, assistant professor of psychology and the CSUSB Sona Lab used in the psychology department for research. 
By Montgomery Van Wart
There are many types of empirical research, such as experimental (a favorite with the hard sciences), observational (popular in education and sociology such as the Cal State San Bernardino Child Studies Lab), content analysis (frequent in the humanities and communication studies), and case studies (much used in the education and business disciplines).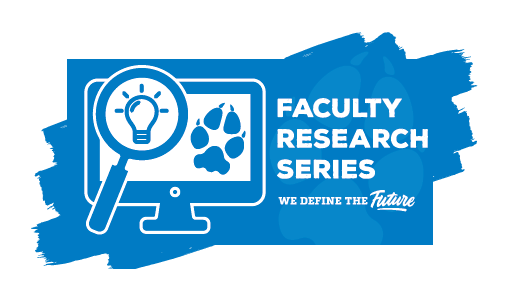 One of the most common for social sciences is survey research, which is the collection of information from a sample of people through their answers to questions. While survey research can be conducted to collect consumer and polling data (such as the CSUSB Institute of Applied Research and Policy Analysis), or using professional survey companies (which is expensive), or having individual researchers conduct it entirely on their own (which is generally challenging), campus-based academic survey research labs are affordable, provide quick and easy access, educate faculty and students in the process, and enhance research productivity many fold.
CSUSB is fortunate to have a participant pool lab. Using the state-of-the-art SONA software, it is simply called the Sona Lab in the psychology department, where it has been developed and maintained for the use of its large number of faculty and student majors. 
The Sona Lab is led by Miranda McIntyre, an assistant professor in the psychology department, who recently took over from associate professor Cari Goetz. McIntyre herself is a good example of how important having such a lab is.
Over 75 percent of her research has utilized the resources of a participant pool lab. While at Purdue University, McIntyre published four articles in prestigious journals (those have an impact factor) including the impressive Personality and Social Psychology Bulletin. Her research focused on individual attention and self-presentation.
She has continued that trajectory here at CSUSB where her research has branched out into individual differences and college organizational affiliations, STEM learning, and ostracism. High quality data has been key for her to consistently publish in high quality journals and the Sona Lab has played a significant role in that.
Psychology department chair and professor Christina Hassija noted SONA is an online survey management system that creates an efficient and organized way to provide students the opportunity to learn about and participate in the research process, while providing faculty and student researchers access to student populations.
The lab does both in-person and electronic surveys, provides modest but increasing amounts of extra credit for students participating based on the time requirements, and is fully integrated into the appropriate administrative systems.
The statistics of the lab are very impressive. This last year (a slow one because of the pandemic), the lab had 1,845 unique participants, which collectively completed 3,755 hours of study participation. The lab supported the research needs of 20 faculty and more than 80 student researchers. Over 50 different studies were conducted ranging from emotional eating, to online dating, to first-generation students, to sibling research. Over 50 master's theses have used the CSUSB Sona lab for their database. It is little wonder that the psychology department is among the top five most productive departments in terms of overall and per capita research productivity at the university.