Master of Team Chemistry: Andreas Beyersdorf
Editor's note: This part of a series of profiles of faculty and their research by Montgomery Van Wart, a professor of public administration and a CSUSB Faculty Research Fellow in Faculty Affairs and Development. In this article, he features Andreas Beyersdorf, an associate professor in Cal State San Bernardino's chemistry and biochemistry department.
---
By Montgomery Van Wart
Andreas Beyersdorf is an associate professor in Cal State San Bernardino's chemistry and biochemistry department and an analytic chemist whose overall research interest is air pollution. He is a nationally renowned expert in aerosol pollution and optical properties with approximately 4,000 Google Scholar Citations and 91 cited articles and papers.
In his 14 years as a research scientist and assistant professor, he has averaged an amazing 6.5 cited publications a year. When asked what the secret to his success is, you expect him to talk about his brilliant insights as an analytic chemist and how hard he works at his craft. He doesn't.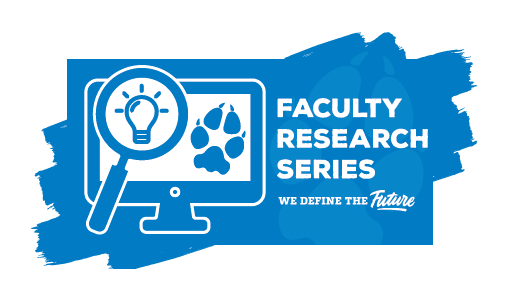 What he discusses is how important it is to be a member of good teams and to be a good team player. He talks about the chemistry of teams because science is very much a team sport. And he is clearly a master of team chemistry as a member of four loose, but highly productive, teams.
One of his ongoing teams started in his graduate research program, which keeps him involved with preeminent researchers studying air quality in locations around the world. A second team derives from a local network of researchers who focus on air quality projects in Southern California. A third team he belongs to is a NASA project called the Student Airborne Research Program (SARP), in which students from around the nation conduct studies on air quality in NASA aircraft.
Beyersdorf also works with a team of investigators from various University of California and CSU campuses, including Larry Mink from the CSUSB chemistry department and Mihaela Popescu from the CSUSB communication studies department, on the development of adaptive homework for students taking general chemistry. This project will allow students to get real time assistance with difficult chemistry problems while doing their homework improving student learning.
When nudged, he talks about some of the dynamics of team chemistry. First, he notes, keep interacting. "If too much time goes by," he says, "you lose your momentum and motivation." He follows that up by saying, "You really need to always be active, every week, if only for a few hours."
When asked about team roles he responds, "Do your job in the project and do it on time so others can work with and improve on your results." Almost as an afterthought he smiles and adds, "Of course it really helps to pick good teams in the first place."
Some of the areas in which his teams have been at the cutting edge are studies on alternative aircraft fuels and urban air pollution. He has been a part of projects in which sampling is done directly behind aircraft burning traditional fossil fuel and fuels made from non-fossil fuel sources such as camelina (a flowering plant), which burn much more thoroughly, which is to say, much cleaner. He also thinks that the contribution of his teams to the exact mapping of pollution sources in cities across the United States has been a major step forward in pollution studies.
His studies of air quality are global including numerous locations in Southeast Asia, Mexico, South Korea, Canada and even Greenland. While occasionally he is a member of the data collection team that spends up to a couple of months on site collecting samples, in recent years that has been difficult with his heavy teaching schedule.
Back at the lab he has many instruments that he uses to analyze air content. He uses three types of spectrometers: a gas chromatography—mass spectrometer; ultraviolet-visible spectrometer; and an inductively coupled plasma optical emission spectrometer. These instruments are also used by at least a half dozen different faculty in the College of Natural Sciences. In fact, these types of lab instruments are used by many disciplines. For example, applications of a gas chromatography—mass spectrometer include drug detection, fire investigation, explosives investigations, analysis of unknown samples, and many areas in environmental studies. Its strength, as a tool, is the machine's ability to analyze a sample for a single, microscopic, trace compound with incredible accuracy.
Beyersdorf's attitudes about his work as an analytic chemist focusing on air pollution and his instinctive understanding of the chemistry of teamwork have been the foundation of his success. He is remarkably understated about his accomplishments, which reminds one of Einstein's comments that he (Einstein) had no special talent, but he was passionately curious. He is a quietly passionate scientist who finds his work important and enjoyable. His comments about teamwork remind us of Michael Jordan's observation that "talent wins games, but teamwork and intelligence win championships."
Given Beyersdorf's individual record, he clearly has the talent. And given the success of his team's massive productivity, they are certainly champions.