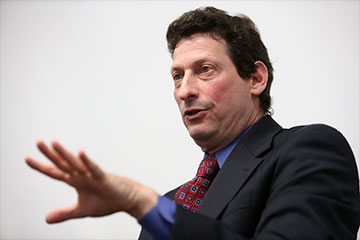 Photograph of Brian Levin
Thank you for your interest in the Center for the Study of Hate and Extremism. We are a unique and, I believe, important institution in the United States today. For over two decades, first in my studies at Penn and Stanford and then professionally, I have researched and lectured on hate and extremism around the globe. From this, I have concluded that while many people are concerned about individual outcomes, a key element to the maintenance of our pluralistic democracy and others throughout the world is the ability of folks to be exposed to peaceful, non-threatening, deliberative, intelligent discourse as a way to move forward.
As the son of a Nazi-era POW and grandson of immigrants from totalitarian regimes, I have the same appreciation that most Americans share for the special gift that our system of civil, yet uncensored, discourse has given to the world. Yet, there is an emerging threat to people of goodwill. As methods of violence become more popular, lethal, and accessible, there are those who employ it to circumvent democratic methods because they simply lack the rational power of persuasion and a belief in civilized conflict-solving. I am particularly concerned that for some, on all different sides of the political spectrum, bigotry, and violence have once again become an acceptable way to advance their cause. We, through the power of balanced information and discourse, intend to stand in their way.
You may be surprised to learn that the Center generally avoids taking substantive positions in areas where our political process is working. Moreover, we are flatly opposed to efforts for governmental censorship of hateful language, whether on talk radio or college campuses—we feel it is far preferable to expose and criticize it for what is than to censor it.
We further affirm that there are people of goodwill on both sides of important issues like immigration, foreign policy, the environment, affirmative action, the economy, and abortion who deserve to be heard. Our Center only becomes concerned when people use these legitimate debates to promote violence, tactical falsehoods, and an attack on the pluralistic institutions of our democracy.
It is my sincere hope that our Center can be a forum where people of goodwill of all persuasions can find out information about hate crime and violent extremism. By providing information on these issues, it is our hope that all sides of the political spectrum can become engaged.  With that in mind, we welcome and will post scholarly and professional contributions and links from diverse perspectives—including some that I personally vigorously disagree with.
Warmest Regards,

Brian Levin, Professor Emeritus
Founder, Center for the Study of Hate & Extremism
California State University, San Bernardino