Joe Gutierrez | Office of Strategic Communication | (909) 537-3007 | joeg@csusb.edu
CSUSB Model UN program ultimate goal to develop hopeful, vocal scholars
While his job as director of the Model United Nations program at Cal State San Bernardino is to prepare the student delegates to take on the role of diplomats at National Model United Nations conferences, Sina Bastami says it goes a little further than that.
"We train them to become, or act like, diplomats and delegates of the United Nations," Bastami said. "But, to be honest, the point of the program is to create hopeful, vocal scholars." The scholarly work is what they do to prepare, the vocal work is in presenting their knowledge, and "hopeful is who they are for the future. So, if I can put together a hopeful, vocal scholar, then I've done my job as a director."
And those hopeful, vocal scholars, representing Austria at the prestigious annual intercollegiate conference in New York City April 10-14, prepared and presented themselves well enough to be honored with a Distinguished Delegation award.
That recognition continued a tradition of excellence in the past 31 years (the university has participated in the program for 46 years) where the program has been honored with either a Distinguished Delegation or Outstanding Delegation award, the National Model UN's top recognitions. To put their accomplishment in perspective, the New York conference is so large that it is divided into two separate sessions. Along with its annual conference in Washington, D.C., in the fall, the National Model UN conferences bring in more than 4,100 students and 305 faculty from more than 275 colleges and universities. Student delegates come from not only the U.S., but throughout the world, including universities in Europe, Asia and South America.
The student delegates prepared for the conference through most of the spring semester, meeting every Friday from 2- 6 p.m., learning about the structure and workings of the UN, and how, as perhaps the most important intergovernmental organization in the world, it addresses problems and challenges in the global community. They also developed skills in public speaking, negotiation, conflict resolution and policy writing – and how to do so in a collaborative effort when policy agendas might appear to be in conflict with each other.
"I think that this program is probably the most intense program you'll ever be in," said one student delegate, Ethan Silva, a senior political science major. "You learn about all kinds of different countries – it's not just Austria or a specific country. It's the whole world, because you have to know all the aspects of what they focus on, what they want to implement. You learn so many new things."
And it's not just gaining information and knowledge for the conference. Unlike a debate conference, the National Model UN is a conscious practice in team building, cooperation and inclusivity in order to find real solutions to the real problems of the future. Because of that, many of the skills learned in the Model UN have broad application.
Eric Lowe is a CSUSB alumnus who participated in the Model UN from 2016-19. He and his wife, McKenzie Kelly, also a CSUSB and Model UN alumna (2013-18), were volunteers at the New York conference and also helped the Cal State San Bernardino team prepare.
---
The next National Model UN conference the CSUSB Model UN plans to participate in will be in Erfurt, Germany, Nov. 19-23. Students in all levels and majors are encouraged to apply.
Go to the CSUSB Model UN website and click on "How to Join."
---
"For me, it was professional development," Lowe said. "The skill set that I utilized here as a student has helped me get jobs at the university – I work down the hall as an administrative support coordinator in the  economics department and teach part time (in the history department) – and the big part of that is the skills I developed here, public speaking, interpersonal communication, collaborative working, all those things we learned here on this team I was able to transition that into my professional work life."
And the skills of listening and talking to people of different backgrounds and points of view, couched in respect and civility, when there are disagreements are important in the classroom for Kelly, who is a science teacher at Colton Middle School. "I would say that that's true, at least in my own experience, getting out there and hearing people, regardless of our differing viewpoints," she said. "I use that all the time as a teacher with my students. I do think that skillset is lacking outside of Model UN."
Added Lowe: "Some people never get the opportunity to hear different perspectives. You can be easily trapped into just sticking to what you know or what you grew up with. This program provides these students with the opportunity to research the perspective of a member state that they maybe never even heard of. And they have to research it, understand that opinion, and come in and discuss it with other people.
"So, you gain an appreciation for other viewpoints that you might have never been introduced to," he said. "And when we look at conflicts around the world, and even in this country, political debates and such, people aren't willing to hear the other side of the conversation. And that's a skillset that we are willing to foster here: listening to everyone's viewpoints before you make a decision as a group."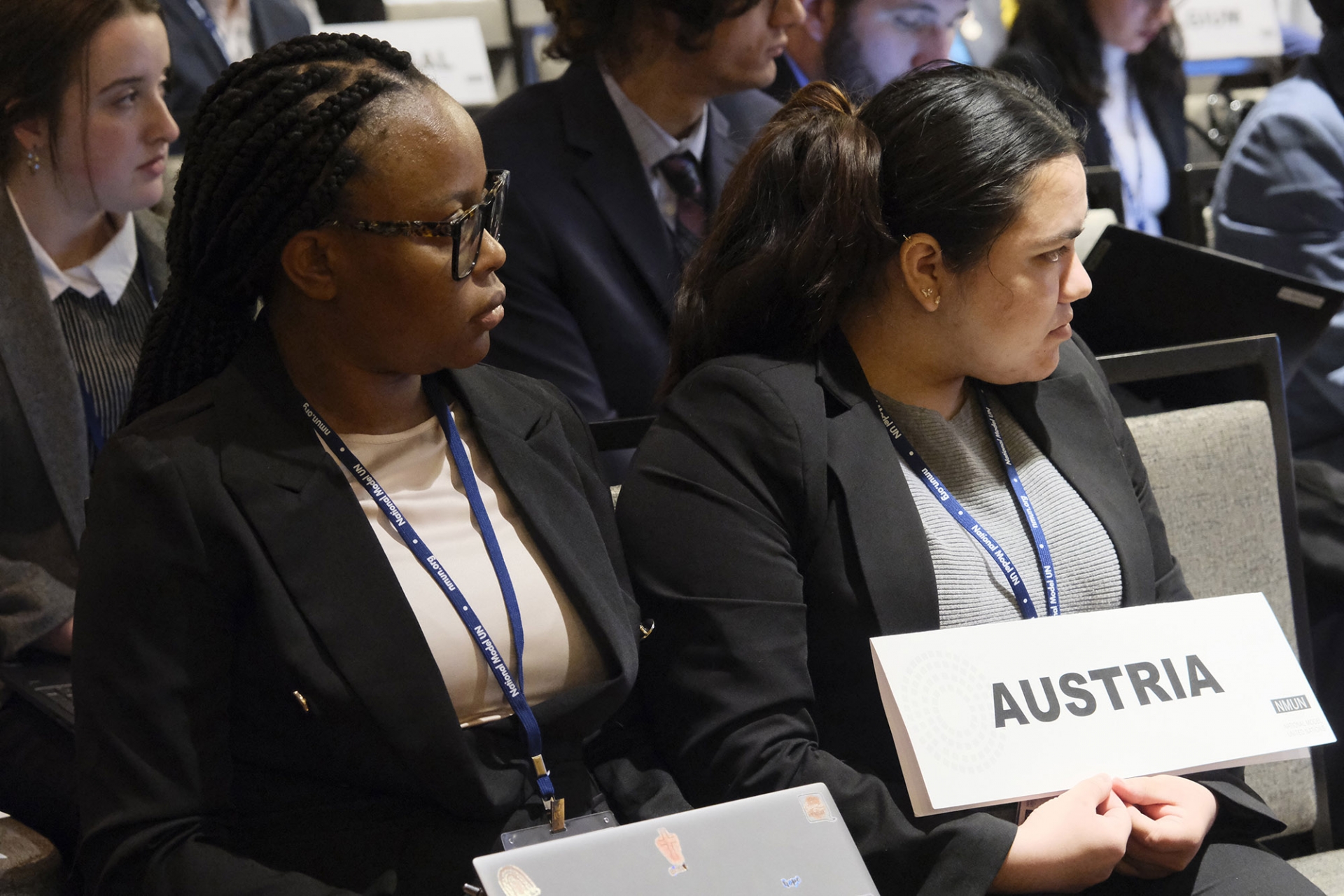 A strength of the CSUSB Model UN program is its diverse student population, not just racially or ethnically, but also in terms of gender and religious representation. Just as important, it tries to also recruit from a broad cross section of academic disciplines, such as environmental studies, public health, communication studies, business, cybersecurity and the social sciences.
That's evident in the 2023 team: Angeli Richard (global studies), Alexander Edsell (cybersecurity), Guadalupe Miranda (public health), Cynthia Roman (cybersecurity), Ethan Silva (political science), Blessing Nwogu (business intelligence), Michelle Markham (sociology), Ramtin Ranjpour (communication studies), Pedro Hernandez (global studies), Krystopher De Lira (criminal justice), Joselyne Salcedo (national cybersecurity), Alyssa Lujan (global studies), Karen Terrero (international business), Luis Fernando Lizama (history), Gary Williams (sociology), and Rachel Rodgers (communication studies).
It was, Bastami said, one of the most diverse teams in program history, with the highest number of students with majors outside the social sciences, the highest number of first-generation students and the highest number of international students. And as broad as that may appear, Bastami said he's aiming for even more diversity, in as many ways possible, in the coming years.
Said Lowe, "For our students, coming from Southern California, for them to have the opportunity to realize that they are part of that larger conversation, that they can bring their viewpoints to global change – that's what I hope they take away from this."