CSUSB's Opera Theatre to present 'Book of Longing'
The award-winning Cal State San Bernardino Opera Theatre, now in its 16th season, will present "Book of Longing" by Philip Glass, with poetry by the iconic Canadian singer-songwriter and poet, Leonard Cohen, on Wednesday, April 26, and Thursday, April 27, at 7:30 p.m. in th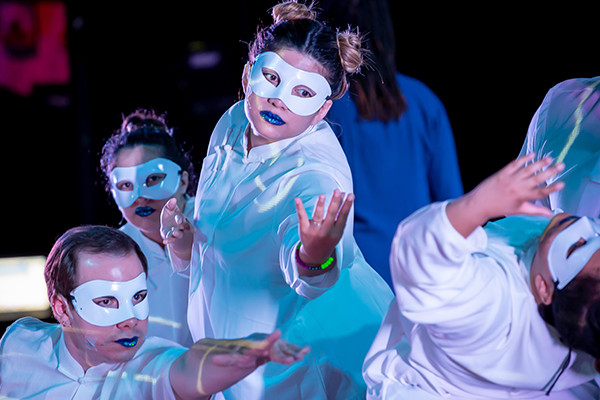 e Performing Arts Recital Hall.
"Book of Longing" is a song cycle composed for ensemble, singers, spoken word and imagery. The culmination of years of mutual admiration between two of the most celebrated musical artists of their generation, the piece features new music by Glass that is inspired by Cohen's collection of poems and his artwork of the same name.
In 2001, Cohen and Glass began talking about a poetry and music collaboration and arranged to meet in Los Angeles, at which time Cohen shared a manuscript that became the basis of the collection of poetry now published as the "Book of Longing." According to the composer, over an afternoon that stretched into the evening, Cohen read virtually the whole book to him. In his program note of the piece, Glass says that he found the work intensely beautiful, personal and inspiring, and on the spot, he proposed an evening-length work of poetry, music and image based on this work. Cohen liked the idea, and they agreed to begin. Six years later, the book was published, and Glass had completed the music.
CSUSB Opera Theatre will present 65 minutes of the original work, without intermission, and will feature the CSUSB opera students as well as guest dancer-choreographer Faith Jensen-Ismay of the critically acclaimed San Diego-based dance company Mojalet Dance Collective, guest dancer Twila Fraser-Hewlett and Department of Theatre Arts professor Kristi Papailler in the role of Cohen.
The band features some of LA's top new music players, complete with oboe/English horn, clarinet, saxophone, three keyboards, percussion and strings, conducted by David Rentz with music direction by Alastair Edmonstone.
Stacey Fraser, director of the CSUSB Opera, has chosen to set the work in an abstract version of the Zen Monastery at Mount Baldy where Cohen lived for several years and wrote much of the book, his attempt to leave "Boogie Street" or the "rat race" and find respite, as described in one of the songs from the work.
Fraser explains that the piece is not traditional in the sense of what one might think when one hears the word "opera." There is no clear narrative to follow and much of the movement and gesture is abstract in nature. The audience will see and hear repetition throughout the piece in a true minimalistic fashion.
She describes the staging as "being extremely physical and mental work for the performer" and that "they are not only thinking about their vocal technique, but they are also thinking mathematically to perform Glass' music correctly while sustaining great energy and strength in their choreographed movement. You will see these singer-actors sweating! An unbelievable amount of energy is required to 'hold a pose' or simply just sit."
The CSUSB Opera Theatre production features soprano voices Laura Cifuentes and Cassandra Perez, altos Jan Hanken and Eve Siliezar, tenor Christian Quevedo and baritone voices David Henry and David Begnell, with lighting and sound design by Cash Tijerina and digital scenic design by CSUSB music and art student Priscilla Ibarra.
To purchase tickets, visit the CSUSB music website.