Inclusion for all: CSUSB full-time lecturer leads the way in disability inclusion research

"Inclusion is not a nicety," affirms Jess Nerren. "Inclusion is a necessity."
Nerren, the interim faculty director of Cal State San Bernardino's Services to Students with Disabilities (SSD) and full-time lecturer of communication studies, is a disability inclusion researcher who explored the topic in her dissertation and, with the help of scholars across the country, published a book that focuses on disability inclusion, particularly autism inclusion.
"I'm not a disability researcher in the sense that I don't do research on people with differences nor would I," she clarifies. "I do disability inclusion research with the disability community on how institutions can do right by people with differences, in particular autism, in our respective communities, fields of practice and beyond."
Through her research, Nerren hopes to answer the community's questions, develop inclusive research practices, and work with individuals with autism in developing new critical theories and research methodologies so that others can continue in this thread of scholarship.
"I want to assist in amplifying and centering the voices of people with differences in research every step of the way," she says.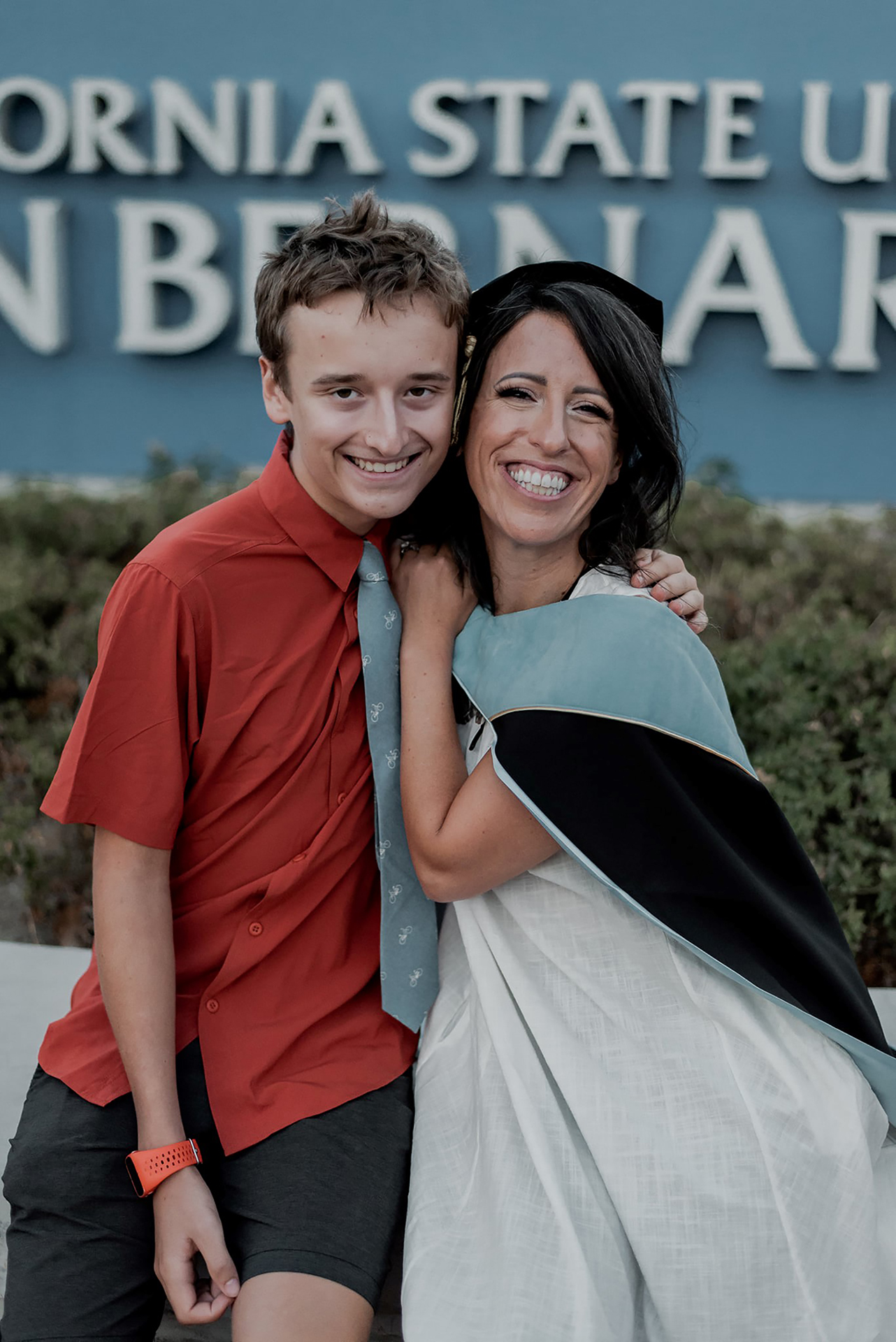 Nerren, who earned an educational doctorate from CSUSB in 2021, says she learned the importance of inclusion from her son, who is a pediatric cancer survivor and a person with autism.
"I've learned a great deal from my son, Royce, who is an excellent self-advocate," she says. "His milestones and progress were hard fought, and I learned by being part of his support network along the way."
Royce, who is now a high school senior, even served as an editor on her dissertation, "The Public Relations of Inclusion."
In addition to her son, Nerren's motivation for conducting disability inclusion research stems from the unfortunate tragedy and violence that people with differences often face. This includes her late next-door neighbor, a person with differences who was shot by off-duty police in a neighborhood Costco, which became a national news story.
"I also advocated alongside a late mother and son duo who lost their lives in a tragic house fire in each other's arms," she says. "I dedicated my dissertation research to them so that their legacy, along with others, may live on."
With the help of several CSUSB colleagues, her dissertation formed into the book, "Rethinking Perception and Centering the Voices of Unique Individuals: Reframing Autism Inclusion in Praxis." The book explores the scholarly research related to autism inclusion, disability inclusion, disability studies, communication, critical scholarship, education, education reform and educational leadership.
"Every single chapter in that book was not only reviewed by scholars and practitioners, but also by people who were neurodivergent as part of the peer review process," Nerren says. "That was really important to me that there was self-representation throughout the book."
Nerren has a long history of working with the autism nonprofit and behavioral health community because those communities, she says, accepted her and her family, even during challenging times.
"We learned and grew in these spaces and met people who paved the way for me as a parent and caregiver, that paved the way for my son as in individual and self-advocate," she says. "So, if we can pay it forward, we want to."
Nerren's past and current service includes being on the Autism Parent Advisory Board to Children's Hospital Los Angeles; on the executive committee of the Riverside County Special Education Local Plan Area as public information officer and legislative chair; a founding board member of The Miracle Project national nonprofit; the communications chair of the Los Angeles, Orange County, Santa Barbara and San Diego Autism Walks; and on the Stakeholder Committee and Diversity Special Interest Group for CalABA.
And as the interim faculty director of CSUSB's SSD, Nerren is dedicated to helping its students, ensuring that their needs are met and that the office complies with the laws such as ADA (Americans with Disabilities Act) and section 504, which includes the CSU Executive Orders that apply to accommodation and inclusion.  
"SSD is a great step towards future successes in school and in life because it assists in addressing barriers faced by people with differences as they reach for their unlimited potential," she says.
Nerren also focuses on helping faculty by discussing accommodation implementation, building relationships, improving resources and strengthening networks across the university.
"This is so important because our faculty have legitimate questions about what to do next when they get an accommodation letter," she says. "I'm here to help with that in peer-to-peer interactions where faculty can engage in dialogue about inclusive practices, UDL (Universal Design for Learning), accommodation and more."
Nerren says her opportunity to become interim faculty director at the SSD came directly from her work as a student in the Ed.D. program. She credits Becky Sumbera, assistant dean of the James R. Watson and Judy Rodriguez Watson College of Education; Chinaka DomNwachukwu, dean of the Watson College of Education; and Rueyling Chuang, dean of the College of Arts and Letters, for helping her and believing in her work.
She is also proud to work alongside Molly Springer, associate vice president of student success and educational equity, because she is a "pinnacle of leadership in our institution," who has been helping her during her SSD journey.
"I'm so very proud of the institution for inviting me into SSD," Nerren says. "I think it really shows their willingness to apply critical scholarship and cutting-edge best practices into professional campus spaces in ways that are profound and meaningful."