Joe Gutierrez | CSUSB Office of Strategic Communication | (951) 236-4522 | joeg@csusb.edu
Working behind the scenes brings CSUSB theatre arts student front and center
Isabel Peña is the first CSUSB student to earn the Kennedy Center American College Theater Festival (KCACTF) fellowship in stage management, both regionally and nationally.
Pointing to her bright pink hair and facial piercings, Isabel Peña says the theatre arts community is a place where people can freely express themselves – from those who identify as LGBTQ to "military kids" like herself.
"What I enjoy the most is that you can just be yourself," says the Cal State San Bernardino theatre arts student as she gestures to her unique dye job. "It's an outlet to express yourself in ways some other people may not be able to and it's an escape for a lot of people."
Growing up on military bases, Peña was homeschooled and used theatre arts as an outlet. What started as a hobby on stage eventually brought her to working behind-the-scenes on theatre productions when she attended high school in Victorville, Calif.
Not one to follow the crowd, she accepted her drama teacher's invitation to work backstage rather than be an actor – something that all the other students wanted to do.
"I've always been that person to try something else," she explains.
It was there she found her passion for stage management – working with everything from lighting to sound, set designs to props used for the show.
Discovering and following her love for stage management has led her to major in theatre arts with a design/technical emphasis and become the first CSUSB student to earn the Kennedy Center American College Theater Festival (KCACTF) fellowship in stage management, both regionally and nationally.
"Knowing that I'm the first one to win this, it feels really good to put our department on the map," she says, expressing that the shock of it all still lingers. "I knew how big it was and we've never had anyone from CSUSB win before. Knowing that, I felt very overwhelmed, but I was proud because I worked hard to get where I am."
Peña, who is president of the university's theatre club, Players of the Pear Garden, is one of only eight people to be awarded the 2022 stage management fellowship by KCACTF, a national theater program involving 18,000 students annually from colleges and universities across the country.
"It's very exciting just because going in, I didn't have any expectations of winning. It was my first time even participating in the festival," she says. "So, winning it overall was ultimately a huge surprise."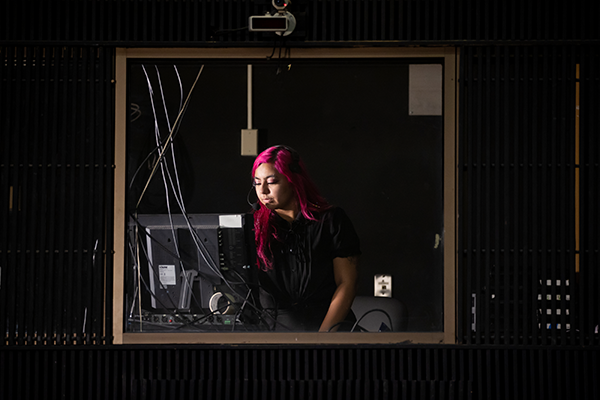 Earning the prestigious fellowship required participation in numerous workshops and interviews, and the submission of a comprehensive prompt book to the KCACTF respondents, filled with everything from scripts to reports.
She credits Eric Mulz, professor and technical director of the CSUSB theatre arts program, for nominating her for the fellowship and guiding her not only through the process, but throughout her academic journey.
"He really took me under his wing," she says, especially when her first stage management project at CSUSB took place during the pandemic when the university was primarily virtual. "He had daily Zoom meetings with me to make sure I knew what needed to be done. He also had weekly updates with me. He would ask, 'How can I help you improve your craft?'"
"Most times she knows her limitations and exceeds them or works very hard to," says Mulz, who describes Peña as thoughtful and hardworking. "She is learning how to walk that fine line between student and stage manager … Isabel is one of the quickest students at becoming a stage manager that I have seen in the last 20 years I've been training them."
In addition to Mulz, Peña is grateful for her mentor Savanha Moore '20, CSUSB theatre arts alumna. When Peña was a freshman, she assisted Moore in a CSUSB production when Moore was a senior.
"Isabel was a great assistant," Moore recalls. "She was willing to learn anything and everything she could and wasn't afraid of taking on a task and jumping in to lend a helping hand when needed. Since then, I've been fortunate to be a part of her journey and still be someone she can come to for anything."
"Savanha helped me at my time at CSUSB, even including now," Peña says. "She showed me the ways of college stage management … and she helped me to create my own way of stage management."
The KCACTF fellowship has brought Peña scholarships and has introduced her to various stage management opportunities. In addition to winning, she was invited to the Broadway Stage Management Symposium in New York City in late May. She unfortunately was unable to attend in person due to scheduling conflicts, but she was still able to participate virtually.
"The symposium was really eye-opening and really engaging," Peña says, noting that Broadway stage managers came to talk about their experiences and gave the attendees advice. The symposium also provided resources, workshops and panel discussions.
"Having those resources, talking to actual Broadway stage managers, asking about their experiences, and talking to other stage managers, it was amazing," she says. "I loved it and I got a lot of information that I will definitely be using."
She hopes to learn even more about the field and plans to obtain her master's degree in stage management after she graduates with her bachelor's in spring 2023. She acknowledges that stage management is a mostly male-dominated industry, which, she says, makes it even more important for her to go further in her education.
"Plus, there's a lot more to learn in stage management," she adds.
Peña is already putting her talent to use and freelancing for Art of Acting Studio in Los Angeles. She hopes to eventually freelance for more companies in the future, with the dream of eventually working overseas, not only in the theatre realm, but in other avenues, such as music concerts.
"I want to work hard," she concludes. "My goal is to succeed as much as I can, while also having fun."