Dorothy Chen-Maynard is the recipient of the 2020-21 Outstanding Service Award
Nutritional science expert Dorothy Chen-Maynard, a Cal State San Bernardino professor of health science and human ecology, entered an April 8 Zoom conference expecting to meet with the dean of the College of Natural Sciences for a health science faculty meeting.
What she got instead was food for thought: Chen-Maynard has been named the university's 2020-21 Outstanding Service Award recipient. The honor annually recognizes outstanding faculty who have made a significant impact through service at CSUSB and beyond.
"This is a very special occasion, as we're here to present the 2020-21 Outstanding Service Award to you, Dr. Dorothy Chen-Maynard, for your very extensive and sustained contributions to students, this campus and the greater community," said CSUSB President Tomás D. Morales, who made the surprise announcement accompanied by about 47 university colleagues.
"University communities have so many subcommunities, if you will. The department is a community, the UEC is a community, the athletic department is a community, and I could go on and on. Our colleague, Dorothy Chen-Maynard, is an active member and contributing member to multiple communities at Cal State San Bernardino," Morales said. "I'm just so pleased to participate with our colleagues to acknowledge, recognize and celebrate your outstanding contributions to this institution."
By tradition, outstanding faculty award recipients at CSUSB receive the news when the president and an entourage of university leaders, past winners, faculty and staff burst into the honoree's class, lab or workspace unannounced. During a pandemic-induced period of working-from-home, the practice has gone virtual.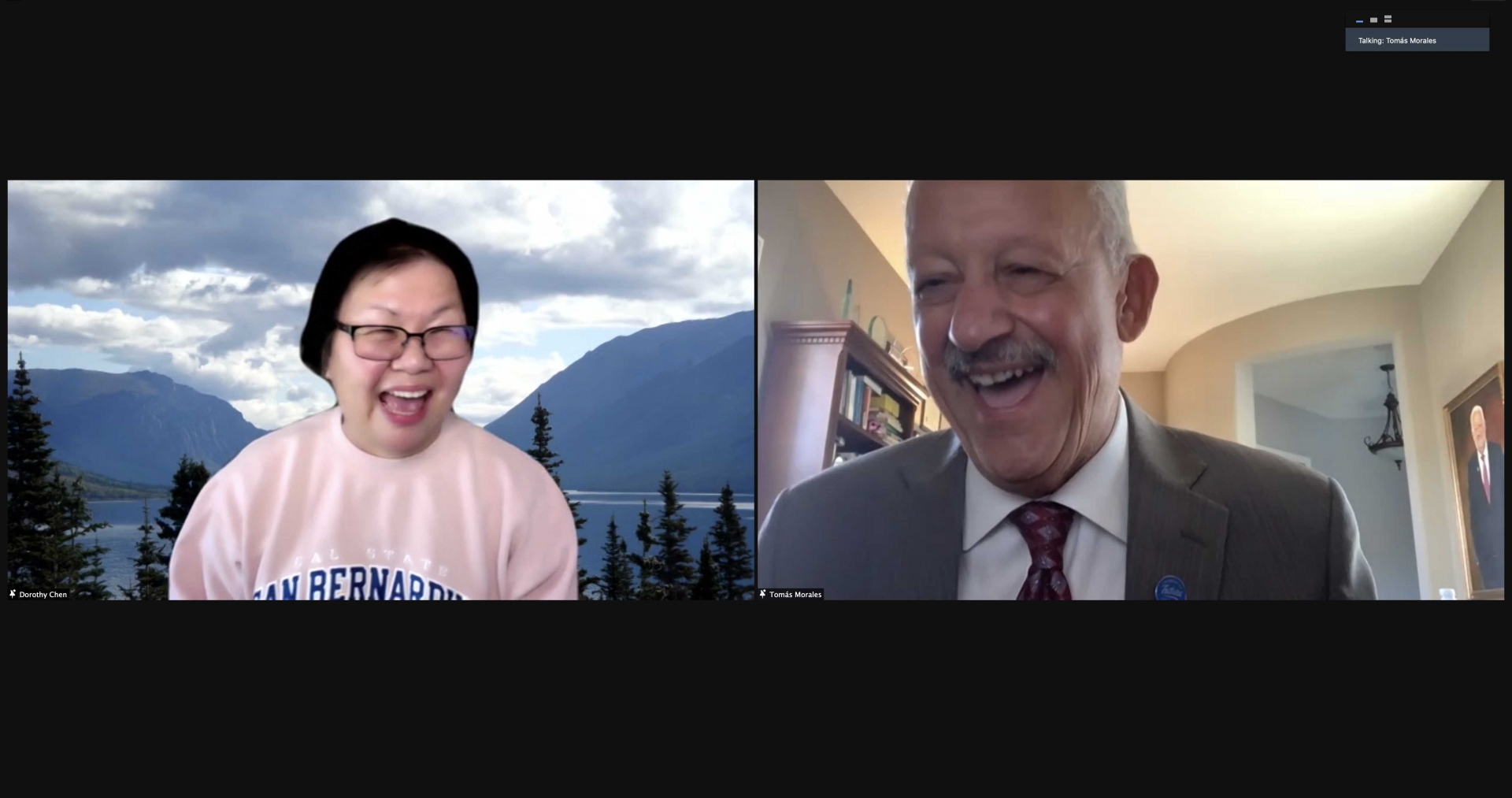 CSUSB Provost and Vice President of Academic Affairs Shari McMahan told Chen-Maynard the award was well-deserved.
"You know your energy and smile bring brightness to our campus community, and your dedication and enthusiasm is a source of inspiration for all of us. I know first-hand, Dorothy, how busy you are and, in spite of your workload, we can always expect to see you at a campus event and always lending your support," McMahan said. "You're always the first or among the first to volunteer your time and in fact when I sit in senate executive committee meetings, it's a rare occasion when you are not volunteering on a committee. So thank you for always being so selfless and putting yourself out there to help others and you know you always work your magic to make things happen."
Sastry Pantula, dean of the College of Natural Sciences, where the health science and human ecology department is housed, said he learned about Chen-Maynard's service and enthusiasm on his first day on campus.
"Dorothy has a lot to be proud of herself and we are proud of her. My first day at CSUSB, one senior administrator told me to get to know Dorothy since she has the most institutional memory and knowledge, and serves the university selflessly. It is true," Pantula said. "In fact, she is the first one at CSUSB who invited me to speak at an event during the first week of my work here. I got to know her immediately how dedicated she is for our students, from the comments students and faculty made at that event."
Another speaker and fellow colleague came from Chen-Maynard's very own household, her husband David Maynard, chair of the Department of Geological Sciences and chair of the School of Computer Science and Engineering. The two met on campus years ago. The two work in the same area in separate offices.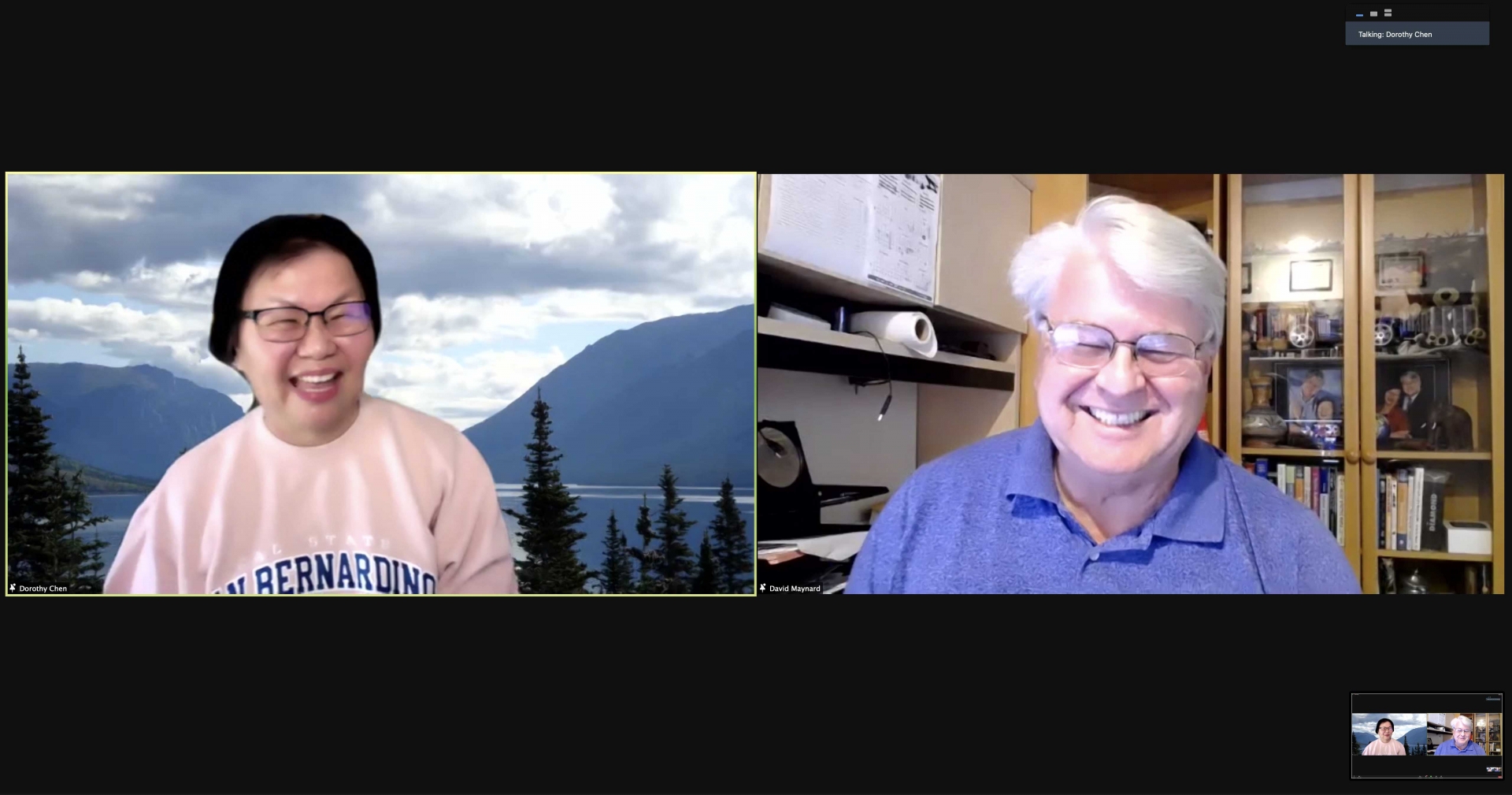 "Often when I meet somebody, I'll say 'You don't know me, but you know my wife Dorothy Chen,' because everybody knows Dorothy and she is so active in service and campus activities," Maynard said smiling. "She spends a huge amount of time working with students and committee work and all the activity that she does."
"Last weekend she went over to an orchard and picked grapefruit and oranges, and I think two weeks before she was at a farm where she picked produce and delivered that to our student center so students could get free food," Maynard said. "She has a great heart. She cares for people and is a wonderful person, and I'm so proud that she is being honored with this award. I love you, Dorothy." 
When it was Chen-Maynard's turn, she said she had been at the university for over 28 years and proud to be a Coyote. She thanked everyone and praised the university as a great place to be.
"It's been a wonderful place to work and because of all the things I have been involved with, I love meeting people and I love to get to know people and mostly anything I can do to help our students be successful is where my heart is," Chen-Maynard said. "I also want to say without all of you, nothing would have been done so I appreciate all of you for your support as well."
Chen-Maynard said she kind of likes "to drag people in sometimes to do things with me and so I am very thankful for the fact that many of you don't say no when I say, 'Why don't you do this and let's do this together.' So I think you know the whole campus climate, the whole campus community, is all there for the students and that to me is the most important part."
She also asked the attendees to please contribute to the university's faculty-staff campaign.
Chen-Maynard joined the faculty in 1992 and for 28 years has been director of the Didactic Program in Dietetic, which prepares graduates to pursue careers as registered dietitian nutritionists.
Chen-Maynard represents "all that is good as a Coyote," observed University Awards Committee co-chairs Kimberly Cousins and Dany Doueiri in a letter to the president recommending her selection.
"Dr. Chen-Maynard deserves this award for the depth and breadth of her service to students, the campus, and her discipline, over nearly 30 years," they added. "She continues to commit numerous hours to everything from student advising to extensive leadership positions on campus, and beyond."
A former three-time chair of the faculty senate and a longtime senator, she has also headed and served on multiple senate committees. She was a founding member of the CSUSB Philanthropic Foundation, serves on the University Enterprises Corporation board of directors and has been longtime chair of the commercial enterprises committee, which addresses food service and bookstore operations.
She has won numerous awards in her field, including state and national honors such as the American Dietetic Association Outstanding Dietetic Educator Award (2005). Her many awards in service to CSUSB range from the Ralph Award (2009) from the Athletics Department for commitment to the department and student-athletes, to the CSUSB Outstanding Faculty Advisor Award (2003-04).
According to one nomination letter sent to the University Awards Committee, Chen-Maynard is known as a peacemaker who serves with compassion and is "supporting, encouraging and looking after all of us."
As the Outstanding Service Award recipient, Chen-Maynard will be given a $1,000 faculty professional development grant, recognized at the College of Natural Sciences' commencement ceremony and honored at the Faculty Recognition Luncheon.
Chen-Maynard earned a doctorate in nutritional science and metabolism from the University of California, Davis; a master's degree in food and nutrition from CSU Los Angeles; and a bachelor's degree in biological sciences from the University of Southern California.
As co-chairs of the University Awards Committee summed up: "Dorothy is a prime example of servant leadership."
Along with Cousins, a professor of chemistry and biochemistry and chair of the CSUSB Department of Chemistry and Biochemistry, and Doueiri, a world languages and literatures professor, members of the 2020-21 University Awards Committee are: Thomas Girshin, associate professor of English; Jay Fiene, professor of education leadership & technology and former dean of the College of Education; Crystal Huang, associate professor of management; Christopher Gentry, associate professor of kinesiology; and Richard Samuelson, associate professor of history.