History professor Jeremy Murray honored with 2022-23 Outstanding Service Award
Jeremy Murray's 10 a.m. Monday history class was in session when unexpected visitors entered the classroom about 30 minutes into his lesson.
"How are you doing?" said CSUSB President Tomás D. Morales, as he invited an entourage of about two dozen faculty and administrators into the classroom.
"We are all here – faculty, senior administrators, students – to present the 2022-23 Outstanding Service Award to Dr. Jeremy Murray for his extensive and sustained contributions to our students, to this campus," said Morales, as Murray looked on in surprise, and his students, all attending virtually on Zoom save for one, watched on the class's livestream.
A long-standing and beloved CSUSB tradition, outstanding faculty award recipients receive the news when the president and the group of university leaders, past winners, faculty and staff stride into the honoree's class, lab or workspace unannounced.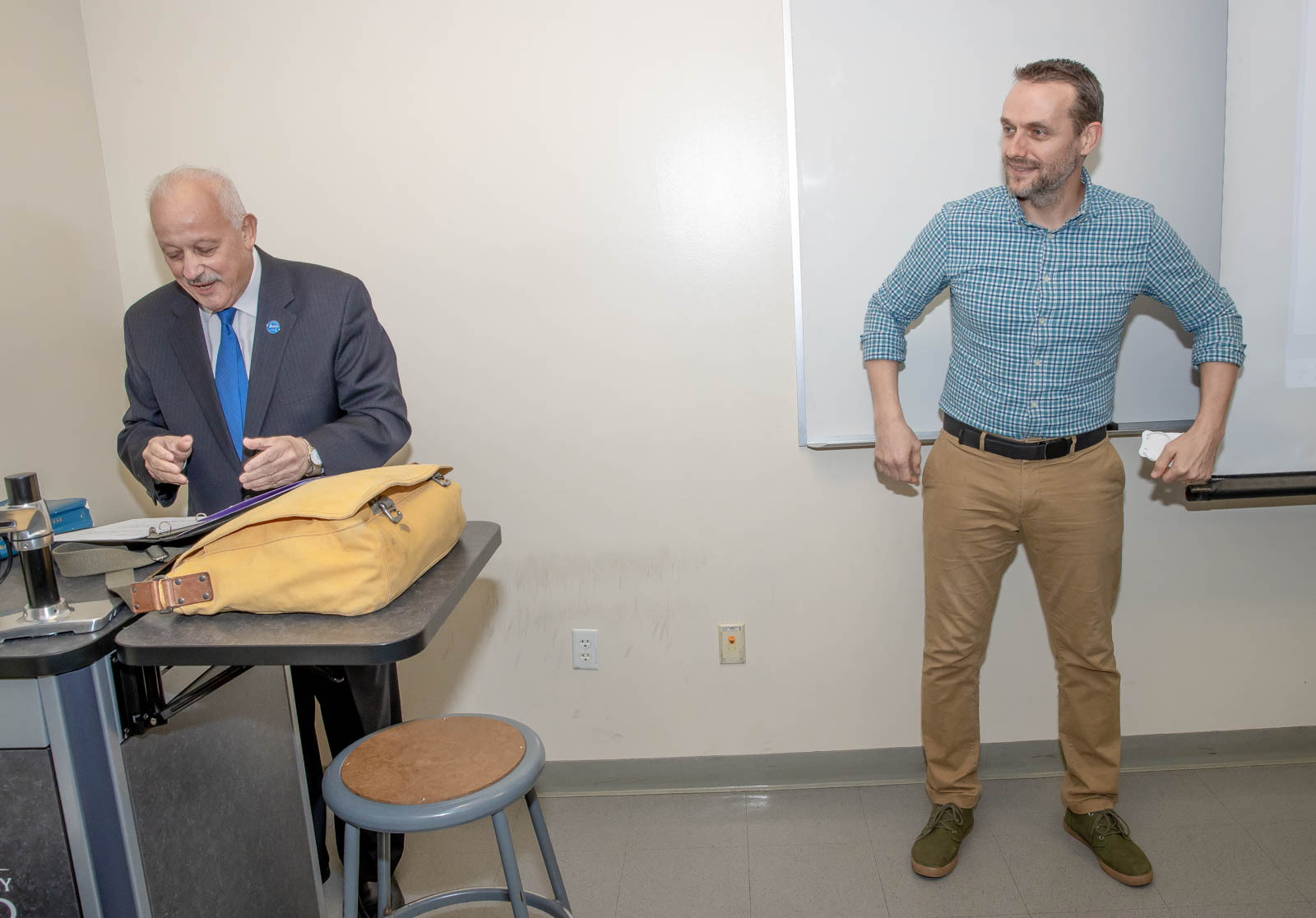 Rafik Mohamed, provost and vice president for Academic Affairs, quipped that he typed into the artificial intelligence app ChatGPT, "Describe for me an outstanding professor, an ideal professor. And only one name came up, Jeremy."
Before being appointed provost, Mohamed was the dean of the College of Social and Behavioral Sciences, where the Department of History is housed, which put him in the position of faculty evaluations, including Murray's. "I've said this before, I've written it to you – you are just an ideal faculty member," Mohamed said. "You're an excellent teacher, you're an excellent scholar, you're dedicated to serving our students and our campus. And not to put anyone else down, you are really just a model faculty member and a great community member here at CSUSB."
Christina Hassija, the interim dean of the College of Social and Behavioral Sciences, said she has admired Murray as a colleague and has a strong appreciation for the work he does. "Dr. Murray is truly a cornerstone of our campus community, and goes above and beyond in terms of creating opportunities for student and faculty engagement and intellectual discussion," she said. "I just want to congratulate you on all your success and thank you for all you do to support our students."
Murray thanked Morales, Mohamed and Hassija for their support, as well as Ryan Keating, the chair of the history department. "It's really a delight to come to work in the history department, the College of Social and Behavioral Sciences and the university," he said. "Thank you, guys, this is wonderful. And all my students! They make it really fun."
Morales, whose undergraduate degree is in history from SUNY New Paltz, said he still keeps in touch with his history advisor from his freshman year. "Having faculty like you and Ryan and others that really make themselves available to students, I don't think we realize the impact that it has," Morales said. "I won't go back to New Paltz unless I call my advisor – I still call him my advisor – who is such a wonderful, wonderful faculty member, like you and Ryan and others who have just given of themselves."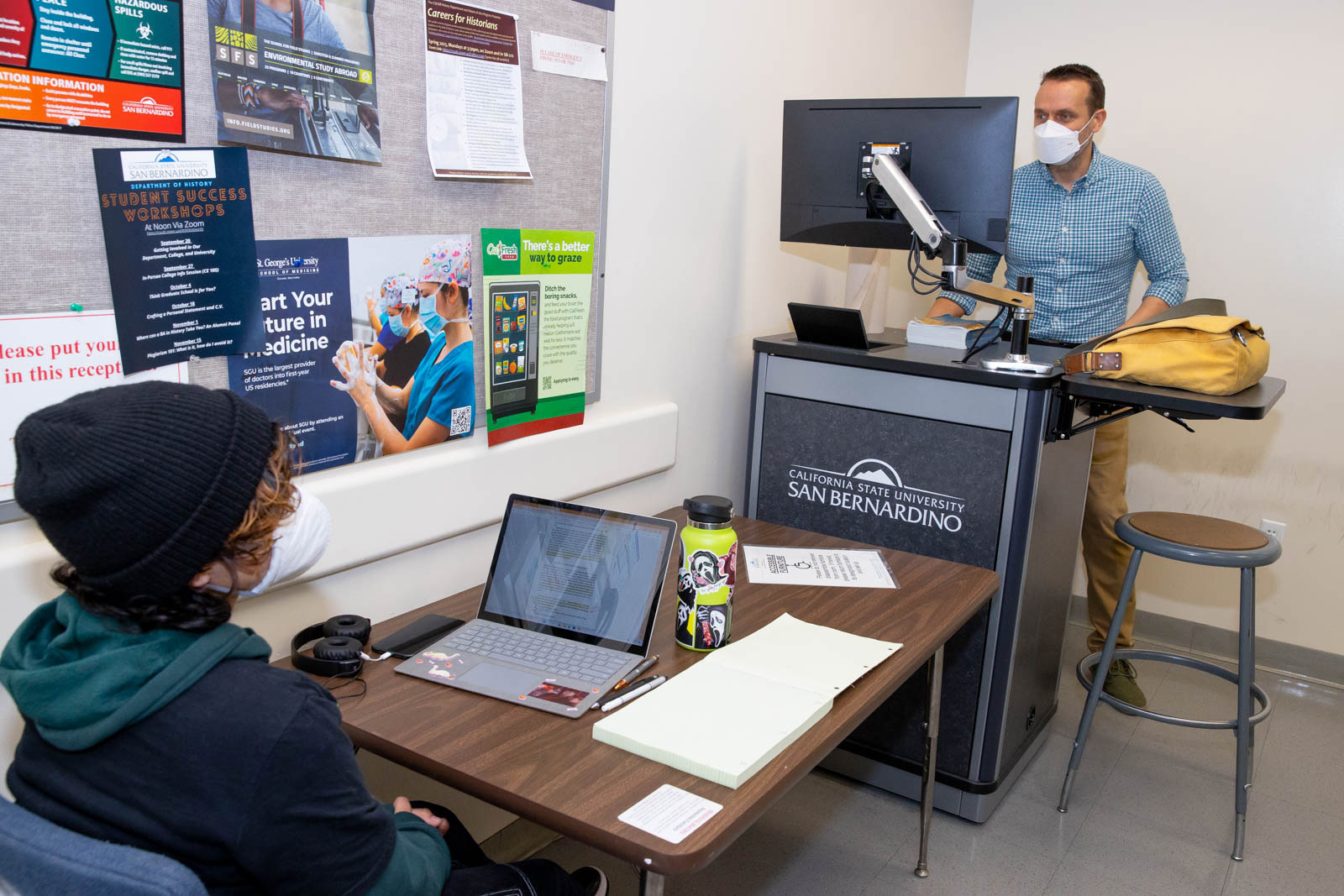 One of his students, Erin Maddox, offered her appreciation over Zoom. Murray, she said, has given her a love of Chinese history that she didn't have in the past. "He especially encouraged me to write for the (student) history journal (History in the Making), and that's a huge thing, because being published is going to help me to get into the (master of arts) program, and I'm so grateful for the opportunity you've given me," she said. "Thank you so much for being an inspiring teacher."
Murray joined the faculty in 2011, teaches and writes about modern China, and has published books and articles on the place of Hainan Island in China's revolutionary history. He has also written and edited books on pop culture in Asia and Asian cultural traditions. In his teaching and research, he is interested in exploring marginalized histories and how margins are created and patrolled with methods ranging from language and pop culture to state violence. 
Murray has demonstrated himself to be "a remarkably dedicated organizational citizen, serving CSUSB and our community with distinction and honor," observed the co-chairs of the 2022-23 University Awards Committee, Mark Agars and Michael Stull, in a letter to the president recommending Murray's selection.
Agars is a psychology professor and director of CSUSB's Institute for Child Development and Family Relations, and Stull is a professor of entrepreneurship and director of the Cal State San Bernardino School of Entrepreneurship and the Inland Empire Center for Entrepreneurship. 
They continued, "It is clear from his numerous service‐related activities that Dr. Murray prioritizes service to students, community, and the University at‐large in his work. A review of his extensive service‐related commitments reveals a clear dedication to creating and fulfilling opportunities to expand the impact and reach of his scholarship and expertise."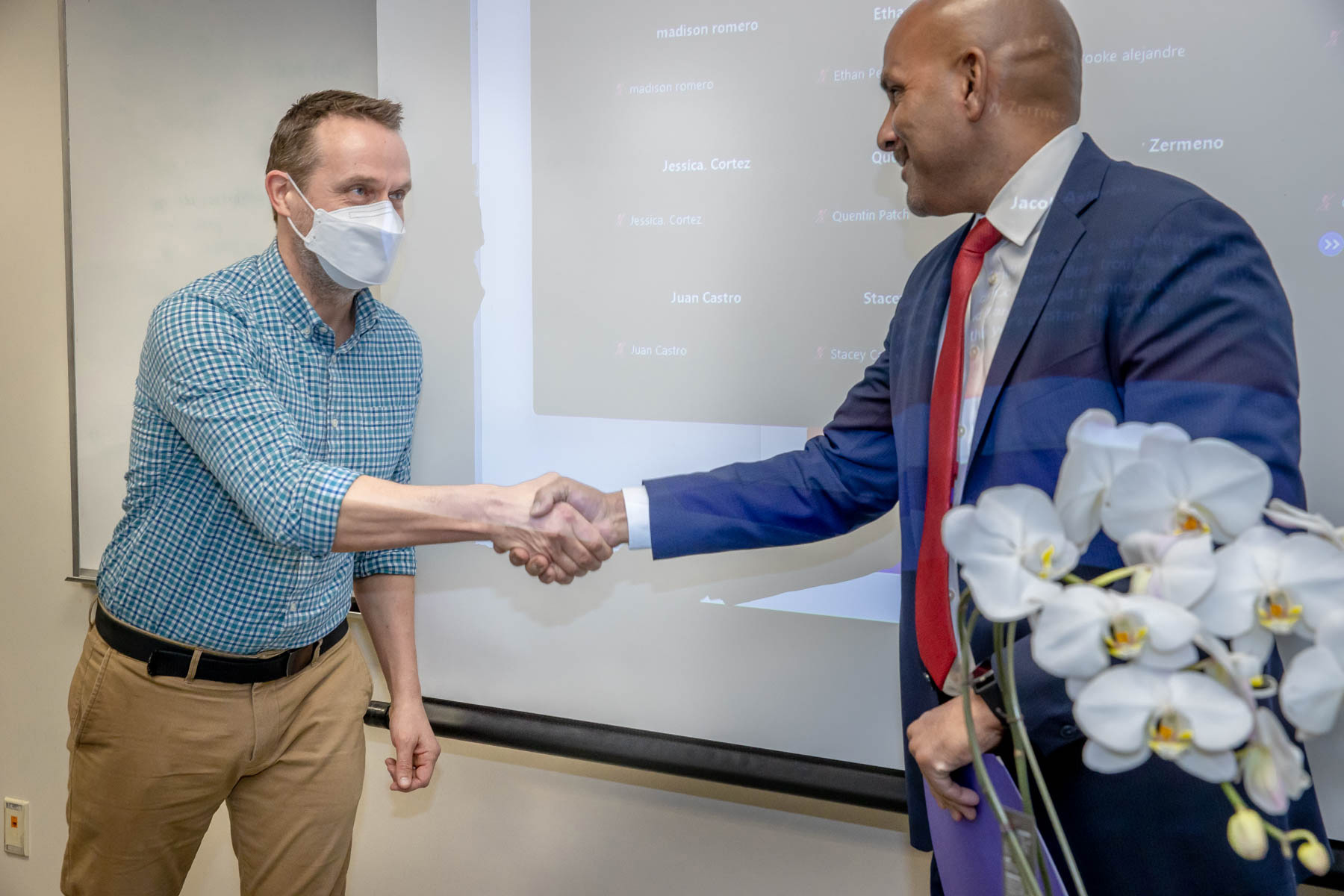 In their recommendation, the committee noted: "In 2014, Dr. Murray created the Modern China Lecture Series to raise awareness about China‐related issues. The series includes lectures, roundtable discussions, and has included more than 100 events featuring academics, journalists, authors, and other experts from across disciplines." The series is open to students and members of the local community as well.
"Modeling off this series, Dr. Murray also has served on the team of organizers for the CSUSB Conversations on Race and Policing. Since its creation in 2020, the program aims to explore, enlighten and engage the campus community with lectures, panel discussions and other events related to the history and current context of race, policing and criminal justice. The series has drawn broad campus participation and involved nationally prominent guests. The sheer effort and expertise required to develop and implement these two series is extraordinary," they continued.  
The committee cited Murray's commitment to enhancing the student experience, bridging across disciplines, and integrating the broader local community. "Dr. Murray also ensures that his service actively engages the larger community, connecting students with agencies and community members, and bringing community members to campus," they said.
In addition, Murray developed the Future History Teachers Information Sessions, which since 2017 have brought educators and educational administrators to campus throughout the year to speak with students and help prepare them for their professional journeys.
Murray maintains an "impressively active presence in the community," speaking on podcasts, collaborating with community partners and giving lectures at local high schools. "His willingness to engage in activities that share knowledge within the community seems endless," they wrote.
In addition to "these extraordinary accomplishments of service," the committee said, "Dr. Murray has consistently demonstrated a willingness to engage actively and thoughtfully in standard department service and has taken on major service commitments in support of CSUSB and our students. Within the history department, Dr. Murray served as the graduate coordinator for the development of a new M.A. in History degree; a program he has led now for three years.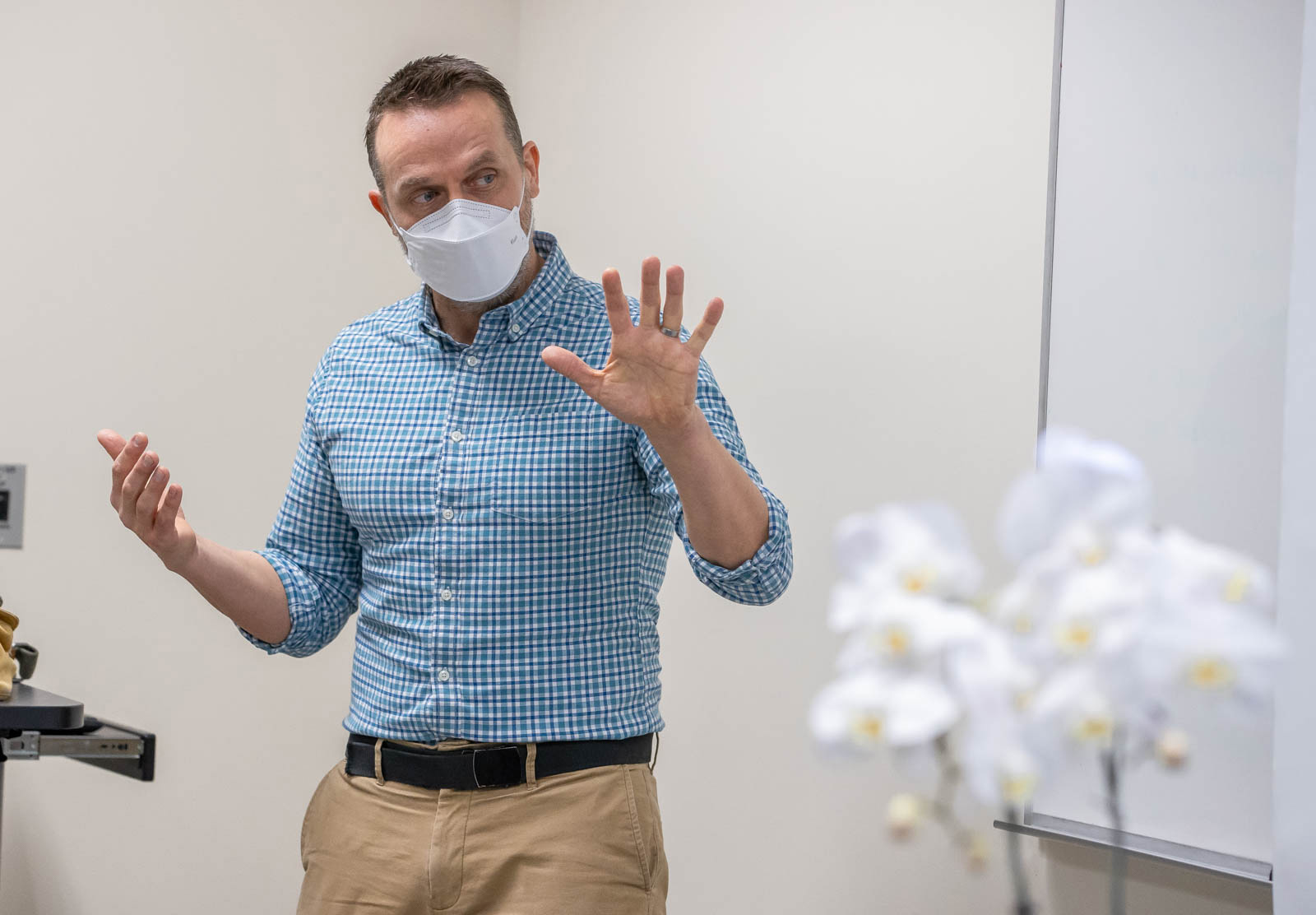 "He served many years as faculty advisor to the student journal, History in the Making, which has won multiple first‐place awards in the Gerald Nash Journal Competition. Dr. Murray also long served as faculty advisor to the History Club/Phi Alpha Theta honors society, which won the Best Chapter Award from Phi Alpha Theta national headquarters for five of the six years the award was offered."  
That work led to him being named the 2021-22 Outstanding Faculty Advisor, recognizing "his passion, commitment and dedication to student success and providing career and life guidance."
Murray earned a doctorate in Modern Chinese History at the University of California, San Diego, an M.A. in East Asian Languages and Cultures: Chinese History Focus at Columbia University, and a B.A. in East Asian Studies at State University of New York, Albany (an alma mater he shares with Morales). In addition, he earned a Chinese language studies certificate at Beijing Normal University.
The author of four books, numerous scholarly articles, and a frequent presenter at scholarly conferences, Murray is a 2022-23 Wilson China Fellow with the prestigious Wilson Center. Along with the 2021-22 Outstanding Faculty Advisor award, Murray has been recognized with numerous honors, including the College of Social and Behavioral Sciences Senior Faculty Research Fellowship from 2019-21; and the Phi Alpha Theta Faculty Advisor Research Award in 2019.
In addition to co-chairs Agars and Stull, the 2022-23 University Awards Committee includes music professor Todd A. Johnson, accounting and finance professor Ghulam Sarwar, associate professor of special education, rehabilitation and counseling Gemma Kim, kinesiology professor Christopher Gentry, and geography professor Rajrani Kalra.