Performing in a pandemic? It certainly presents numerous challenges, but the lingering COVID-19 pandemic hasn't stopped the Cal State San Bernardino music department from picking up their instruments. Through a series of approved hybrid classes and safety precautions, the music lives on.
Take the CSUSB symphony orchestra and symphonic band for example, where both groups have had to significantly modify their practices over the past year in order to keep playing. Lucy Lewis, associate professor and director of the orchestra, said they have been adjusting "the best we can."
"Continuing with our craft has been extraordinarily difficult during COVID-19, given that we are a sound-based, inherently collaborative discipline," she said. "Having to be virtual is far from ideal for musicians, and being allowed to be hybrid has been a step in the right direction."  
According to Nicholas Bratcher, assistant professor of music and director of the symphonic band, in summer 2020, the College Band Directors National Association conducted a series of studies to document the rate of aerosol travel in the wind rehearsal setting.
"Based on those findings, the CSUSB symphonic band incorporated specific measures to help further ensure the health and safety of our students," Bratcher said. "These included specially made masks for brass and many woodwind players, face masks for flute players, gloves for percussionist, and spit pads for wind instruments to alleviate collection of saliva on the floor."
The symphony orchestra has also put these safety precautions in place, and both groups have continually practiced social distancing.
For instance, only 13 people from the orchestra, including Lewis, have been allowed in the rehearsal room in the Performing Arts Building. This has proved challenging for an orchestra that is usually quadruple in size. However, Lewis has made it work.
"Given that my ensemble is typically around 50 people, I divided the orchestra up in to five sections that I rehearsed individually on a weekly basis," she said.
In addition, the orchestra set up the rehearsal room in a way where Lewis faces the projection screen, with students in between her and the screen. 
"Students who preferred to remain virtual were able to still participate in rehearsals by signing in to Zoom and then muting themselves during the rehearsal," Lewis said. "So these students could hear the mini-ensemble rehearsing and could play with them, but those rehearsing in person didn't hear the sound from those participating over Zoom as it would not have been in sync with the live performers."
While this approach has not been ideal, Lewis has made the effort to keep her class, for both in-person and Zoom students, as upbeat as possible.
"I do try to inject humor whenever appropriate, and always let students share their pets or younger siblings with the class when they pop up on Zoom," said Lewis, who also notes the significance of acknowledging the immense challenges they all have faced. 
"I think the most important thing for me has just been being real with my students about the very real struggles and frustrations we have had to deal with, and allowing them to do the same, either one-on-one with me, or with the entire class," she said. "I have also consistently emphasized with them the importance of taking care of their mental, emotional, spiritual, and physical well-being, and am a huge proponent of balance and self-care."
When it comes to virtual sessions for the symphonic band, keeping the learning environment as normal as possible has been key for Bratcher.
"I try to differentiate the learning as best as I can while keeping some semblance of tradition," he said. "In our Zoom sessions, we discuss the pieces of music we will be performing. In some of the sessions, some of my colleagues enter into our Zoom meetings to discuss different aspects of the wind band medium."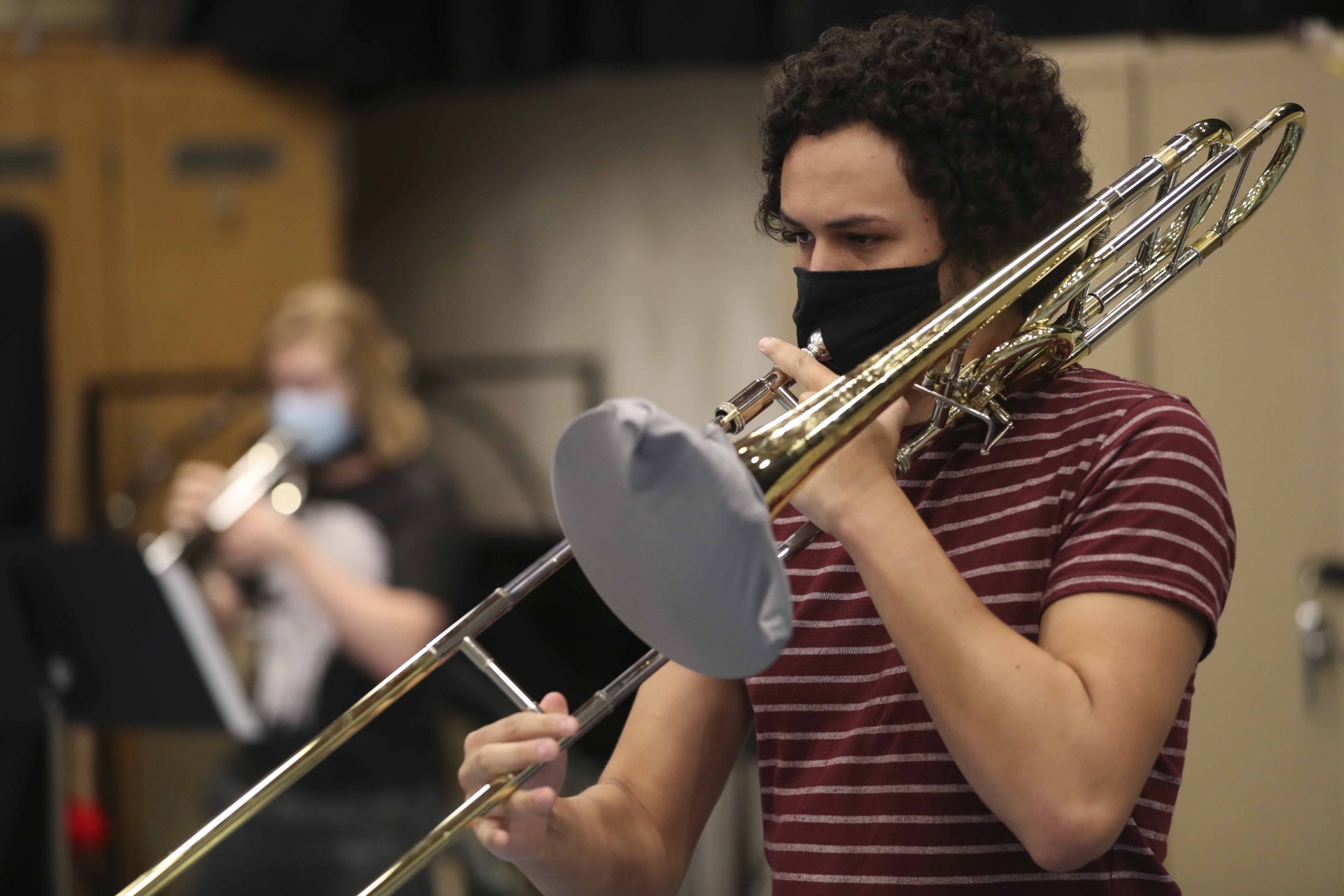 These topics can range from "people of color in the wind band field" to "women band directors and composers."
"Students usually have a fervent amount of questions and everyone has a good time!" Bratcher said.
Bratcher's students have also been using click tracks and electronic copies of the pieces to be performed. Click tracks are electronic "audible clicks" that outline a piece of music from start to finish. Students are then able to record themselves playing to the click track.
"Once all the recordings are gathered, they are edited and lined up for synchronization … and voila!" he said.
Although the COVID-19 pandemic has understandably brought frustration to the music community, both Lewis and Bratcher are grateful for the opportunity to teach hybrid classes during this time and appreciate the strong spirits of their students.
"This is not the traditionally collaborative way of conducting a rehearsal that me and my students are used to," said Bratcher, "but we are very fortunate to have these types of resources during these uncertain times."
"I am so incredibly proud of the resilience of our students, and the entire music department, through this pandemic," Lewis said. "I am looking forward to the day we can once again safely resume our in-person rehearsals and concerts as full ensembles."
The CSUSB music department continues to persevere during the pandemic and has virtual performances planned throughout spring semester, with many thanks to Cash Tijerina, instructional support technician, who has been working behind the scenes to set up rehearsal rooms, edit, mix and prepare these performances for streaming.
To learn more about the CSUSB ensembles, visit the Department of Music website.