CSUSB lecturer brings global connections to virtual classrooms

---
When Cal State San Bernardino began the 2020 spring quarter with virtual instruction because of the global pandemic, Larry R. Hygh Jr., full-time lecturer and internship coordinator in the communication studies department, decided to develop a virtual speaker series for his courses. 
"I picked up the phone and started emailing my network that spans the globe inviting them to engage our students in the virtual classroom setting," said Hygh, who joined CSUSB in fall 2019 after more than 20 years in nonprofit communications and leadership. "They were all working from home, too, at that point." 
Hygh has been able to pull prominent people in the industry into his virtual classrooms, including Mike McCurry, who served in the White House from 1995 to 1998 as press secretary to President Bill Clinton; Kenneth Moton, the co-anchor of ABC's World News Now and America This Morning; Bryce McAnally, director of media programs national advertising at Kaiser Permanente; and Calaya Stallworth, story editor at Netflix; among many others.
"I want our students to hear from folks who are working in the field as they merge classroom theory, concepts, and principles with real life examples of strategic communication in various sectors of society," Hygh said.
"Because of his generosity in sharing his wealth of resources with students and faculty alike, our students will benefit for a lifetime in both their studies and their real-world practices," said Jess Nerren, Hygh's colleague in the strategic communication concentration and fellow full-time lecturer, calling him a "true gift" to CSUSB.
Hygh treasures diversity and wants students to see themselves reflected in the speakers he brings into the classroom. "It is important they see, and hear from people of color, women, folks from the LGBTQ community, and persons who are first-generation college students who have been successful in their fields," he said.
Hygh's former student Andrew Thomton personally resonated with speaker Jason Blackwell, director of brand experience and public affairs for Spondylitis Association of America.
"I liked him because of the organization he works for, Spondylitis Association of America," Thomton said. "I can relate to that because I have Ankylosing Spondylitis, which is a form of arthritis."
Abrahiem Mohd, who, like Thomton, has taken several of Hygh's courses, said his favorite speaker was Kenneth Moton.
"Mr. Moton is an ABC news anchor, which is a tremendous accomplishment. He was my favorite speaker because he basically came from nothing and got to the top tier of his profession," Mohd said. "It was really amazing to see how many connections and friends Dr. Hygh has made throughout his career."
Hygh asks all speakers, no matter what course, to talk about their career path before getting into the subject matter. His courses are taught synchronous and he has brought in guest speakers in the summer session, the fall, and has scheduled them for the spring as well. Hygh has opened the speaker series portions of his courses to the strategic communication concentration, as well as other communications classes in the department.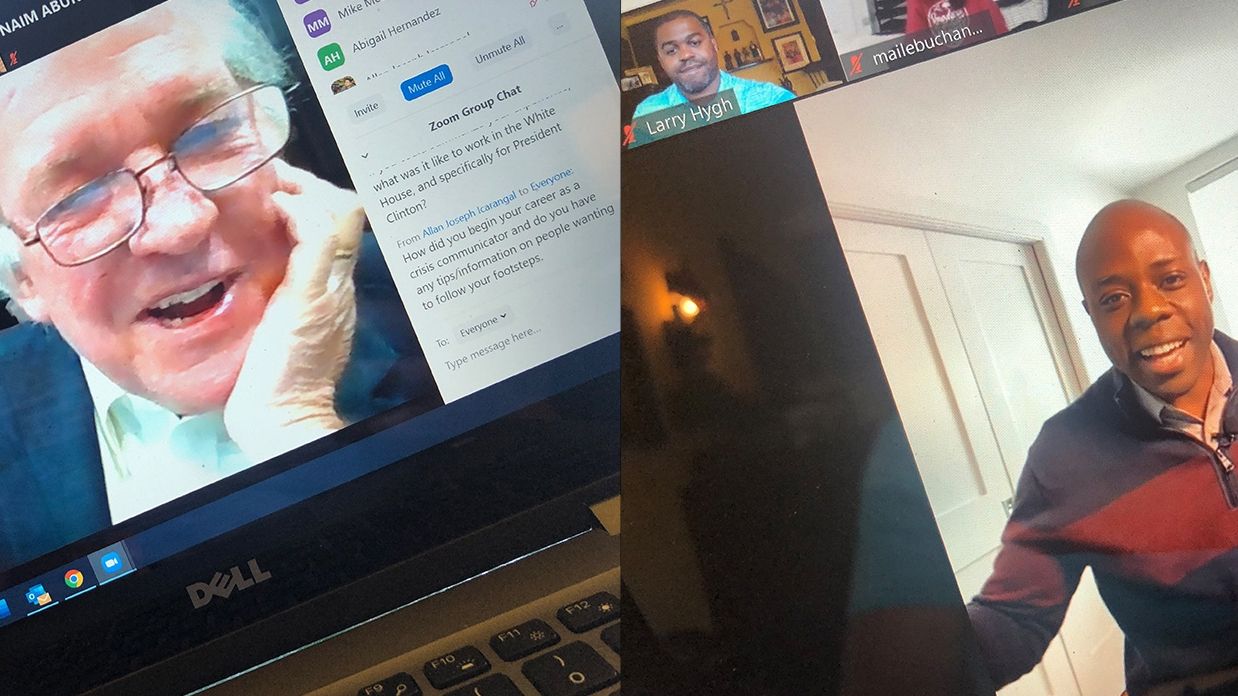 "I have called upon, and will continue to call upon, friends and folks in my network to bring this experience to our CSUSB students in the classroom," Hygh said.
"Dr. Hygh brings real life into his classroom – through accomplished friends and colleagues as our guest speakers, through his own valuable personal experiences that he shares with us, and through his personable, likeable self – he really feels like a friend who roots for you and pushes you to get better every day," said former student Sidney Filijan. "He is quite the unique individual, and I really respect the man he has made himself to be!"
Mohd also describes Hygh as "unique" and is "special with how he teaches," noting that he not only received "tons of communications lessons, but life lessons as well."
"He brings nothing but positivity and joy every single day, which helps provide a motivational factor," Mohd said. "Also he attacks the lessons head on and is filled with detailed information and tons of examples and real life experiences, which are always great to hear."
For Thomton, "He is the best professor I have ever had."
Hygh's global connections help him to bring these speakers to CSUSB. He spent 20-plus years as the chief communications officer for The United Methodist Church (UMC) in five different regional offices in the United States that included: Boston, Mass.; Jackson, Miss.; Washington, D.C.; Los Angeles, Calif.; and Sacramento, Calif. He also worked in the denomination's (12 million members) international mission agency when it was based in New York City with mission projects in 136 countries around the world. Prior to CSUSB he was the senior communications manager for the Black AIDS Institute, the only national HIV/AIDS think tank focused exclusively on ending the epidemic in Black communities.   
This past fall, Hygh added another role at CSUSB as the communication studies department's internship coordinator. "I am able to stress the benefit and importance of internships because I am a product of successful internship experiences," he said.
As an undergraduate at Stephen F. Austin State University in Nacogdoches, Texas, he had press/media-oriented internships with The White House (President William "Bill" Jefferson Clinton, 42nd president), U.S. House of Representatives (Rep. Max Sandlin, 1st Congressional District-Texas), and the 1996 Summer Olympics in Atlanta, Ga. He has been a television anchor, reporter and disc jockey. 
In 1998, Hygh was the first recipient of a national year-long fellowship sponsored by United Methodist Communications called the Judith Weidman Racial Ethnic Minority (REM) Fellowship. There were only a few communications directors in the 12 million denomination that were people of color. The fellowship was designed to introduce a promising ethnic minority communications professional to a career in communications in The United Methodist Church. The fellow was placed with an experienced communicator as a mentor. Hygh spent his year in the New England Conference that encompasses Massachusetts, Rhode Island, Eastern Connecticut, New Hampshire and Maine.
"This experience still sticks with me and I bring it into the classroom. I learned so much during that year about executing communications programs in a nonprofit setting," Hygh said. "The technologies have changed, but the principles, theories and concepts remain the same."
Hygh was also the first person of color to serve as a mentor for the REM Fellow when he was director of communications for the Los Angeles based California-Pacific Conference encompassing Southern California and Hawaii.
In the classroom Hygh stresses the importance of being civically and socially engaged in the life of the community. Since the 2020 winter quarter, he has taught COMM 4401 Strategic Communication Campaigns. In this course the students divide into teams and work with a local nonprofit to create a full public relations campaign and they execute a portion of the campaign over the course of the semester. Since last winter, the classes have created public relations campaigns for a number of community nonprofits.
"I had the pleasure of working with A Lofty Standard, a co-op nonprofit that dealt with locally grown produce and planet-based foods," Mohd said. "It was a wonderful experience and a good challenge to work with. Dr. Hygh expected a lot out of the groups of students, but also led us in creating a real-life public relations campaign, which was so much fun and tons of hard work."
"This is real-world experience for our students working with a real-life client and getting involved in the community," Hygh said.
Hygh, who earned an Ed.D. from Pepperdine University in organizational leadership, is currently working on preparing his dissertation "A Qualitative Leadership Study of the Four Female African American Bishops of The United Methodist Church" for publication. He created and moderated a panel discussion during last spring's CSUSB Womxn's Leadership Conference, "Female Leadership in the Religious Realm," with five female United Methodist bishops, three being African American, one Anglo, and the denomination's first Latina bishop to discuss some of the findings. 
Hygh resides in Pasadena, Calif., where he is member of the Pasadena Tournament of Roses (the organization that produces the Rose Parade and Rose Bowl). He is a lifetime member of Omega Psi Phi Fraternity, Inc., a member of the National Association of Black Journalists (NABJ) Los Angeles chapter, the Black Public Relations Society Los Angeles (BPRS-LA), and the Los Angeles Press Club. He is a 2009 graduate of Leadership Southern California, and 2008 graduate of Leadership Pasadena. 
Hygh, a lifelong United Methodist and fifth-generation Methodist, is an active member of Harmony Toluca Lake UMC (a campus of Hollywood UMC) and serves on the leadership team.
A world traveler and self-proclaimed "foodie," Hygh says he "can't wait for the pandemic to end to begin traveling the globe again." To learn more about Hygh and his adventures, visit his website at LarryHygh.com.