'We are not powerless,' says Sen. Leyva during CSUSB's Womxn's Leadership Conference
State Sen. Connie M. Leyva (D-Chino) served as the keynote speaker at Cal State San Bernardino's 2020 Womxn's Leadership Conference on May 22, where she offered words of encouragement, advice and personal anecdotes.
"We are not powerless – quite the opposite," she said. "Women have an amazing legacy of activism and fighting for their rightful place in society and in government."
The event, which took place virtually due to the current COVID-19 pandemic, had the theme, "The Future is Female: 100 Years of Voices" because this year marks 100 years since women were granted the right to vote in the United States.
"The women's suffrage movement was clearly monumental, and now 100 years later, women are continuing to take charge without apology and helping lead our state and nation in ways we never have before," Leyva said, noting that women of color, unfortunately, did not win the right to vote until much later. "So while we celebrate our great accomplishments, we must also own all of our history, including the shortcomings."
During her time in the senate, Leyva said she authored several bills that help uplift and improve the lives of women, noting that these issues may not only affect women, but they do disproportionately affect them.
For instance, she authored Senate Bill No. 813, which eliminated the statute of limitation on rape.
"Rapists should never be able to evade legal consequences simply because of an arbitrary time limit has expired," she said. "There must never be an expiration on justice."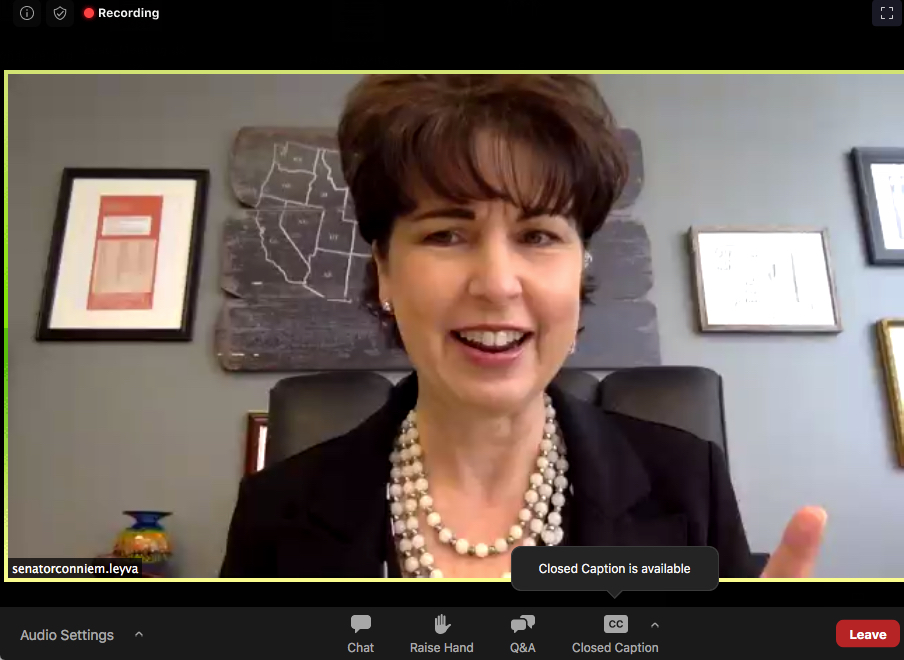 Leyva also highlighted the importance of representation.
"Every woman who has ever been elected to the California Legislature knows what number she is," she said. "There have been 4,444 members that have served in the California Legislature. I am only 145 – 145th woman to serve," reminding attendees that this is just at the state level, and there needs to be more women at all levels of government.
"We have work to do," she said, and encouraged women to get involved, pay attention to elections and vote.
"This year marks the 100th anniversary of the ratification of the 19th Amendment," she said. "That is something to be celebrated. And one of the best ways that we can celebrate that is to register to vote and actually vote."  
Following her remarks, Leyva answered questions from the audience.
Leyva was reelected to represent the 20th State Senate District in 2018 and is serving her second term in the California State Senate. Currently serving as chair of the bipartisan and bicameral California Legislative Women's Caucus and Commissioner on the California Commission on the Status of Women and Girls, Leyva continues to be a committed leader on improving the lives of women, children and families in California. 
Since being elected to the state senate, Leyva has authored 38 bills signed into law, including important legislation to require all public universities to provide medication abortion (SB 24), eliminate the statute of limitations on rape (SB 813), and require the prompt testing of rape kits (SB 22), among others. As a Women's Caucus leader, Leyva has worked collaboratively with other caucus members to expand access to childcare, help secure important funding for afterschool programs, protect victims of domestic violence, end childhood deep poverty, require women on corporate boards and many other woman- and family-oriented efforts.
CSUSB's Womxn's Leadership Conference also featured breakout sessions and a six-person panel discussion, which included:
Manijeh Badiee, CSUSB associate professor of psychology and a licensed counseling psychologist in California;
Rueyling Chuang, CSUSB dean of the College of Arts and Letters and professor of communication studies;
April Clay, founder and CEO of Clay Counseling Solutions, a premier counseling organization serving San Bernardino and Riverside counties;
Hannah Kivalahula-Uddin, member of the Puyallup Tribe of Indians from Washington state who holds three master's degrees in education;
Maria Molina Solano, executive director for the National Latina Business Women's Association, Inland Empire, a nonprofit organization; and
Michelle Skiljan, executive director of the Inland Empire and Coachella Valley Women Business Centers, programs of the Inland Empire Center for Entrepreneurship at CSUSB's Jack H. Brown College of Business and Public Administration.
Panelists covered everything from where they find their strengths and leadership skills to the importance of having mentors. Each panelist also gave personal anecdotes on how they balance their personal and professional lives and how they navigate through a male-dominated workforce.
To learn more about the annual event, visit the Womxn's Leadership Conference website.