The Alhambra and the Legacy of Al-Andalus
June 10, 2021
11:00am - 12:00pm
Zoom - Register at: bit.ly/2021-ALHAMBRA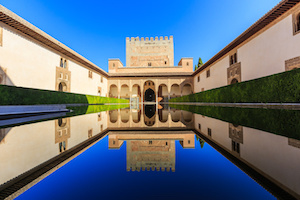 An inspiring culture whose legacy still lives in our architecture, art, science, culture & daily life.
Inmaculada Correa Flores
Coordinator of the Consortium for Advanced Studies Abroad in Granada, and Official Tour Guide of the Alhambra
Webinar Information
Free and open to the Public.
For information about the webinar presentation, please, contact Inmaculada Correa Flores at icorreaflores@gmail.com.
Study Abroad in Granada - Summer 2022
"Studying Abroad will open up new horizons"
Studying abroad in Granada implies a double journey, since while being a modern European city it also transports you to its Andalusí past, where a multicultural society coexisted.
"Nearly eight centuries of history of al-Andalus in theIberian Peninsula have shaped an inheritance that is apart of the hallmarks of Spanish, Mediterranean and European cultures" - Fundacíon El legado andalusí
The Nasrid Kingdom of Granada has been a source of inspiration for many since its days of glory up to the present. The only Taifa Kingdom that survived and coexisted with the Christians for more than 250 years was praised in the East and the West. The Alhambra was its greatest pride and its majesty is still alive today . This palatial city has brought together a host of experts, artists, celebrities and citizens throughout its long history. They have shed light on its construction and historical context, but they have also revealed its symbolic importance. Don't miss the journey!
Mediterranean Studies Academy and Study Abroad Information
For further information about the Mediterranean Studies Academy and Study Abroad in Granada, Spain, please visit: Mediterranean Studies Academy
Presented By
California State University of San Bernardino
World Languages and Literatures Department
Mediterranean Studies Academy and Intellectual Life Fund Present