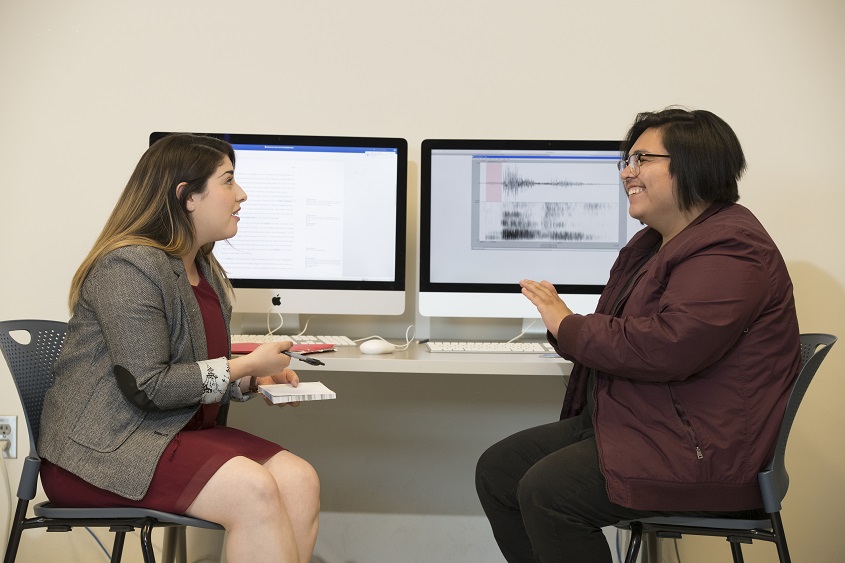 About Individual Tutoring Sessions
Individual tutoring sessions are designed to provide one-on-one support in any aspect of language development, including academic writing, grammar and style, oral presentation, pronunciation, professional communication, spoken language, idioms and common phrases, reading and more. Students may bring drafts to their tutoring sessions, to receive assignment-specific support and should feel comfortable bringing work at any stage of the writing process.
Tutors can help with everything from understanding writing prompts and assignments to incorporating instructor feedback – and everything in between. Spoken language support is also available in individual and group settings.
What Should I Expect?
Our friendly tutors are specially trained to provide support in a variety of areas of language development. Appointments can be made in advance for a 30-minute session, during which you will meet with a tutor one-on-one to discuss your questions/concerns. You may make an appointment with any available tutor, or based on availability, you may select a specific tutor.
How Should I Prepare for My Session?
No special preparation is required prior to a session, however, in order to make the most of your time with the tutor, you may want to consider some of the following:
Are there specific issues or concerns you would like to discuss?
Bring a copy of your writing prompt and any drafts, if you would like to discuss a specific assignment
Computers are available at the ELSC. Feel free to bring a USB drive with any materials you'd like to review.
How Do I Make, Change, or Cancel an Appointment for an Individual Tutoring Session?
All ELSC appointments are made through the CSUSB Writing Centers portal. To make, change or cancel an appointment, follow these steps:
Go the Writing Center Appointments Page and follow the instructions to register or make an appointment
Choose "English Language Support Center" from the dropdown when you sign on to make an appointment
Find your desired appointment day and time
Click on an available tutor's white space or click on your preferred tutor's name to view only his/her schedule
Fill in the form with your name, Coyote ID#, class and professor (if you would like us to notify your professor.)
You may also sign up on the waiting list, though we cannot guarantee an appointment
Don't have an appointment, but want to see a tutor? Walk-ins are welcome based on availability.