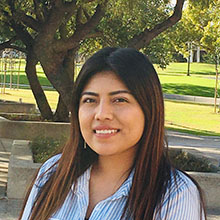 Middle School Academic Advisor
Leticia Herrera graduated from California State University, San Bernardino in 2019, and she obtained a Bachelor's degree in Sociology and two certificates: one in Spanish Public Services and another in Social Services. She is a person committed to help and spread awareness about the Latinx community.
Leticia is a person who believes education is the key to success and understands the struggle of going into higher education while being a first-generation student. Her passion for education, political change, and advocacy have been recognized by the 40th, 26th and 31st  California Congressional Districts.
Leticia is an Academic Advisor for the San Bernardino City Unified School District. She is committed to continuing to help her community and provide resources to help others achieve a higher education.
Middle Schools: Arrowview, Cesar E. Chavez, Curtis, Del Vallejo, Golden Valley, Martin Luther King Jr., Serrano, Shandin Hills
High School Educational Counselor
High Schools: Arroyo Valley, Cajon, Indian Springs, Pacific, San Bernardino, San Gorgonio