The Syrian War and the US Role in the Region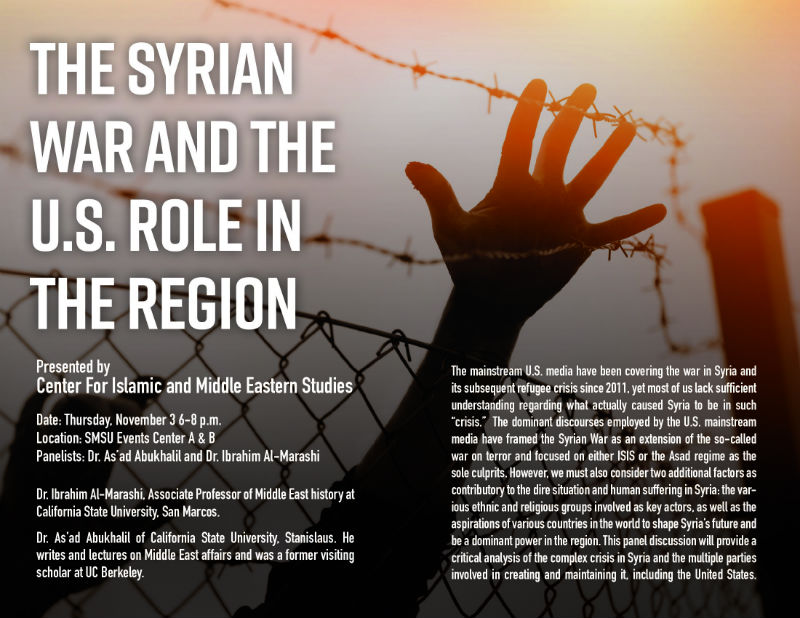 The mainstream U.S. media have been covering the Syrian war and its subsequent refugee crisis since 2011, yet most of us lack sufficient understanding regarding what actually caused Syria to be in such "crisis."  The dominant discourses employed by the U.S. mainstream media have framed the Syrian War as an extension of the so-called war on terror and focused on either ISIS or the Asad regime as the sole culprits. However, we must also consider two additional factors as contributory to the dire situation and human suffering in Syria: the various ethnic and religious groups involved as key actors, as well as the aspirations of various countries in the world to shape Syria's future and be a dominant power in the region. This panel discussion will provide a critical analysis of the complex crisis in Syria and the multiple parties involved in creating and maintaining it, including the United States.
Date: Thursday, November 3 6-8 p.m.
Panelists:
Dr. As'ad Abukhalil of California State University, Stanislaus. He writes and lectures on Middle East affairs and was a former visiting scholar at UC Berkeley. AbuKhalil is the author of Historical Dictionary of Lebanon (1998), Bin Laden, Islam & America's New "War on Terrorism" (2002), and The Battle for Saudi Arabia (2004). He maintains a blog, The Angry Arab News Service.

Dr. Ibrahim Al-Marashi is an Associate Professor of Middle East history at California State University, San Marcos. He was a former visiting scholar at the Annenberg School for Communication, at the University of Pennsylvania in 2007. He obtained his doctorate in Modern History from the University of Oxford, completing a thesis on the Iraqi invasion of Kuwait. His research focuses on 20th century Iraqi and Syrian history and is the co-author of Iraq's Armed Forces: An Analytical History (Routledge, 2008), and The Modern History of Iraq, with Phebe Marr (Westview 2016).