Frequently Ask Questions
Email
How do I get email set-up on my office computer, cell phone or tablet?
CSUSB uses Microsoft Outlook as the primary email application. The first time you open Microsoft Outlook in your office computer it will guide you thru the configuration process. For cellphone and tablets, you can request assistance by contacting  Michael Ignacio at (909) 537-3538.
How do I access my email while away from campus?
CSUSB uses Microsoft Exchange / Outlook Email system. You can access your email account using the CSUSB Outlook Web App. Login with your coyote-id and password.
How to share content on your computer to another computer using Skype for Business
Sharing content to another computer can now be done using Skype for Business. Take a look at this YouTube video which demonstrates the process.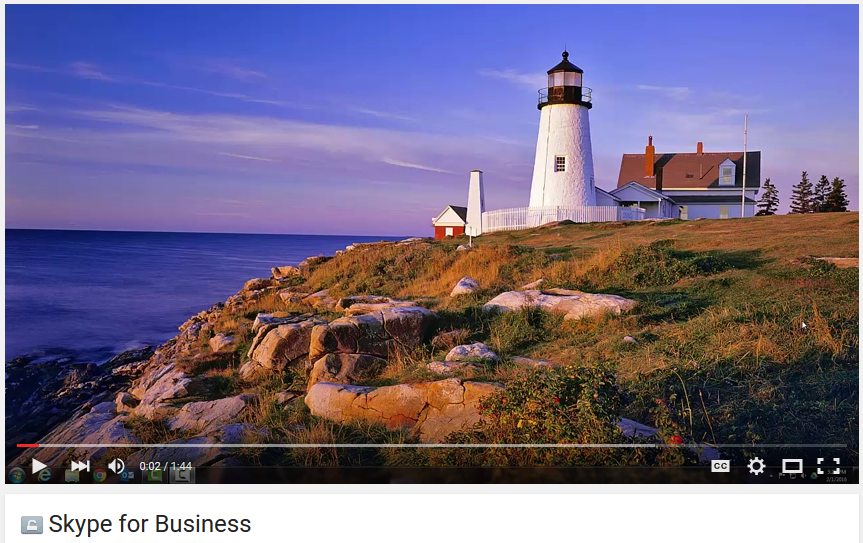 How do I get Adobe Acrobat for Faculty & Staff?
CSUSB offers faculty and staff the ability to use Adobe Acrobat Pro for free! Adobe Acrobat Pro can be used to create PDF files or even create PDF forms to distribute publicly that allows users to type on the document and email back. The link below will guide you on how to download Adobe Acrobat.
Please contact Michael Ignacio at mignacio@csusb.edu if you need assistance.
What software is available for Faculty & Staff?
These are some of the software available for Faculty and Staff:
Adobe Creative Cloud (Adobe Acrobat Pro)
Camtasia
Eset Antivirus
Microsoft Office 365
Snagit
SPSS Statistic Software
Zoom
Visit the Faculty & Staff Software page for instructions on how to download the software.
Please contact Michael Ignacio at mignacio@csusb.edu for information about other software programs you may need for you office computer or classroom. Visit the CSUSB Software & Licensing Support page for a full listing of campus licensed software.
What is a Vital Technology Grant?
Vital Technology Grants are designed to allocate designated funds from the Student Success Initiative fee in a manner beneficial to all students by providing them with technology experiences that:
Enhance the technological resources at California State University, San Bernardino to support student success.
Broaden/enhance the quality of the academic experience through the use of technology in support of the curriculum;
Provide additional student access to technological resources and equipment needed in support of instruction;
Maintain and enhance the technological competency of students as it relates to their academic endeavors;
There will be an annual call for proposals. Proposals will be submitted electronically early in the academic year. Proposals will be accepted from student organizations, academic departments, and administrative departments. Proposals must be approved by the department chair, directors, or chief administrator of the unit and, if more than one proposal is submitted by a college or division it must be prioritized by the Dean or Vice President accordingly.
Proposals may be submitted within one of two categories: General technology proposals and College specific proposals. Funds will be initially allotted as follows: 55 % - General proposals, 45 % - College Specific proposals. Each category shall receive some reasonable level of support each year and can, at its discretion, move funding between categories. Proposals spanning two years will also be considered. Funds will be distributed no later than the beginning of the Spring Quarter.
How do I promote my event on the college website?
We can promote your event in the following ways:
Send an email to coeweb@csusb.edu with your event information. 
You can also add a link to an event flyer or web page.
For assistance with marketing events, please send an email to aitua.ogiamien@csusb.edu.
How do I request an update to my website?
Send change request to coeweb@csusb.edu with the following information:
Subject Line: Web Update Request
URL of page: for example, https://www.csusb.edu/coe
Describe the change: for example, change the following dates - March 2022 to be March 2023
Date Needed: I need it now!, ASAP, Next Friday is fine, etc.)
How I request a new web page or website?
How do I access CSUSB wireless network in the COE building?
Connect to CSUSB's encrypted wireless network, eduroam. This network will require a one-time login using your CSUSB coyote-id and will not require a VPN connection for additional security. The wireless connection works in the COE building and throughout campus.