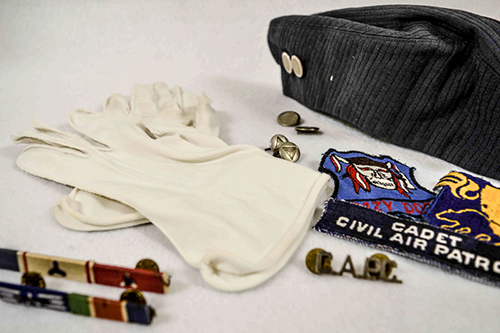 I was a shy, frightened, skinny girl, and working my way through CAP ranks taught me to value myself and developed leadership qualities that carried me well through my teaching years.
The Civil Air Patrol (CAP) Cadets is a youth program run by the United States Air Force that began in 1942. Alice Hall became a member in 1954, at the age of 16.
Civil Air Patrol Cadets was the best organization I ever joined, and I'm grateful to Rev. Commander and Mrs. Frances Hart for their leadership as well as other senior officers like Robert Griffin and James Walsh. Two friends encouraged me to join, Ruth Ferrar and Anieta Nelson.
Her hard work and dedication helped her to quickly rise through the CAP ranks and to amass skills that would serve her for a lifetime.
I worked my way from basic scrub to first lieutenant. I served as drill sergeant, and finally adjutant. As drill sergeant, my squad even won a State drill competition. In that position, I learned how to project my voice to command aenon, a skill that really helped me as a teacher.
I attended Encampment, sort of like Boot Camp, at March Air Force Base in 1956, my senior year in high school, and was given my own squad. With that experience, I learned how difficult leadership can be and how to persevere no matter how I felt.
That lesson enabled me to succeed throughout all aspects of life, including 54 years of marriage. I dropped CAP when I left for college in my junior year, but its impact stayed with me.
She explains the items on display here:
Through CAP, I developed my passion for flying. As a cadet, I had control of planes like the C-45 and the C-54, and I hoped to have to parachute out of a plane. That opportunity never came, but I was able to add other ribbons and awards to my "salad bowl," the breast of my uniform that displayed awarded ribbons.
In addition to the ribbons, I kept my hat and gloves, my second and first lieutenant pips, a couple of buttons off my uniform, and a few patches and pins representing CAP and our Squadron, the Crazy Dogs especially.
I also have an 8x10" photo of me and the male cadet, Gerald Discoll, when we were Cadets of the Month for November 1956.
Alice stopped flying when she got married. She went on to become an award winning dairy goat farmer, as well as a successful teacher.
For my husband I gave up my dream of flying because it frightened him. I replace it with dairy goats, which suited his agricultural background nicely, and gave me many successes.