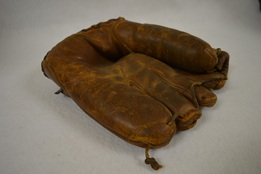 "I have wonderful memories of not only playing baseball, but of being accepted by other people I didn't think would ever accept me because I was different – different culture, different ethnic background, different religion."
Tom grew up in Colton – south Colton, to be specific.
I was born and raised in a segregated community. Colton was divided into two parts, with the railroad tracks dividing the two sections. The north side of town was the gringo section -- and I'm saying 'gringo' because that is the word that we used when we were describing the White side of Colton. And then our side – the south side – was the Mexican side.
Tom's parents were mindful of the de facto segregation and warned both Tom and his brother to stay on the south side of the tracks, for their protection.
My mom and dad would say, 'You better not cross those railroad tracks and go to the north side of Colton, because those people don't like us. And if they catch you, they're gonna' beat the heck out of you.' As obedient little kids, we did what they ordered and we stayed on our side of town.
But things began to change in 1952, when Little League was introduced to Colton. A year ahead of Brown versus Board of Education, baseball in Colton would be integrated.
The tryouts were in north Colton – in the Municipal Park. So my brother and I walked on a Saturday morning about 12 blocks to the other side of town. And it was a little scary, because we did cross the railroad tracks. So we were afraid because we didn't know what was going to happen.
Tom and his brother both made the teams. Tom was assigned to the Indians. He struck up a friendship with the catcher, Mike Briggs.
We became very close friends. One of the weekends Mike invited us to go stay for an overnighter at his house. Mike got us up early the next day and we went to his church. He introduced us, and everybody said, 'Hello.' And after service we had punch and cookies. The bottom line was that they accepted us, and that we were welcome. So it was a wonderful experience.
This experience of acceptance gave Tom confidence to venture outside of the 1.3 square miles of south Colton, and to develop high expectations for his own successes in life.
Little league took away the fear of becoming involved with somebody else – with different people. It took away the fear of being comfortable in north Colton. They were a little different from me. But still, when we got together we were all the same. In Little League, the only evaluation that was made of me wasn't that I was a Mexican, but that I was a good second baseman, and I had a good 300-400 batting average. This kind of experience gives you the energy to think, 'I can compete. I can do anything. And I'm able to be accepted by other people that are doing the same thing, that are my age, and that are interested in the same things.'
Tom still has his first baseball glove from that Little League season in 1952, pictured above.
We used this when we played our little league games. When I played I used the glove, and when my brother played he used the glove. And when we played each other we would exchange the glove between innings. The glove brings back wonderful, pleasant memories that we were motivated to cross the tracks, and make the team, and then get acquainted with another culture.
There's a lot of us that have these wonderful little experiences when we grew up. Maybe we don't forget these experience because they have enriched our lives and also have become cornerstones for our foundation growing up. I look back to my glove and I say, 'Aha, I remember Little League. I went through the experience of being accepted, of being part of a new environment.'