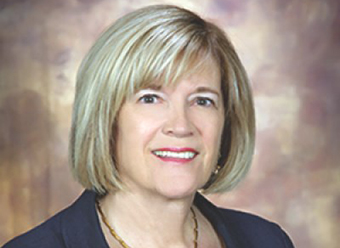 Dr. Lynne Diaz-Rico
Professor of English Education
College of Education/Department of Teacher Education & Foundations
Dr. Diaz-Rico passed away on June 24 at her Redlands home of pancreatic cancer. She was 73. She taught at CSUSB for over 30 years. She founded a successful master's program in education,  Teaching English to Speakers of Other Languages (TESOL). She was a past president of the California chapter of TESOL, a professional organization of more than 1,800 members.
She was the author of more than 50 publications including the definitive textbook for English as a second language instruction, "The Crosscultural, Language and Academic Development Handbook: A Complete K-12 Reference Guide." That textbook is now in its sixth edition. She also wrote "Strategies for Teaching English Learners."
Dr. Diaz-Rico traveled extensively to deliver lectures and presentations. She possessed a deep knowledge of visual art and craft, European history and United States indigenous cultures. She wrote two volumes on the history and folklore of the Serrano people, a project commissioned by the San Manuel tribe located near Highland.
She is survived by her husband of 31 years, Philip Rico, her four children – Sandra Peacock, Eva Diaz, Daniel Diaz Thomas and Voltaire Rico along with five grandchildren.
A service commemorating her life and accomplishments was held June 30 at Emmerson-Bartlett Memorial Chapel in Redlands.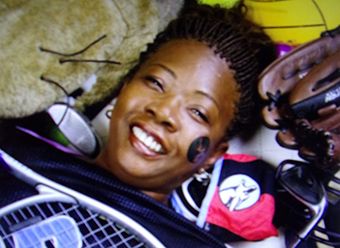 Cita O. Jones
1947-2020
Cita O. Jones, a Cal State San Bernardino employee for 28 years, passed away on April 2, 2020 at age 72. Prior to retirement in 2008, Cita served as NCAA compliance coordinator for the CSUSB athletics department. 
She was hired in 1980 as a clerical assistant in the campus financial aid office. She joined the athletics department administration in 2000, then directed by former Athletic Director Nancy Simpson.
"It's nice to have someone of strong ethical and moral character," Simpson said of Cita in an interview with Koren Wetmore in the 2006-07 Fall-Winter edition of CSUSB Magazine. "You can't teach that. She has it."
Both students and staff complimented Cita on her knowledge of NCAA rules and guidelines for eligibility as well as her one-on-one work with students in making sure their grades kept them eligible and answering questions from coaches, staff and student-athletes on a variety of subjects.
Ashley Sodergren, at the time a member of the volleyball team, said of Cita, "she's like a second coach. She knows about your grades, what you are going through and she's easy to talk to. Everyone has a close bond with her."
During her tenure in athletics, Cita was the advisor to the Student Athlete Advisory Committee (SAAC) and coordinated the organization's involvement in the annual Read Across America project, seeing that student-athletes visited local elementary schools where they read to children and answered questions about their college experience and their career goals.
"Cita truly believes in the value of athletics for these kids," said volleyball head coach Kim Cherniss.
Although no obituary was provided, arrangements for Cita were taken care of by Aaron Cremation and Burial of San Bernardino. Among her survivors are a son, Dino, and her longtime companion, Tony.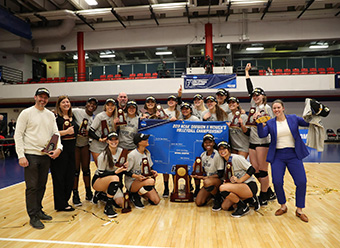 2019 Division II - NCAA Champions
Women's Volleyball Team Capture CSUSB's first National Championship!
In case you missed it, the Cal State SB women's volleyball team captured the NCAA Division 2 nationall championship with a 3-1 victory over University of Nebraska-Kearney. It is the first team championship for any Coyotes athletic team in the 35-year history of intercollegiate sports at CSUSB (1984-85). Congratulations to Coach Kim Cherniss, Associate Head Coach Danny Scott, Assistant Coach Kelcie Tolan and the outstanding group of players who completed the first unbeaten season for the team at 33-0 with the national title win. It was only the third time an undefeated team has won the NCAA D-2 title in the history of the women's sport. Incidentally, this was the second NCAA volleyball title for Coach Cherniss, who was a player on the UC Riverside team that won it all in 1982.  Alexis Cardoza, an outside hitter for the Coyotes, was selected as the NCAA Division 2 Player of the Year.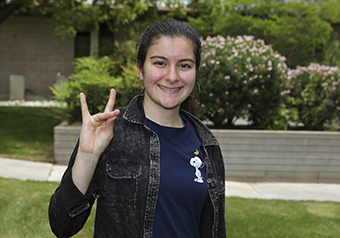 Yusra Serhan Thanks the Retirees Association for CSUSB Scholarship
Yusra Serhan is one of the recipients of the 2019-20 Retirees Association's Scholarship. Yusra is a senior at CSUSB majoring in Criminal Justice. She is newly elected to the SMSU Board of Directors and is active in ASI. Yursra stated that the scholarship will "provide more time to focus on completing my law school application..." Yusra plans to become a civil rights attorney. Congratulations Yusra!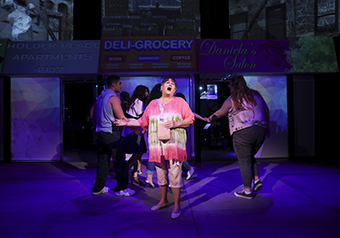 Robin Steege - In The Heights
Robin Steege
Years at CSUSB:  7
When: April 2012  To July 2019
Where: Student Leadership and Development, Alumni Affairs and Relations
 
Robin came to CSUSB from San Bernardino City Unified School District where she was working with parents. When that position ended she applied at CSUSB and was hired to work with a Parent Program providing services for CSUSB students and families new to the university system. It was a perfect fit and she enjoyed helping students and parents navigate the university.
 
Two years later she moved over to Alumni Affairs and was part of the team building alliances between matriculated students and the campus.
 
Before all that Robin was a very successful musical theatre performer. When the Theatre Arts Department went looking for a seasoned performer for the Spring production of IN THE HEIGHTS- fate stepped in to bring Robin back to the campus.
 
The opportunity for current students to work with a performer whose experience was throughout our region and across the country was one we could not pass up. Robin was cast in the role of "Abuela Claudia" who is the matriarch of the neighborhood of Washington Heights. She was part of the rehearsal process beginning April 2 through the end of the production June 9. Many past and present faculty, staff and theatre friends came to get an opportunity to see Robin in this entertaining show. It was an ideal chance to reconnect with the campus community.
 
She says, "The best part of the experience was working with the students." I am certain many of the students will stay in contact. "The role was challenging because of my absence from actively performing but I had such fun working with the group. CSUSB has so many great people."
 
Robin will be continuing her work as a life coach and walking and visiting with friends.
 
DO YOU HAVE A GREAT STORY OF A CAMPUS RECONNECT? We would love to hear from you.
Please send to  kervin@csusb.edu