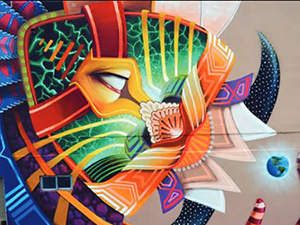 About the Program
The Latin American Studies Minor Program provides students with the opportunity to explore a wide range of subjects relating to the Western Hemisphere through an interdisciplinary curriculum that draws from the colleges of Arts and Letters, Business and Public Administration, Education, Social and Behavioral Sciences and Natural Sciences. The international focus on Latin America adds an important global perspective to  any major. The program offers physical and virtual resources to students and faculty interested in this area of the world. The Latin American Studies minor program can make a student more marketable as he/she gains more knowledge in areas of concern for today's global community.
Goals
International knowledge base, understanding and mobility (wings)
Cultural pride and respect [roots]: especially but not exclusively related to countries in the Western Hemisphere
Physical and virtual resources/meeting place for students and faculty interested in the study of the Americas, including indigenous populations
Features
Interdisciplinary/allows a combination of different yet related disciplines
International/multicultural perspective added to any major
Program Requirements
Students must meet general university admissions requirements. All majors are eligible to participate in this minor program. It is encouraged that students complete SPAN 1112 or PORT 1112 during the course of the program. 
Requirements for the minor [18 units]
Introductory course requirement [3 units]
Latin American Studies (LAS) 2000: Introduction to Latin American Studies 
Core Course Requirements [9 units]
Choose three courses from the following list:
SPAN 3900: Voices & Visions from the Hispanic World    
SPAN 3309: Cultures of Spanish America    
PSCI 3060: Latin American Politics    
SOC 4420: The Latino Experience in the U.S.    
ANTH 3701R: Cultures of Mexico and Central America    
ANTH 3702R: Anthropology of South America    
GEOG 4055: US-Mexico Border Region    
HIST 3900: History of Modern Mexico    
HIST 4650: Modern Central America    
HIST 4700: Modern Latin America
Elective Courses [6 units]
Choose two courses from the following list: 
SPAN 2111: Intermediate Spanish Ist. Semester    
SPAN 2112: Intermediate Spanish 2nd. Semester    
SPAN 2251: Intermediate Healthcare Spanish I    
SPAN 2252: Intermediate Healthcare Spanish II    
SPAN 3051: Culture, Health, and Food in Latin America    
PSCI 5400: Seminar in Comparative Politics    
PSCI 5920: Seminar in Government    
SOC 1100: Latino Communities, Wellness, and Life Skills    
SOC 3420: The Latino Family    
SOC 4530: Citizenship, Status, and Inequality    
SOC 4510: Sociology of Migration    
SOC 5250: Indian Nations and Native America    
SOC 5450: Indigenous Peoples    
GEOG 4060: Emerging World Regions    
HSCI 4212: Topics about Special Populations    
HSCI 4210: Cultural Competency    
HIST 4660: Foreign Relations of Latin America    
HIST 4670: Latin American History Through Film    
HIST 4690: Colonial Latin America    
COMM 4302: Latinx, Media, and Cultures    
TA 3720: World Dance Traditions    
TA 4663: Dramatic Literature of Identity    
ADMN 5955: Independent Study    
MGMT 4050: Managing Across Borders    
MKTG 4700: International Marketing    
PA 5900: Special Topics in Public Administration
*Note: Students are encouraged to take no more than 2 courses per department and no more than 4 courses per College. 
*Note: Spanish courses at the 300-level and above are taught in Spanish
L.A.S. Activities at CSUSB
The  Latin  American  Minor  Program at CSUSB sponsors and cosponsors a variety of cultural activities throughout the academic year; events ranging from musical performances, lectures, study abroad fairs, Cinco de Mayo, Día Latino, Día de los Muertos and many others. CSUSB students are active participants in our cultural celebrations.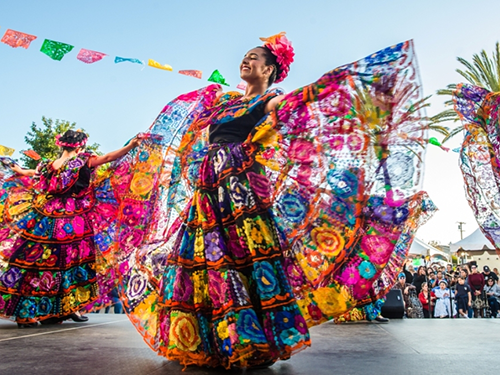 Cinco De Mayo