Loved ones lost to substance use disorder remembered at CSUSB
Along Coyote Walk and in the Anthropology Museum at Cal State San Bernardino, the campus community remembered loved ones who died because of drug overdoses and became more aware of the dangers of substance use disorder.
Along with representatives of the San Bernardino County Department of Behavioral Health, students, faculty, staff and the community participated in Black Balloon Day on March 6, started by Diane and Lauren Hurley, who lost their family member – Greg Tremblay, aged 38 – to an overdose on March 6, 2015.
Black Balloon Day tables were set up along Coyote Walk (behind the John M. Pfau Library) and in the Anthropology Museum in the College of Social and Behavioral Sciences building. During the event, the university community and area residents wrote messages to loved ones lost to an overdose.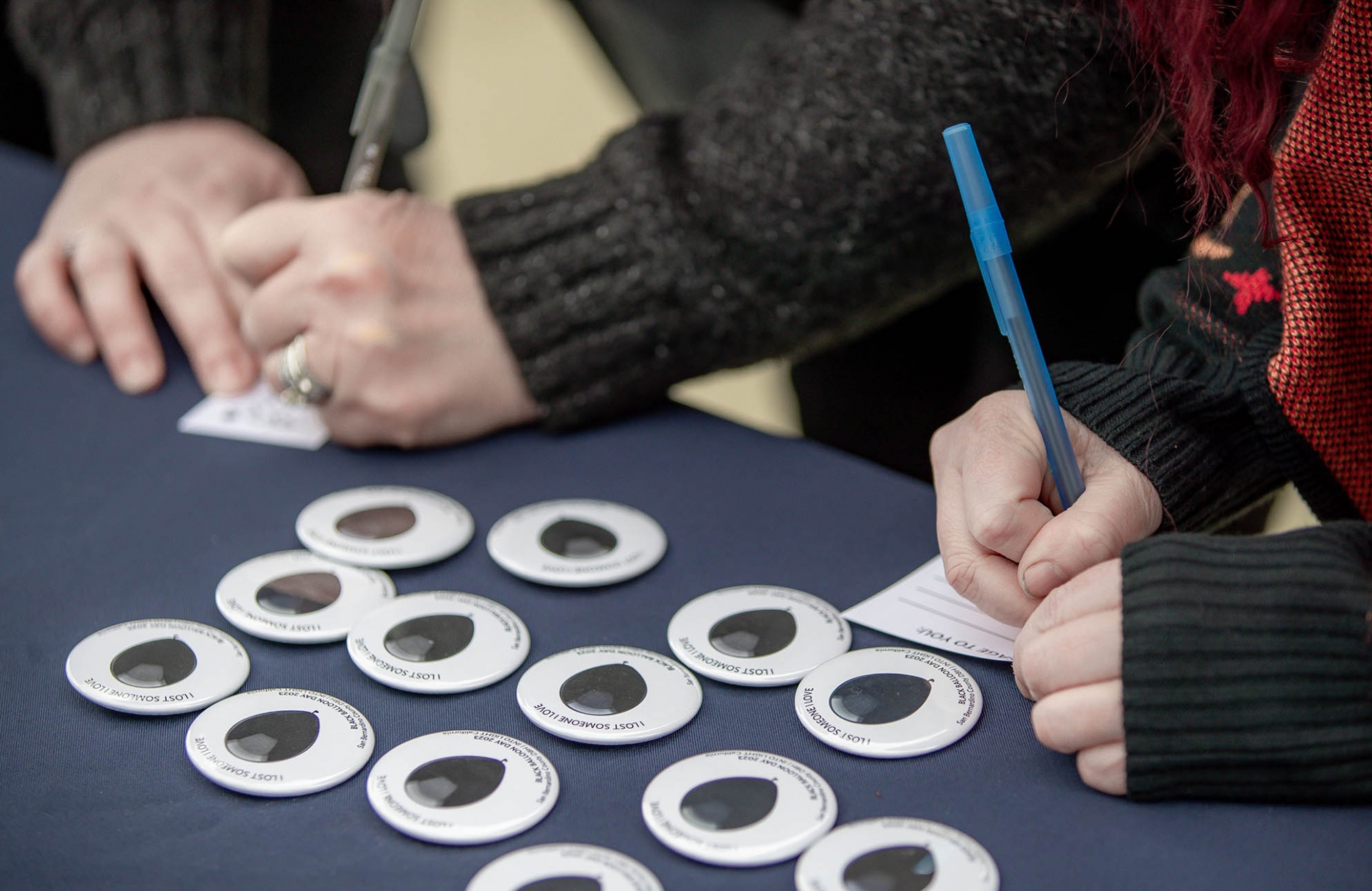 The messages were attached to black balloons at both locations, with the number of balloons creating a visual representation of the number of people whose lives have been touched by overdose deaths. The personal messages attached to each balloon were read by passersby to help them personalize the statistics about overdose deaths and remind all that an overdose can happen to anyone.
Each Black Balloon Day, more and more people – nationally and internationally – are using black balloons to remember the lives of those lost to overdose. This is done to honor the lives of loved ones, to spark conversation, and to raise awareness about overdose deaths.
According to the Center for Disease Control and Prevention, 136 people die every day in the U.S. from an opioid overdose.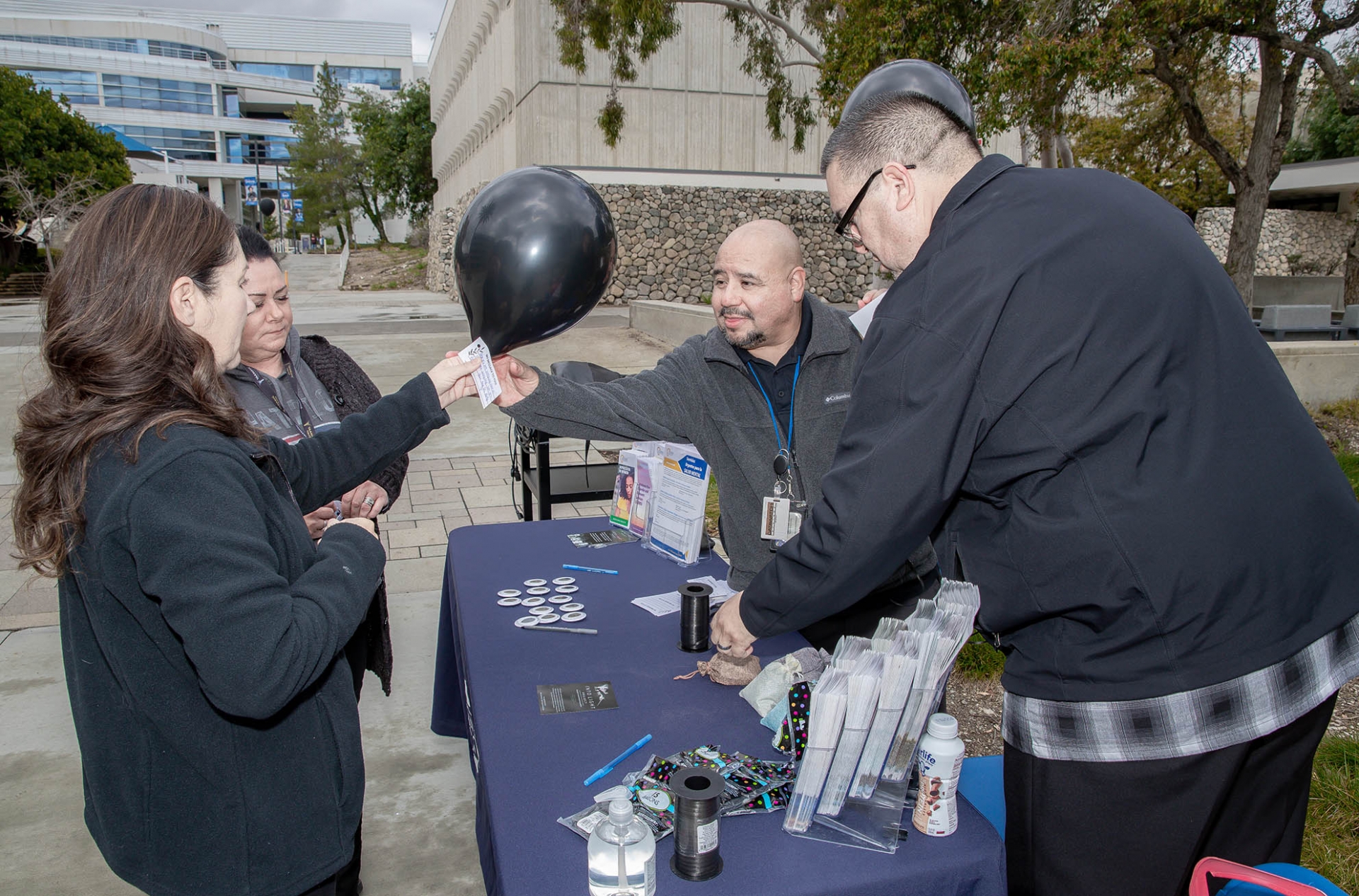 Locally, the number of overdose deaths in the Inland Empire has risen dramatically. Between 2019 and 2020, drug-related overdose deaths jumped a staggering 89 percent in San Bernardino County and 50 percent in Riverside County. This is largely driven by accidental overdose and drug poisoning through fentanyl. In 2018 there were 30 fentanyl deaths in San Bernardino County. In 2019 that number rose to 74, and in 2020 to 227. In 2021 there were 309 fentanyl overdose deaths in San Bernardino County.
The Black Balloon Day was presented as part of the CSUSB Anthropology Museum's INTO LIGHT exhibition, which shares the stories of 41 individuals who lost their lives to a drug overdose or drug poisoning.
INTO LIGHT was started by Theresa Clower, who lost her son Devin Bearden to fentanyl poisoning. One unique INTO LIGHT exhibition is being mounted in each state, featuring stories specific to that state.
INTO LIGHT's California exhibition is on display through June 10.
The museum is open to the public and admission is free. Museum hours are Monday through Friday, 8 a.m.-5 p.m. and weekends and evenings for groups, by request, by calling (909) 537-5505.