Book reading about autism inclusion set for Feb. 2
Jess Block Nerren, Cal State San Bernardino alumna and lecturer of communication studies, and her team of contributors, will host a reading of their new book, "Rethinking Perception and Centering the Voices of Unique Individuals: Reframing Autism Inclusion in Praxis," on Zoom, Thursday, Feb. 2, at 4 p.m.
The book, which was released in late September by IGI Global publishing, explores the scholarly research related to autism inclusion, disability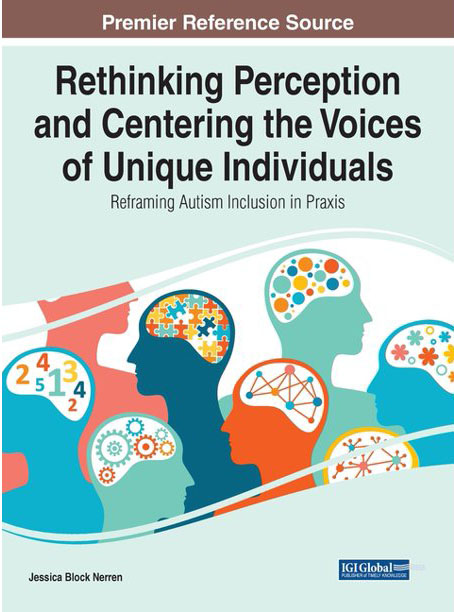 inclusion, disability studies, communication, critical scholarship, education, education reform and educational leadership. 
"This book details the importance of autism inclusion so that we can remove barriers to access and propose a brighter, more inclusive future in our educational systems," said Nerren, editor and author of three chapters of the book, who has a doctorate in educational leadership from CSUSB.
"Ensuring classrooms are inclusive to all students, particularly those with disabilities such as autism spectrum disorder, is crucial in today's educational landscape," says the book's description. "It is vital that educators are prepared and knowledgeable on the current best practices and policies in order to provide these students with the most thorough education possible."
The book includes multidisciplinary researchers and practitioners, many of whom are affiliated with CSUSB. The authors will read an excerpt of their chapters during the February event. The authors are:
Becky Sumbera, Ed.D., CSUSB, assistant dean, James R. Watson and Judy Rodriguez Watson College of Education

Shannon Sparks, Ph.D., CSUSB, associate professor of education

James Grabow, Ed.D. candidate, CSUSB

Austin Quick, Ed.D. candidate, CSUSB

J. Chad Sweeney, Ph.D., CSUSB, professor of English

Kelly Bermingham, BCBA, Social Skills Learning Collaborative, USA

Veronica Glickman, BCBA, Autism Behavioral and Educational Services, Inc., USA

Jess Block Nerren, Ed.D., CSUSB, lecturer of communication studies

Stephanie Rivas, M.A. candidate, CSUSB

Thea Dirton, Ed.D., Greenville County Schools, USA

Jessica Block, Psy.D., Fairleigh Dickinson University, USA

Victoria McDermott, Ph.D. candidate, University of Alaska, Fairbanks, USA

Denise Rockwell, Ph.D. BCBA-D, Rockwell Psychological Services Corporation, USA

Danielle Sterling, M.Sc., Rockwell Psychological Services Corporation, USA

Melissa Mello, BCBA, Rockwell Psychological Services Corporation, USA

Jessica Vierra, M.A., CSUSB Office of Strategic Communication

Tamara Jacobson, Ed.D. candidate

, Baylor University, USA
For questions about the event or about the book, contact Jess Block Nerren at Jessica.nerren@csusb.edu.