Joe Gutierrez | CSUSB Office of Strategic Communication | (90) 537-5007 | joeg@csusb.edu
CSUSB Model United Nations team continues tradition of excellence at Japan conference
Two teams in Cal State San Bernardino's Model United Nations program brought home top honors after participating in the National Model United Nations-Japan conference in Kobe, Japan, recently, continuing the program's long tradition of excellence.
The team representing India was named a Distinguished Delegation for the conference, and the team representing Jamaica was awarded Outstanding Delegates in Committee, working in the Nuclear Non-Proliferation Treaty Review Committee. The conference took place Nov. 20-27, which included the students' Thanksgiving break, and was hosted by Kobe City University of Foreign Studies.
The 2022 CSUSB Model UN Kobe team consisted of Head Delegate Angeli Richard (global studies, MA), Cynthia Roman (cybersecurity), Guadalupe Miranda (public health), Yussif Kanbar (communication studies, MA), Alex Edsell (cybersecurity), Kyle Foiles (history) and Arlan Meacher (national security studies).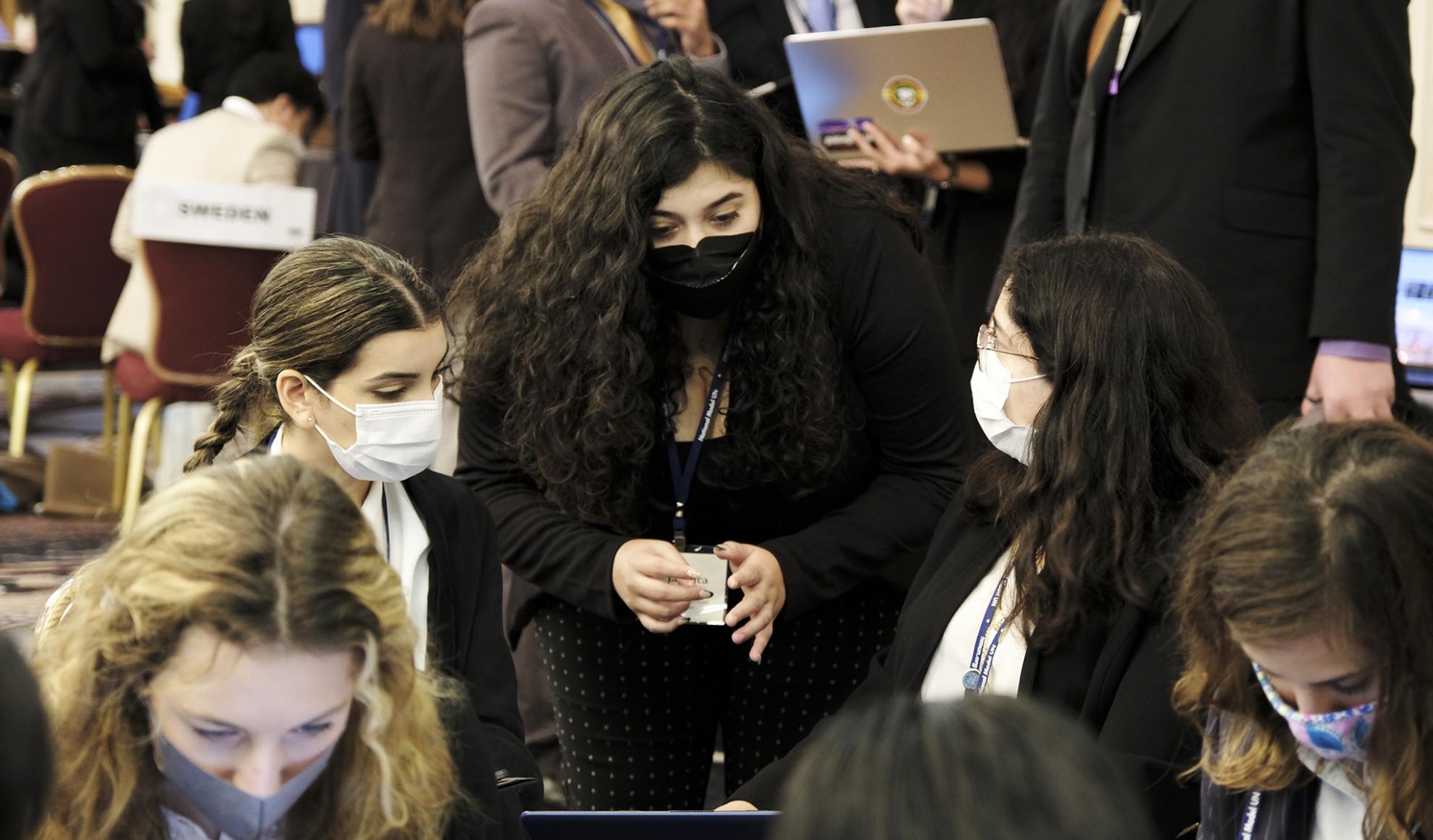 "This group of incredible students contributed, collaborated and cooperated with more than 400 students from 36 colleges and universities to find sustainable and equitable solutions to the pressing global issues," said Sina Bastami, director of the CSUSB Model UN program. "From environmental crisis to gender inequality, these global citizens offered solutions and created an environment for others to contribute for creating a better future for all humankind.
"They also promoted and advanced the NMUN's theme for the next decade, 'Promoting a Just Peace for 21st Century,' by being recognized as one of the most inclusive groups of delegates," he said. "Their hard work, professionalism, inclusivity and knowledge earned them consistent and constant praise by everyone, culminating in winning the two top awards for the two countries they represented."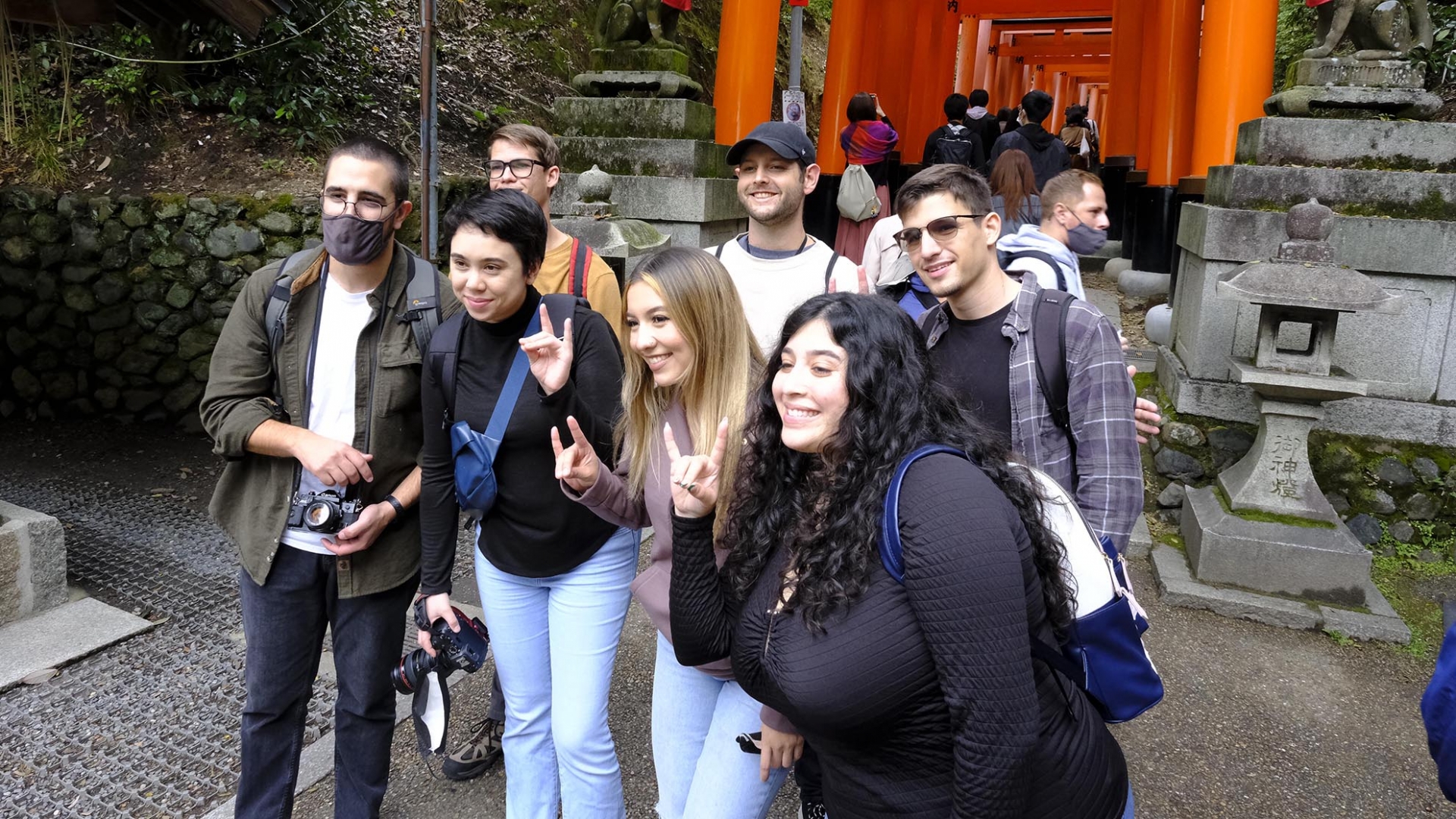 The CSUSB Model UN program trains students in research, public speaking and diplomacy in preparation for the National Model UN conference in New York held each spring, as well as at various international conferences, with the goal of becoming engaging global citizens and leaders who will navigate and lead their communities into a complex future as they seek solutions to the many important challenges they will face.
When they were not in the role of diplomats, the student delegates at the conference had the opportunity to visit cultural sites in Japan, including Hiroshima, where the U.S. dropped the first atomic bomb used in wartime. "They saw with their own eyes the evil of atomic bomb, the reality of nuclear war, and the devastating power of weapons of mass destruction," Bastami said. "This experience is not possible anywhere else on Earth. It had a profound effect on everyone that experienced it."
While Thanksgiving Day was being celebrated back home in the U.S., CSUSB's student delegates were able to take a break from the conference (on that day, they were at work from 8 a.m.-10 p.m.) to have dinner with CSUSB President Tomás D. Morales, who was in Japan on university business. Morales also met with Satoru Tanaka, president of the conference host Kobe University of Foreign Studies.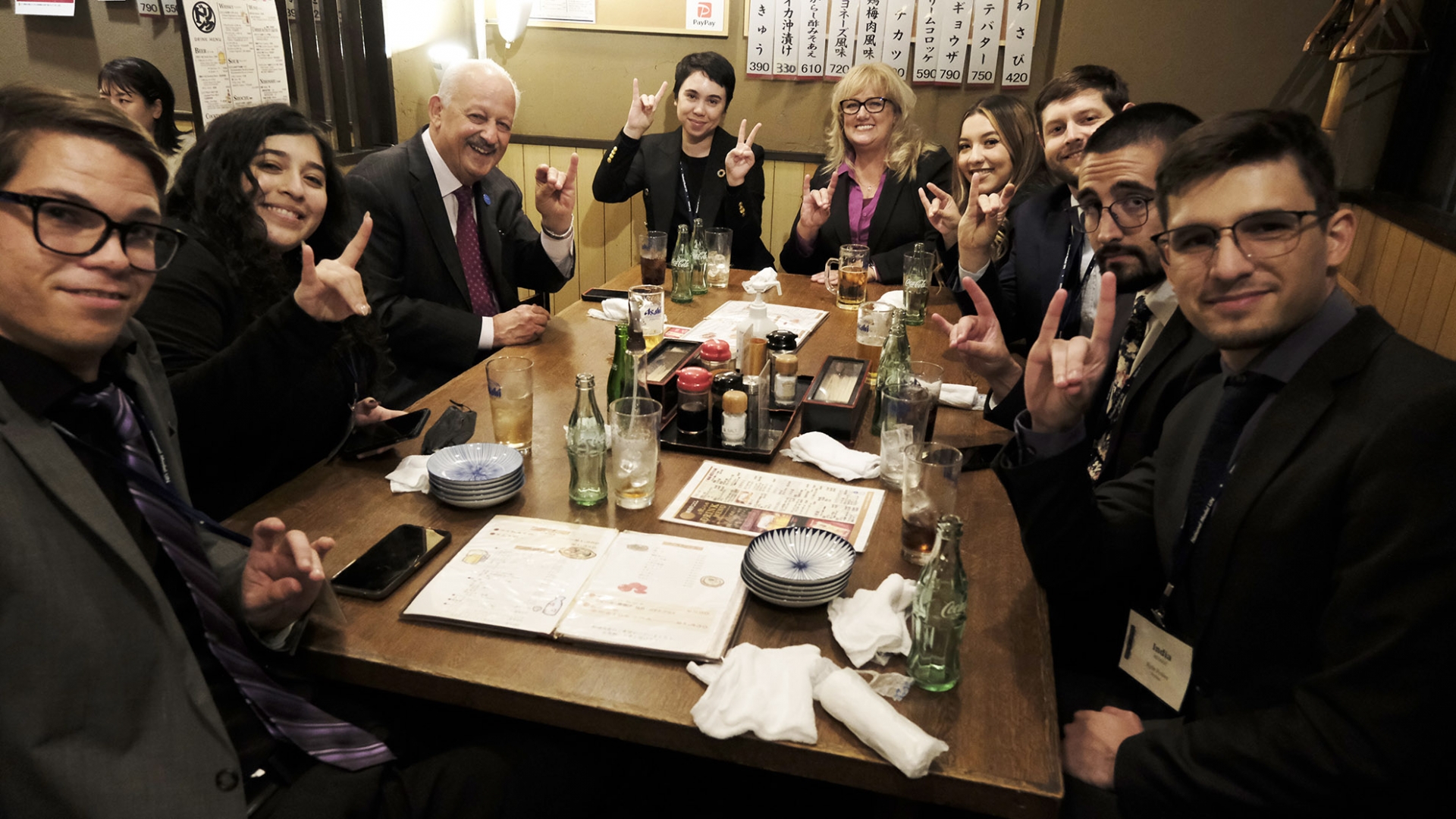 The CSUSB's Model UN students have been participating in the conferences since 1977, when the program was established as an academic program by Ralph Salmi, professor emeritus of the CSUSB Department of Political Science. The program continued its success under the leadership of Kevin Grisham (now the interim associate vice president for Faculty Affairs & Development at CSUSB) until 2020, when Bastami was named the program director. 
Past participants in the Model United Nations program have said the conference simulations gave them real-life experiences in diplomacy and relationship building. Some program graduates have embarked on careers in diplomacy, while others have gone on to prestigious graduate programs, such as the Harvard School of Law. Many of the alumni come back every year to speak to the next generation of CSUSB Model UN students and help support them through mentorship, providing students with networks around the globe and fiscal support.   
Participation in the CSUSB Model UN program is through a class (GEOG 5756) offered by the Department of Geography and Environmental Studies that is open to all students and majors interested in global issues and studies. Geography 5756 fulfills General Education requirements for all enrolled undergraduates and graduates at CSUSB.  
The next National Model UN conference will be held in New York City in two sessions from April 7 to April 16, 2023. For more information about the CSUSB Model UN program or to contribute to it, visit the CSUSB Model United Nations website.