Associate professor of history named Outstanding Faculty Advisor
Jeremy Murray, an associate professor of history, is the Cal State San Bernardino Outstanding Faculty Advisor for 2021-22.
Murray was teaching his hybrid class on History of Modern East Asia when CSUSB President Tomás D. Morales, accompanied by about 20 fellow faculty members, staff and administrators, barged into the small classroom as part of a CSUSB: the faculty "ambush" to announce the award in front of a faculty member's students.
Morales said Murray was named the Outstanding Faculty Advisor in recognition of "his passion, commitment and dedication to student success and providing career and life guidance."
The award comes with one year's membership in the National Academic Advisors Association, covered by the CSUSB Office of Undergraduate Studies; being CSUSB's nominee for national recognition by the National Academic Advising Association (NACADA); $500 in travel funds; a one-year designated parking spot, and the addition of Murray's name to the CSUSB Outstanding Faculty Advisor Honor Plaque in University Hall, Room 397.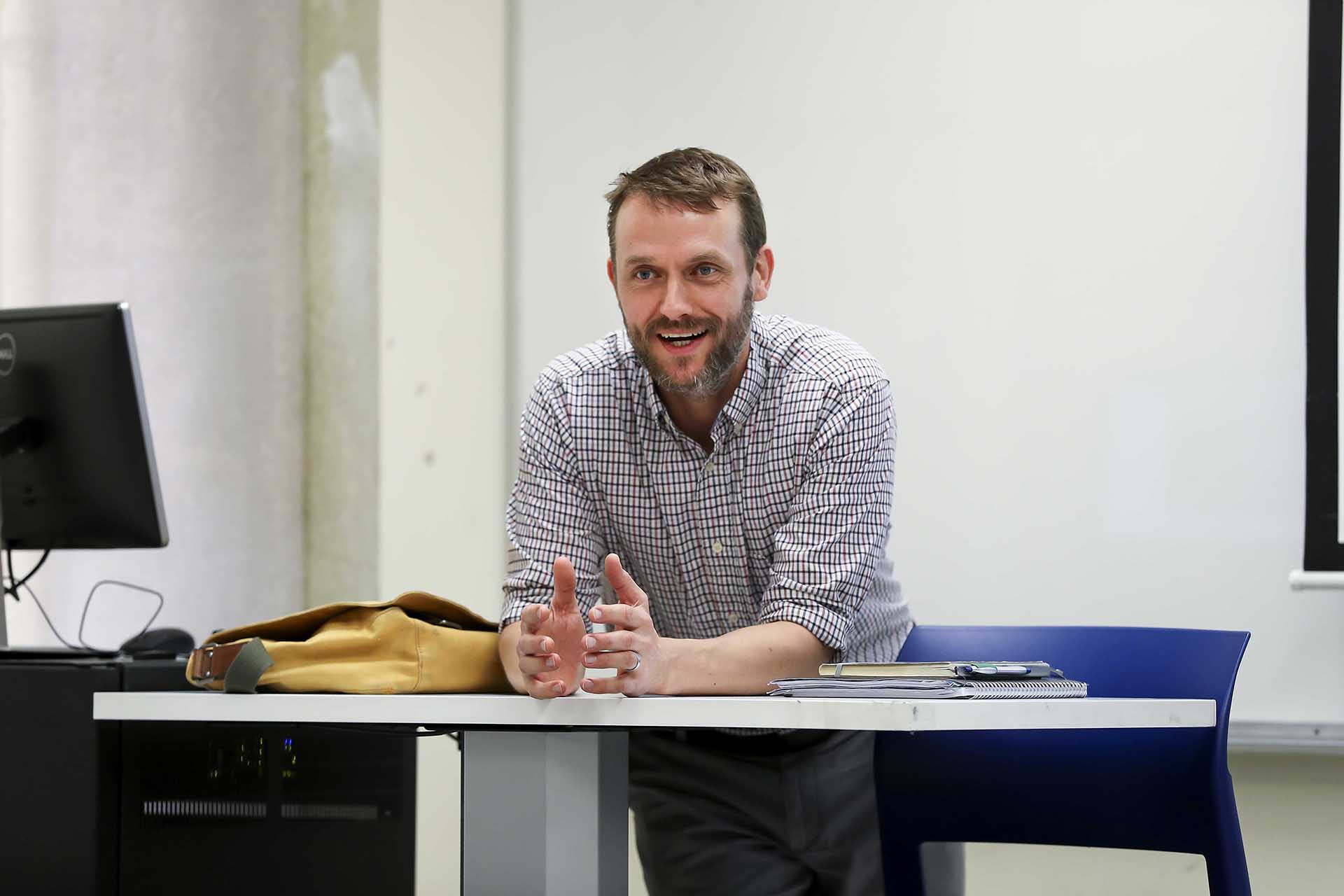 "We all know that faculty advisement and advisement from our professional staff are critical. It's the cornerstone of any academic success strategy," Morales said.
The president said that a faculty advisor can have a great impact on students. Morales said he still maintains a close friendship with his undergraduate history advisor, Dr. Gerald Sorin.
"The impact that you have had, Jeremy, and many of our colleagues throughout the system, is a great part of our DNA in our commitment to student success. So we want to thank you for that support," Morales said.
Provost Shari McMahan pointed out that Murray is fluent both spoken and written in Chinese, French, Dutch Flemish, and also has language training in Japanese, which she said was remarkable for his students to get that kind of exposure.
She also pointed out that the dean of the College of Social and Behavioral Sciences, Rafik Mohamed, who was unable to attend, said that Murray's transition from a face-to-face classroom to online virtual instruction "was seamless. In fact students appreciated the outreach, the crisis intervention, your communication strategies and it didn't go unnoticed; in fact it is really the only one that has been highlighted during the pandemic, so thank you for taking it so seriously with our students and making sure that they stay connected."
Kevin Grisham, the associate dean of the College of Social and Behavioral Sciences, said "as a friend and as a colleague, all of us who know Jeremy here in the college, and beyond the college, knows that the term is faculty advisor award. But realistically, he mentors you. He mentors them from the very first day. He mentors junior faculty."
"This is just a token of our appreciation I think on behalf of the students, the faculty, the staff, the administration for all you do," Grisham said.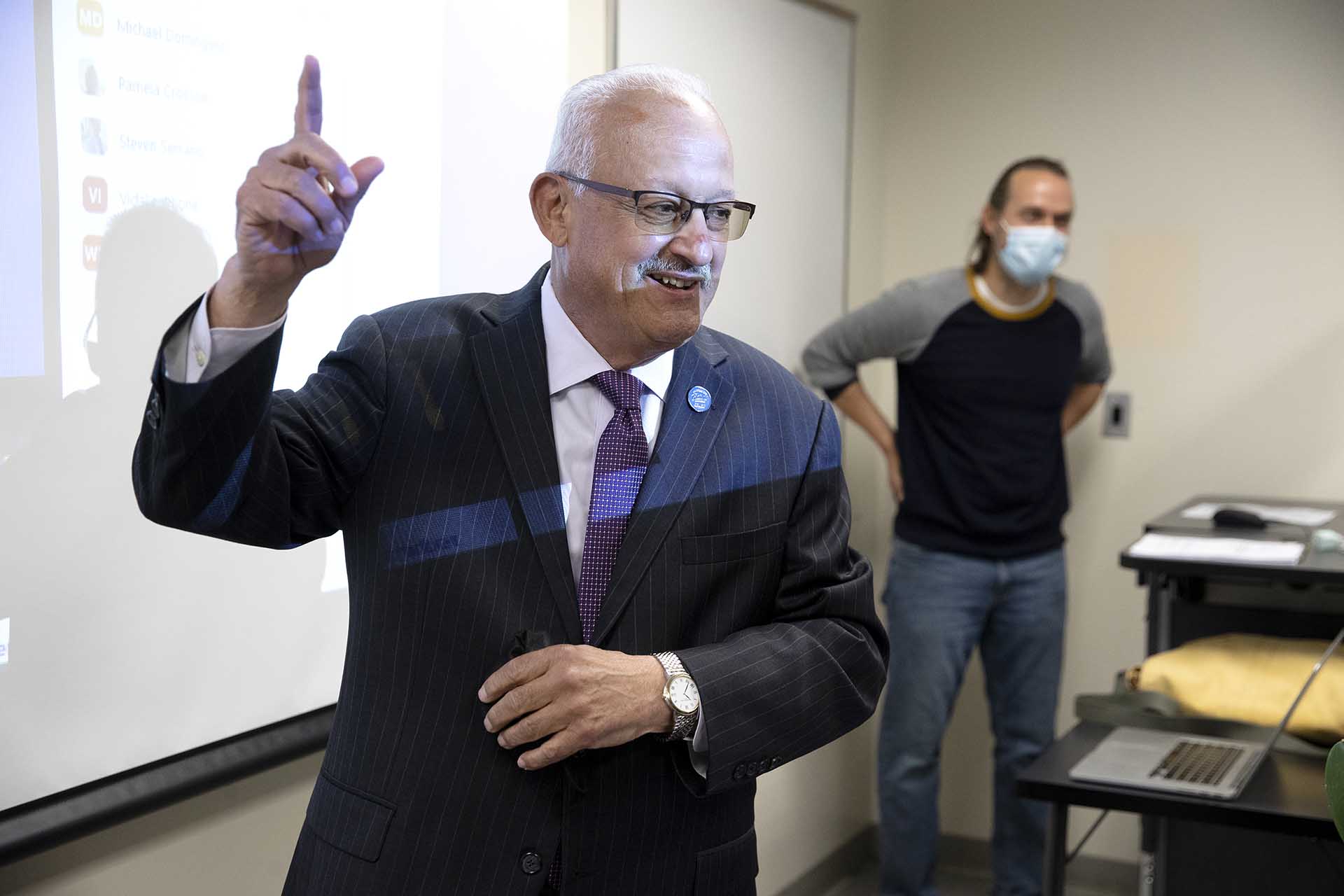 Murray modestly thanked History Department Chair Tiffany Jones and Pamela Crosson, the department's administrative support coordinator, for their help and support and credited them for his success in the program.
"This is an absolute pleasure and a real honor so thank you all very much," Murray said.
The Outstanding Faculty Advising Award is given annual to a faculty member selected by a committee coordinated by the Office of Academic Success and Undergraduate Advising. The selection committee evaluates nominations on the evidence of effective advising qualities and practices that distinguish the nominee as an outstanding academic advisor.
In a letter to President Morales, the committee co-chairs Eduardo Mendoza, director of  Advising and Academic Services, and Sara DeMoss, director of Mentoring & College Advising wrote, "Dr. Murray demonstrates expertise in advising, authentic care for student success, and heartfelt passion for his profession. Further, his enduring commitment to teaching and mentorship of CSUSB students evidences his commitment to the CSUSB mission of 'cultivating the professional, ethical, and intellectual development of our students.'"
The committee then added comments from students about Murray's contribution to their education that further supports how "remarkable he is." The "student remarks highlight the compassion, grace, and support Dr. Murray consistently provides," the committee wrote. Student comments included:
"Dr. Murray's guidance with the history students has been a great importance, creating a good professional team that prepares us for the future."

"Dr. Murray makes himself available to aid myself and my colleagues in any way possible and has served many of us in navigating the Ph.D. application process as well as expanding our greater understanding of what it means to write and research history."

"Dr. Murray's commitment to education and his students put all those worries to rest."

"Dr. Murray has had an eminence impact on my academic journey."
The committee also wrote that Murray's "demonstration of compassion, authentic care, and dedication are common themes that emerge from student comments and letters of recommendation. These qualities are especially important during the social and political climate impacting our communities. COVID-19 has presented our academic community and society with incredible challenges that continue to impact global communities everywhere."
Another area of praise for Murray was in the backdrop of pandemic and the trailing effects, CSUSB moved forward with the development and launch of a history graduate program. Under Murray's guidance, the inaugural class of the Master of Arts in History program was introduced. Murray continues to be a guiding light to all of those in the inaugural cohort, the committee wrote.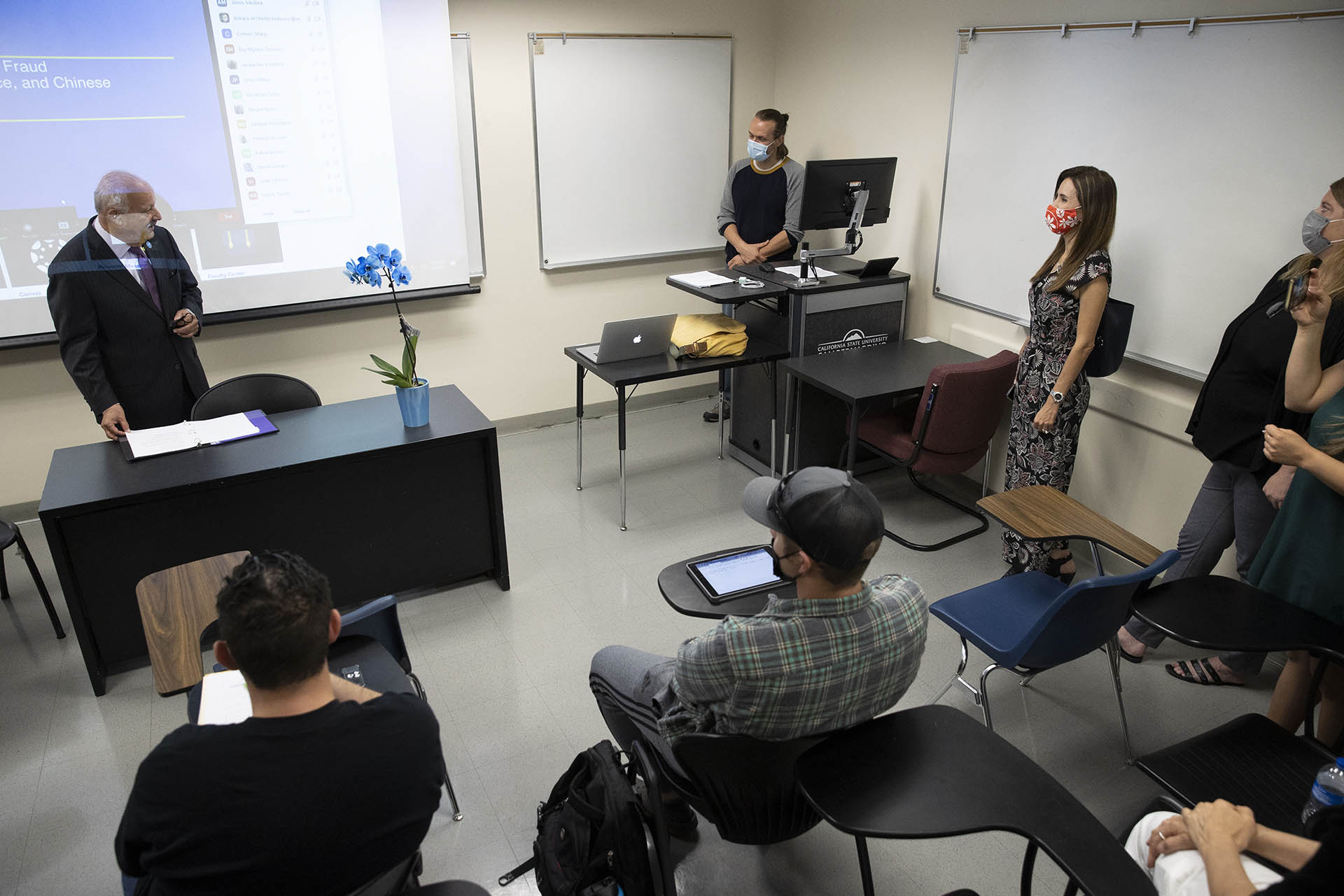 Beyond his outstanding work as the MA in History program director, Murray is also the faculty advisor for the history department's award-winning student-run journal, History in the Making. "With Dr. Murray's leadership," the committee wrote, "the editorial staff at History on the Making won third place in the Phi Alpha Theta Nash History Journal competition for 2021."
Murray teaches and writes extensively about modern China and has published work on Hainan island, Asian cultural traditions, and pop culture. His books include "China's Lonely Revolution: The Local Communist Movement of Hainan Island, 1926-1956" (SUNY, 2017), "Asian Cultural Traditions" (with Carolyn Brown Heinz, Waveland, 2019), and "China Tripping: Encountering the Everyday in the People's Republic" (edited with Perry Link and Paul Pickowicz, Rowman & Littlefield, 2019).
He serves as a coordinator of the CSUSB Modern China Lecture Series, which has featured lectures, roundtable discussions, film screenings, and other events about China. Guests have included journalists, academics, and other experts with a wide-ranging and interdisciplinary spectrum of expertise.
Murray also helps coordinate the CSUSB Conversations on Race and Policing, a forum series that began in the aftermath of the May 25, 2020, death of George Floyd while in the custody of four Minneapolis, Minn., police officers. The series, which has held more than 50 forums, has featured scholars, journalists, law enforcement officers, lawyers, activists, artists, educators, administrators and others from throughout the nation who shared their experience and expertise on issues related to race and policing.
Murray has a bachelor's degree in East Asian Studies from State University of New York, a master's degree in East Asian Languages and Cultures: Chinese history focus and a doctorate in Modern Chinese History from the University of San Diego. He also holds a Chinese languages studies certificate from Beijing Normal University.
The committee members are Ellie Gault, Advising and Academic Services; Ian Banuelos, ASUA Dean's Office; Jessica Davis, College of Social & Behavioral Advising; Claire Luevanos, Jack H. Brown College of Business & Public Administration Advising; Daniel Nickerson, associate professor of biology and 2019 Outstanding Faculty Academic Advisor; Bibiana Rodriguez-Diaz, executive director of Faculty Center for Excellence and 2020 Outstanding Faculty Academic Advisor; and Carol Hood, professor of physics and 2021 Outstanding Faculty Academic Advisor.