Mike Singer | CSUSB Office of Strategic Communication | (760) 341-2883, ext. 78107 | msinger@csusb.edu
CSUSB Palm Desert Campus celebrates new literary magazine and esteemed faculty member
The Cal State San Bernardino Palm Desert Campus held a special event on Dec. 3 to celebrate the release of its latest student-led literary magazine, The Concrete Desert Review, and also pay tribute to the life and legacy of Julie Paegle, an English faculty member at PDC who passed away this year.
The event began with a welcome by Rueyling Chuang, dean of the College of Arts and Letters at CSUSB, who said that Paegle had a big impact on students.
"I remember her smile and her warmth and her intellectual power as a lecturer and scholar," said Chuang.
PDC students, alumni and contributors read poems and short stories from the latest magazine to the many people in attendance, including Paegle's family members, who flew in from Utah to attend the event.
The recipient of the inaugural Julie Sophia Pagle Poetry Prize, Daniel Westreich, said a few words virtually from his home in North Carolina about Paegle and what it means to him to be the recipient of such a prestigious award.
"I feel enormously honored to be awarded the inaugural Paegle Prize," said Westreich. "As an epidemiologist, whose poem was in part about trees and their root systems, it's particularly lovely to know that Professor Paegle loved science and the natural world, as well as poetry. And as a relative outsider to the poetry world, it feels like a real welcome to the wider literary community."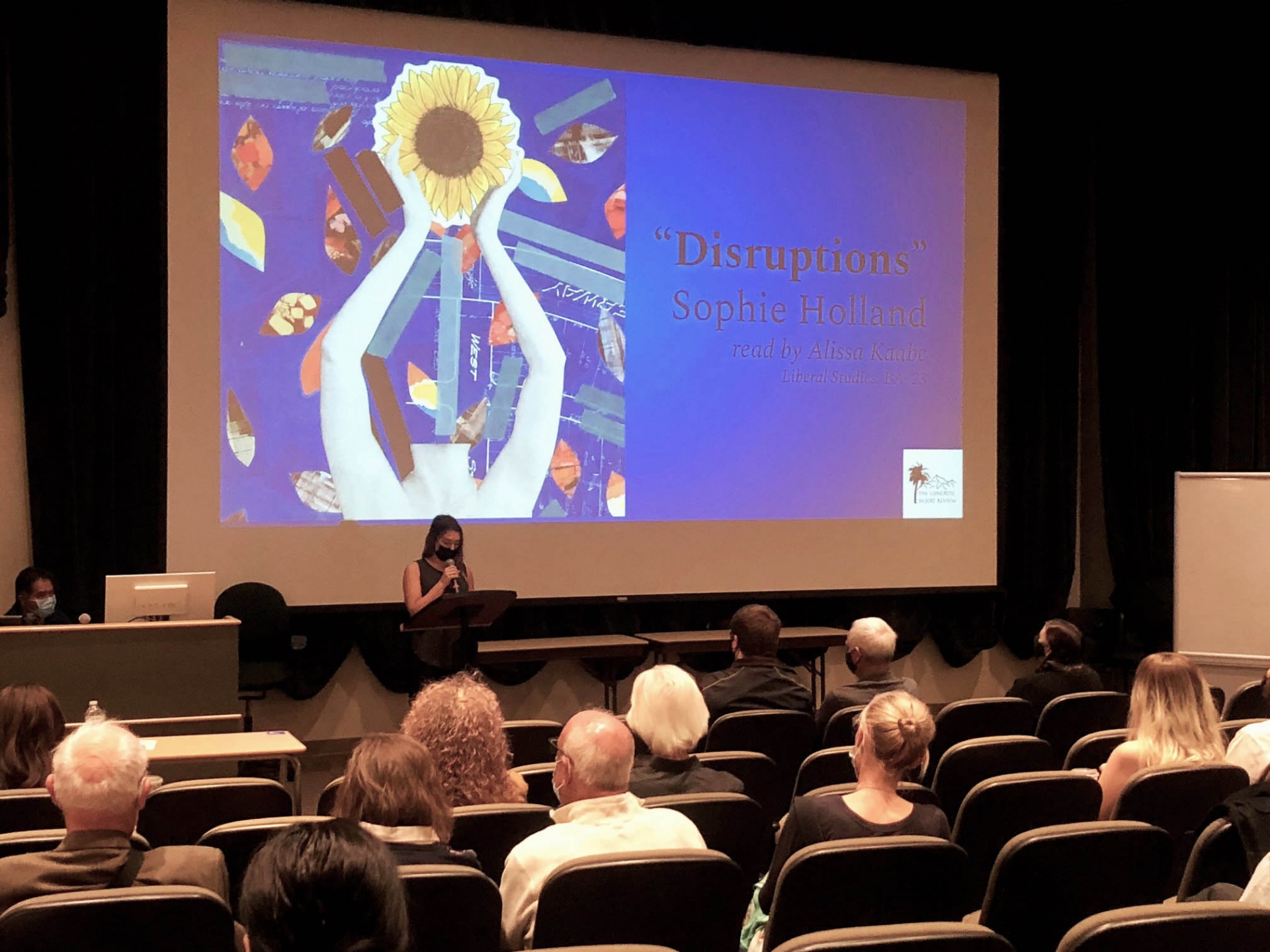 "The journal is an extension of the PDC creative writing program, a program that Professor Paegle was instrumental in developing," said Gina Hanson, faculty advisor of The Concrete Desert Review. "This prize will ensure that her impact on the creative writing program here at PDC is never forgotten."
The Concrete Desert Review is a student-led literary magazine comprised of students from the California State University, San Bernardino Palm Desert Campus whose mission is to create a literary platform for diverse perspectives to showcase their work. They are particularly interested in work by writers, poets and artists from marginalized communities.
For more information about the literary magazine, visit The Concrete Desert Review website.