Successful alumnus reflects on being a CSUSB cybersecurity student

Cybersecurity and national security studies alumnus Vincent Sritapan looks back on his time at Cal State San Bernardino with a feeling of belonging, good friends and mentors, and a sense of accomplishment.
"My studies and experiences at CSUSB helped prepare me for what has become a highly rewarding career in federal government cybersecurity," said Sritapan, who is the section chief of the Cyber Quality Services Management of the Cybersecurity and Infrastructure Security Agency.
Sritapan, who is also a U.S. Navy Reserve Information Warfare Officer, earned two graduate degrees at CSUSB: a master's degree in national security studies in 2009 and an MBA in cybersecurity (formerly known as information assurance and security management) in 2011. He also earned a certificate in Arabic languages in 2009.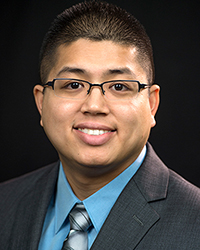 He credits his parents, who immigrated from Thailand in the 1970s, for making higher education a priority in his life.
"My parents quickly realized that education was the key to lifelong success in their newly adopted country. My parents especially believed that higher education was essential to advancement in life and in a chosen career field," Sritapan said. "They instilled the desire in me and my siblings to get a college education. I thank my beloved parents for planting that seed early and often because without their urging I wouldn't have been as successful in my life."
Sritapan said he chose CSUSB for his graduate studies while working on completing his bachelor's degree in information systems at Cal State Northridge.
"CSUSB stood out because it was one of the few universities in the country to offer a master's program in national security studies at that time. Moreover, I was able to choose cyber warfare as my concentration of study at the university," Sritapan said.
The broad range of scholarship opportunities offered by CSUSB also played a decisive role, he said.
"At that time the school was one of the first in California to offer the CyberCorps Scholarship for Service Program that is sponsored by National Science Foundation," said Sritapan, who is one of more than 100 CSUSB students who have received the scholarship and have entered into federal government careers in cybersecurity. Students accepted into the program have their books and tuition paid for and receive a stipend for each year of study.
"CSUSB's Scholarship for Service Program helped open doors for me to career opportunities both inside and outside the federal government," Sritapan said. "Ultimately, the valuable on-the-job experience I gained through the program, while working at the U.S. Treasury Department, led to me to transitioning to a career in government cybersecurity."
Sritapan said his goals while studying at CSUSB were to acquire the knowledge, specialized skills and broad-based experience he would need to succeed in the then-emerging cybersecurity field but that were not widely available at the time.
"My studies and experiences at CSUSB helped prepare me for a successful career in federal government cybersecurity and continue to be relevant to my future as I assume senior leadership positions within the government and the military," Sritapan said.
He also credits the support he received from faculty members in the university's cybersecurity program.
"There were so many individuals who had significant influence on me during my time at CSUSB, perhaps too many to single out here. But at the risk of forgetting some, I will say that professors Tony Colson, Tapie Rohm Jr., Jake Zhu and Frank Lin, all of whom served as mentors and advisors to me, helped to shape the direction of my career choice as well as my critical-thinking ability, which is an essential skill in the cybersecurity field," Sritapan said. "They and everyone who contributed to my education and success at CSUSB helped to establish a 'can-do' mindset in me that continues to drive my approach to the workplace challenges I am charged with solving to this day."
"CSUSB is a place where you not only get a world-class education, but you get to interact and be mentored by committed faculty," said Coulson, executive director of the CSUSB Cybersecurity Center and a professor of information and decision sciences. "Our cybersecurity programs are designed to bring out the best in everyone, but still maintain a sense of community."
Sritapan said he is in regular contact with his former CSUSB professors. "I would be remiss for not pointing out that my CSUSB professors to this day are in contact with me and still providing me critical mentoring and career advice."
As a CSUSB alumnus, Sritapan offers the following practical advice to current and prospective CSUSB students, no matter their field of study: "The opportunities at the school are what you make of them. This may sound like a cliché, but it is completely the truth.
"I would tell current and prospective students to apply themselves and seek out any and all opportunities, grants, internships and scholarships that will round out their educational experience at CSUSB," Sritapan said. "You'll find more rewarding and fulfilling opportunities and other unexpected worthwhile possibilities than you think are available to you."