National Cybersecurity Awareness Month lookback: Cybersecurity CyberCorps: Scholarship for Service Program receives $3.9 million grant
Editor's note: In recognition of National Cybersecurity Awareness Month, we are reposting this article on CSUSB being awarded a federal grant from the National Science Foundation for the university's highly successful CyberCorps: Scholarship for Service Program.
The article was originally posted on Aug. 26, 2021.

---
The National Science Foundation has awarded a five-year $3,872,923 grant to Cal State San Bernardino to continue the university's Cybersecurity Center's highly successful CyberCorps: Scholarship for Service Program.
The grant, which runs from Aug. 1, 2021, to July 31, 2026, provides substantial scholarships to students who are interested in studying cybersecurity, said Tony Coulson, executive director of the Cybersecurity Center and a professor of information and decision sciences in the Jack H. Brown College of Business and Public Administration.
To date, more than 100 CSUSB students have entered into federal government careers in cybersecurity, all to protect the nation, Coulson said.
"This is the fourth award for this scholarship and great news for our students as it will help us increase the number of graduates entering the cybersecurity field," Coulson said. "Our country faces a deficit of 500,000 cybersecurity professionals and the talent produced at Cal State San Bernardino is among the best in the United States."
The program has a limited number of scholarships. Undergraduate students accepted into the program will have tuition and books paid for and will receive a stipend of $25,000 per year. The CyberCorps program is also open to graduate students pursuing a degree with a cybersecurity focus. Graduate students accepted into the program will have their tuition and books paid for and receive stipends of $34,000.
"CSUSB has more options for cybersecurity degrees than anyone in California," Coulson said. "We have four bachelor's degrees and five master's degrees that reflect the diversity of skills in cybersecurity. These degrees range from information systems to national security, business and public administration, and criminal justice."
Students accepted into the program will receive intensive hands-on training in all aspects of cybersecurity in addition to an excellent cybersecurity education. They also have access to important and substantive internships around the country, many in Washington, D.C., that prepare them to serve at the highest levels of government upon graduation, Coulson said.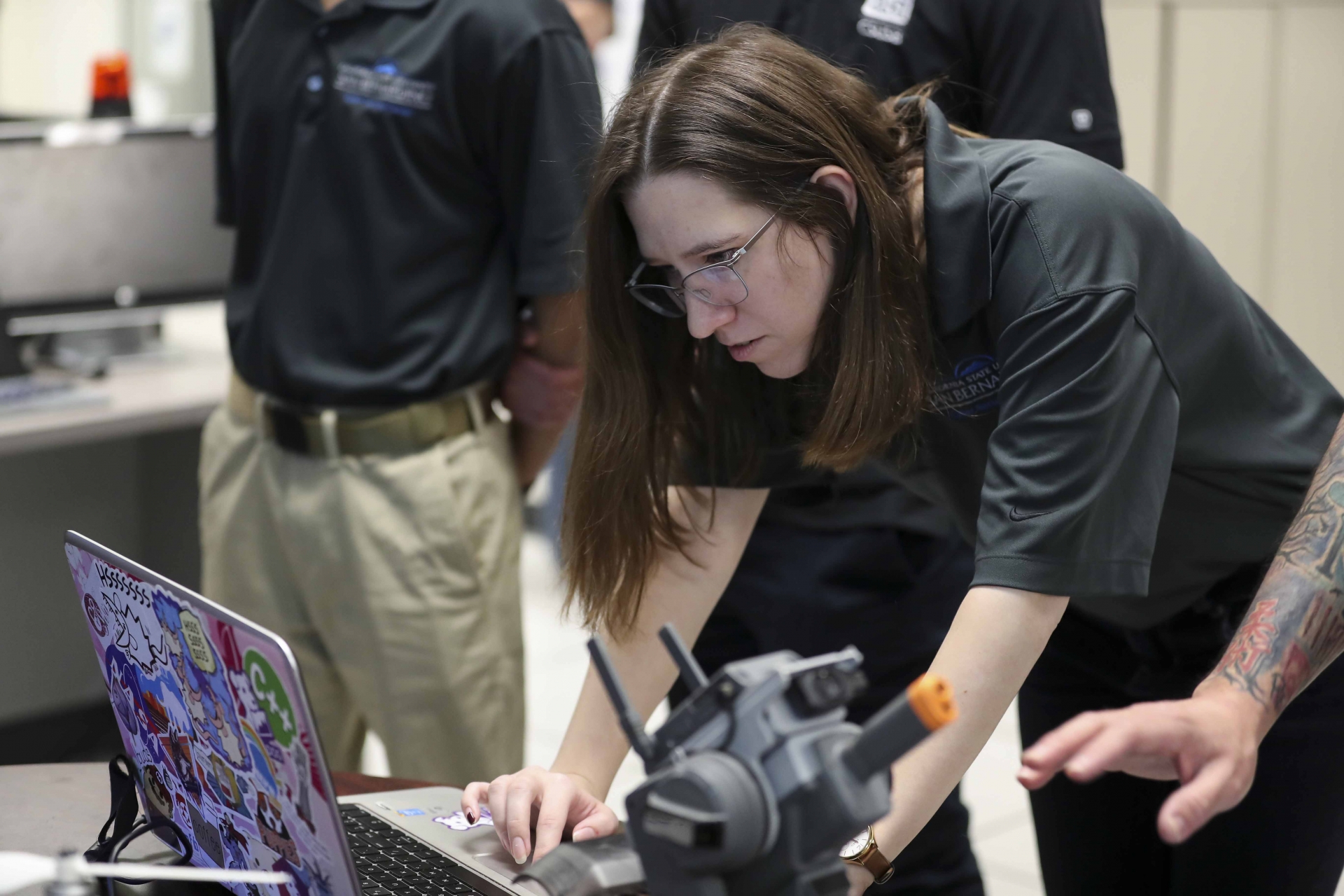 Every year, CyberCorps students are invited to travel to Washington, D.C., to participate in a highly competitive job fair sponsored by the National Science Foundation. The CSUSB cybersecurity program has been so successful that it is not uncommon for every CSUSB student to be offered a job or internship in cybersecurity with government agencies at this event, Coulson said.
Under Coulson's leadership, the CSUSB Cybersecurity Center last year was named the Centers of Academic Excellence in Cybersecurity (CAE-C) Community National Center by the National Security Agency (NSA), which selected the center for a $10.5 million grant and directed the university to be a leader of the agency's core workforce development initiative, the Centers of Academic Excellence (CAE) in Cybersecurity Community.
In its designation as a national center, the CSUSB Cybersecurity Center has worked to establish and manage three CAE-C Communities of Practice, coordinate cutting-edge research, establish and support five regional hubs around the country, and support cybersecurity education nationally.
The center, from 2010-2020, has brought in over $32 million worth of grant sponsored programs from entities that include the National Initiative for Cybersecurity Education (NICE), the NSA, the Department of Defense, the National Cybersecurity Training and Education (NCyTE) Center, and the National Science  Foundation. Through the grant sponsored activities of the center, students can compete for scholarships, participate in national conferences, and research emerging cybersecurity issues. 
The CAE in Cybersecurity Community provides a unique partnership of schools designated by the NSA as Centers of Academic Excellence in Cyber. As the National Center, Cal State San Bernardino works with institutions of higher learning on a range of programs ranging from apprenticeships, K-12 educational programs, cyber defense, competitions and cybersecurity research.
In 1999, the NSA launched the Centers of Academic Excellence in Information Assurance Education (CAE-IAE) program. Under this program, an institution could receive the CAE-IAE designation if it passed rigorous curriculum and program requirements. By May 1999, seven schools became designated as a CAE, and soon, many more institutions joined the ranks of CAE-designated institutions. While the CAE-IAE program initially formed to address the shortage of intelligence community professionals, the program later expanded to address the lack of qualified cybersecurity professionals in the workforce. The newly named CAE programs in Cyber Defense (CD), Research (R) and Cyber Operations (CO) now include over 330 academic institutions and over 100,000 active students.
CSUSB, a Hispanic-Serving Institution, is recognized globally for its Jack H. Brown College of Business and Public Administration and nationally for its leadership in developing the country's cybersecurity workforce.