When mentorship goes full circle: Two CSUSB employees reflect on their mentorship experiences
---
Mentorship can have many different meanings, but to both Jesse Felix and Alfredo Barcenas, mentorship is learning from and growing with one another, no matter who is labeled the mentor or mentee. And for both of them, their CSUSB mentorship experiences have been a rewarding cycle of events.
"It's kind of a full circle being in this position," said Barcenas, CSUSB alumnus and interim executive director of Associated Students Inc. (ASI), who served as the 2014-15 ASI student president. "I was mentored by a lot of people on campus."
One of those mentors was, in fact, Felix, interim executive director of the Santos Manuel Student Union (SMSU) and Recreation & Wellness Center, and former executive director of ASI.
The duo met in 2016 when Barcenas was still a student and quickly developed a strong, supportive relationship. Through a series of promotions over the years, Barcenas eventually took his mentor's seat, calling it a "unique and honorable position to be in."
"I find it rewarding every day. I love my job," said Barcenas, who added he wouldn't be where he is today without the help of Felix.
"He's someone that I look up to," he said. "He's always had my back. I've always had his."
"Alfredo was always one of those students that has been so inspiring to me as a staff member – challenging, asking the right questions, engaging in healthy dialogue and advocating for other students," Felix recalled.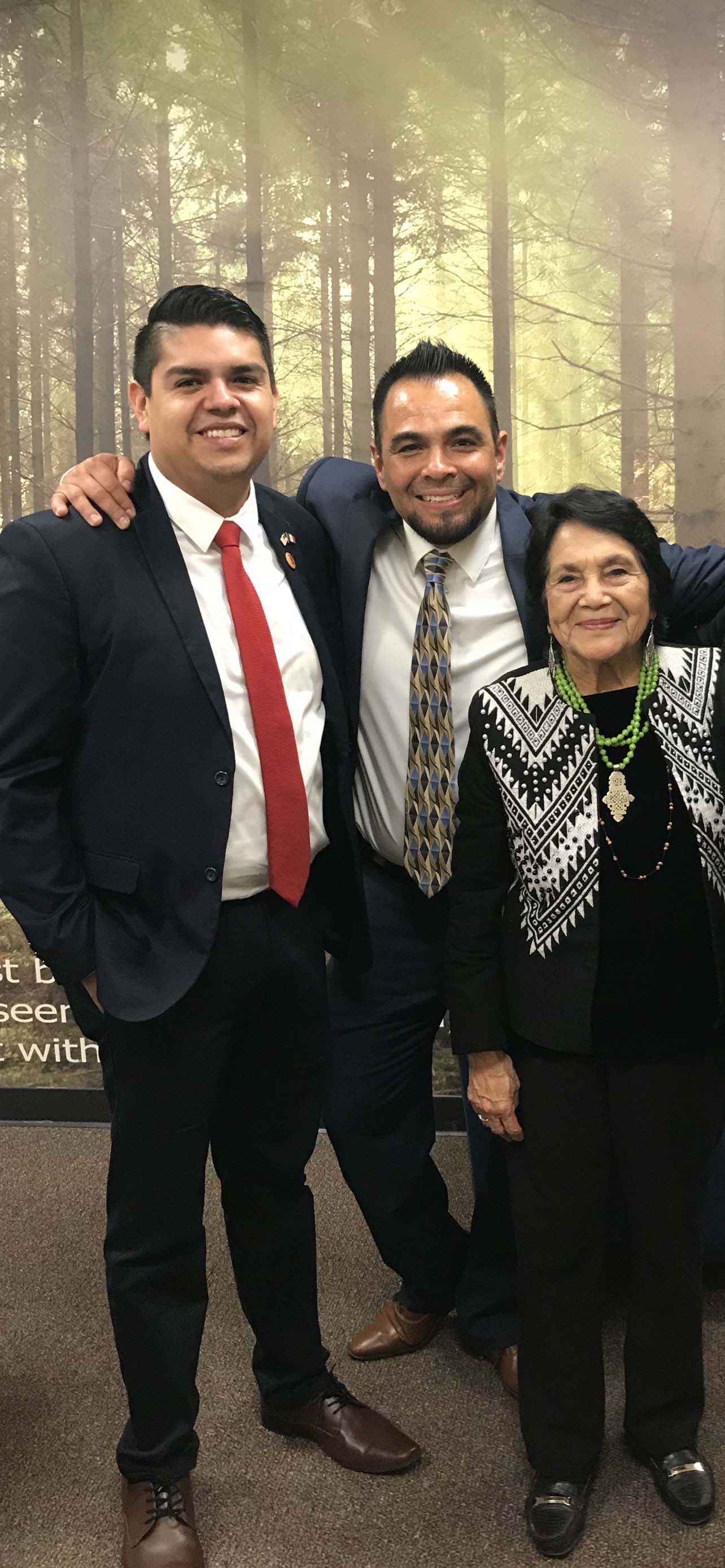 From left: Alfredo Barcenas and Jesse Felix with Dolores Huerta, civil rights activist and co-founder of the United Farmworkers Union.
Now colleagues, Barcenas and Felix both agree that they have not stopped growing with and learning from one another.
"I probably learn more from him than he is learning from me nowadays," Felix said. "I look to him with great respect, great admiration, and I think he has skillsets that I don't have and I really appreciate those skillsets. And I definitely wouldn't be sitting in these seats without his support."
And just as Barcenas filled his mentor's former position, Felix, also a CSUSB alumnus, had a similar experience.
"My mentor was actually sitting in this seat prior to me coming full circle and sitting here," said Felix, naming former SMSU and Rec Center director Aaron Burgess, who served as Felix's mentor for 15 years. When he filled Burgess' seat, he described it as "heartfelt … to know he had poured into me all these years and faith in me to be in this role."
While both Barcenas and Felix followed in their mentors' footsteps and currently serve as CSUSB mentors themselves, they both acknowledge that a mentor/mentee relationship is one with no hierarchical position – a mentor learns and grows alongside their mentee.
"For my own benefit, I ask myself, 'How do I also grow from this experience and learn from my mentee?'" said Barcenas when reflecting on his role as a mentor. "Because I think it's a full circle. I'm learning, too. I'm learning how to communicate. I'm learning how to go about certain situations as a mentor."
"Our mentees are our mentors," Felix said. "Those that are looking to us for answers are also asking us questions that make us challenge who it is that we are and how it is that we see things."
In fact, Felix recently joined a student for lunch – something he does often as he says informal mentoring practices are just as important as formal ones – and felt the need to call him the next day to thank him.
"In that conversation, he led me to reflect on some things that I was struggling with and it made my workday so much easier," Felix said. "The questions he asked me and the questions that I asked him really made me reflect on my leadership and my leadership style and kind of where I am as a person, so I don't see it as hierarchical."
And simply providing support and encouragement goes a long way, especially, according to Barcenas, for those who need to overcome their self-doubt.
"I pride myself on trying to get students to the next phase," he said. "Just walk them through that process and help them get away from imposter syndrome."
Not too long ago, Barcenas mentored an ASI student who was incredibly shy, but encouraged her to get involved. He helped her "use her voice in rooms" and she ultimately became the voice in the room that got the approval to expand the new student union, set to open in early 2022.
"I think that was the most intense moment because it's coaching a student on how to be able to voice on behalf of 20,000 students that they need this building," he said. "It's good to see that my words are actually making a difference."
And just as they had positive mentorship experiences that helped shape them into who they are today, especially when they were CSUSB student leaders, Felix and Barcenas hope to continue the full circle process and have an impact on those they mentor.
"I hope that one day you take this and you're able to mentor others to continue the cycle," Barcenas said when talking about his mentees, noting that he feels proud of the work he does. "I think it's a way for me to give back. I love to give back because someone did that for me before."
"I think it's us asking each other questions and finding a deeper truth in what it is that we are doing and really being of service to others," Felix said. "Leading with love and serving others as selflessly as possible, I think, is important."