2021-22 Convocation marks CSUSB's first major public gathering since the pandemic
Cal State San Bernardino President Tomás D. Morales opened the 2021-22 school year with his annual Convocation speech on Thursday, Aug. 19, the first university gathering since the COVID-19 pandemic forced the campus to cease face-to-face operations and classes and go into a virtual format in March 2020.
"I am delighted to see so many joining us as we begin the 2021-22 academic year here at Cal State San Bernardino," Morales told the crowd of faculty, staff and students gathered at Coussoulis Arena and those watching online from the CSUSB Palm Desert Campus, their offices and homes. "I am even more delighted to be welcoming you back for an in-person school year. The way we operate as a university will not look entirely the same as during our pre-pandemic days. However, the fact we will once again be able to interact face-to-face this fall, without a screen in between us, is a cause for celebration."
But the president, who has led the university since August 2012, also remembered those affected by COVID-19.
"For all those who have lost someone through the pandemic, my personal condolences and the deepest sympathies of our campus community," Morales said. "For all of those grappling with long COVID, you have our collective best wishes for continued healing as the medical and scientific communities learn more effective treatments and remedies as days pass. The amazing speed with which effective vaccines were discovered over this past year gives me hope for the future."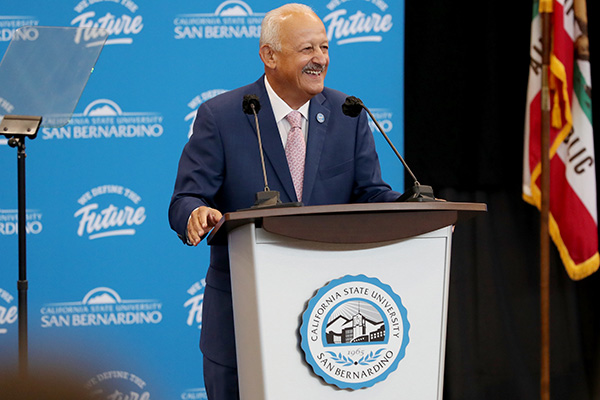 President Tomás D. Morales
Yet Morales reminded those attending and watching the convocation online that "we cannot forget that COVID-19 is still with us, with new variants emerging all the time. The data indicates that the best way to protect against further spread and development of more variants, along with the ability to successfully fight off the current variants, is vaccination."
Morales said he was impressed by the campus community over the past 18 months.
"You have demonstrated flexibility and the ability to innovate, along with persistence. Many of you were juggling home schooling for your children while also effectively performing your jobs. All of you kept CSUSB an open and vibrant learning community. Thank you."
Morales said that in order for the university to continue to deliver a quality education for students and keep them progressing toward their academic goals, CSUSB had no choice but to innovate and keep moving forward.
"What the last year-and-a-half has also shown us is a preview into potential future challenges we might face in a warming world with new weather patterns and new diseases to which we do not have immunity," Morales said.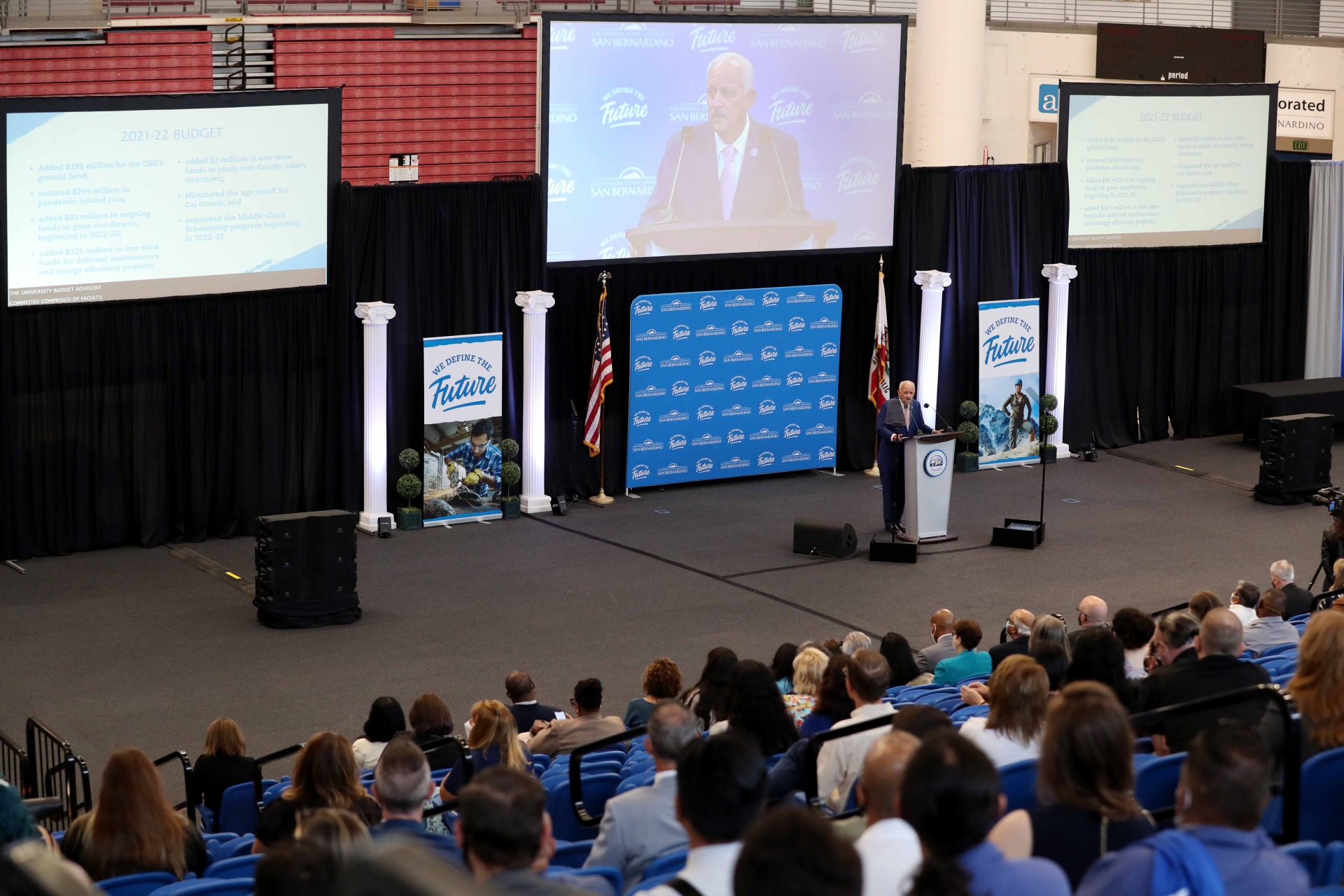 As a result, the university launched a Post Pandemic Steering Committee headed by Provost Shari McMahan. The committee's goal is "How do we re-imagine our campus in light of the pandemic?" and "How do we conceive of a stronger more resilient CSUSB which will be able to address future needs and challenges?"
Morales also shared a number of high points for the 2021-22 academic year.
University Budget
Morales said the university received good news over the summer with the 2021-22 California State Budget, "which not only restored pandemic cuts but also added to the CSU's general fund and to specific, directed areas. There was good news as well for two of our student aid programs," Morales said.
Reaccreditation
The president praised the work of the Western Association of Schools and Colleges (WASC) re-accreditation steering committee in preparing the campus for the onsite accreditation visit in September.
New buildings
The university has two building projects moving forward on campus, Morales said.
The first is the expansion of the Santos Manuel Student Union, which is nearing completion and will have its formal opening early in 2022, Morales said. "The second is the Performing Arts Village, which will have its groundbreaking in spring 2022, with a scheduled opening planned for the 2024-25 academic year."
Academic Program Achievements
The new academic year will bring a number of new achievements that include the new School of Criminology and Criminal Justice in the College of Social and Behavioral Sciences. "The curriculum will incorporate history, theory and practical skills for those interested in a career in criminal justice and related fields," Morales said. "The curriculum also acknowledges and focuses on the systemic failures to address disparities within the criminal justice system locally and across our country." 
The college also added a new department: Child Development, which will house two academic programs: the Child Development B.A. Program, with its two concentrations – Early Childhood Studies and Child and Adolescent Development – and the M.A. in Child Development Program. With over 550 majors, the new department is among the largest and fastest growing in the college, said Morales, who also praised Provost McMahan for her work in helping to develop the programs.
Cal State San Bernardino will also become the first Southern California public university to establish a Master of Science Physician Assistant program to help address the severe shortage of healthcare professionals serving the Inland Empire, Morales said. The $1.8 million funding for the MSPA program was part of this year's California state budget. The goal is to launch the program in fall 2024, Morales said.
Grants
Morales also talked about the university's success in grants. "Our annual grants and contracts report demonstrated that 2020-21 was a record year for CSUSB PIs (project investigators) and project directors, with $41.5 million in grant awards and almost $88 million in proposal submissions," Morales said. "The range of fields and subject matter was robust and dynamic. I am incredibly proud of the state of research at our university."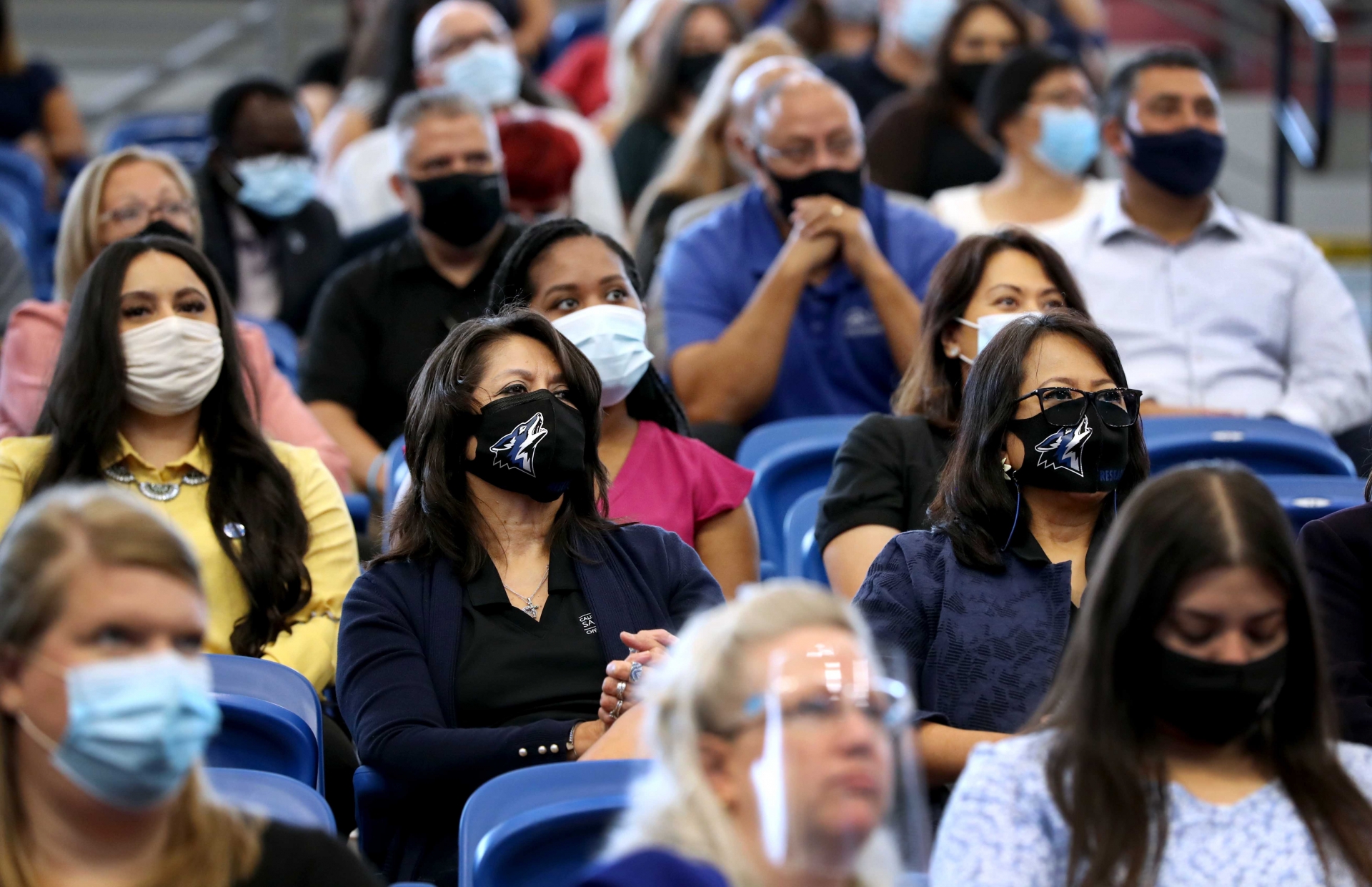 Strategic Plan
Morales said the university will continue to advance its strategic plan. "Originally envisioned to cover five years, as a community we have extended the plan through 2022. This allows us to build upon the great work already completed and to enhance its effect with new objectives added to the established five goals," Morales said.
Student Success
Morales said that preliminary results indicate that CSUSB is on track to meet its Graduation Initiative 2025 targets. The four-year graduation rate for first-time, first-year students is above the current GI 2025 target of 21.8 percent. For transfer students, the two-year graduation rate is well above its current target of 38.5 percent.
CSUSB designed and delivered a continuous training program for faculty throughout the academic year, via the Virtual Training Programs and E-Learning Academy, for faculty to develop and deliver quality online courses. From these programs, CSUSB has 87 new online courses under development for 2021-22.
Faculty and Staff Success
Morales said the President's Diversity, Equity and Inclusion Board has been launched and the DEI Strategic Plan completed. The first steps in implementing the plan will take place at the Board's planned retreat this September.
The Faculty Center for Excellence, in collaboration with the Teaching Resource Center and the Untenured Faculty Mentoring Network, served 56.7 percent of CSUSB faculty (both lecturers and tenure-track faculty) through its workshops, cafés, consultations and other programs.
The Staff Development Center continues to be a dynamic partner in supporting CSUSB employees. Last year, during a pandemic, they:
Held 64 one-on-one consultations or appointments;
Had a total of 2,373 participants in their various special events, programs and training, with some employees taking the opportunity to utilize multiple services; and
Can boast a 95 percent utilization rate of their services. 
Resource Sustainability and Expansion
Grant submissions increased by 51 percent over the past year and the total dollar amount of grant awards increased by 41 percent. "This is a record high for this university," Morales said.
He added that the university is preparing to launch its second comprehensive campaign. "We've set an ambitious goal," Morales said. "Don't be surprised by the audacious number we set. It just means I will be around here for a while."
Community Engagement and Partnership
Morales said the university continued its goal to encourage students to be more active in the community. He said that more than 400 students enrolled in 52 course sections that offered virtual service learning. Although there were a limited number of community partners who were able to offer virtual placements, students provided more than 10,000 hours of service to San Bernardino and Riverside county communities, valued at more than $337,000.
He added that the Inland Empire Black Student Success Collaborative was formed. The purpose of this project is to increase equity, specifically in Black communities, and address the achievement gap by providing a three-tiered approach to formal education attainment. The collaborative consists of more than 40 partners from CSUSB, local community colleges, local school districts and numerous community organizations.
Identity
The university has expanded the current alumni mentoring program to engage alumni and support students with completing their academic goals, Morales said. The result has been a 53 percent increase in student users and a 23 percent increase in alumni users, with 13 current cohorts.
The Assessment Capability Leadership Institute 2021 was created and launched this summer. Led by the Assessment Capability Collaborative and the Professional Development Subcommittee of the Committee on Learning Assessment and Student Success, the summer ACLI encompassed over 70 faculty and staff participants from all divisions. They came together to develop and share their assessment knowledge and skills and then leveraged those skills to draft and implement plans for department-, unit- or program-level assessment. These plans are expected to create the conditions for meaningful and sustainable outcome assessment. The ultimate goal is improvement of department and program effectiveness and student success.
---
"As we begin 2021-22, we do not forget that, together, we must continue to strive to be an inclusive community of diverse students and scholars, committed to the positive impact higher education affords our region. Each of us has the opportunity to make a difference. It is fundamental to all we do and desire to achieve here at CSUSB."
-- CSUSB President Tomás D. Morales
---
Morales also addressed the university's commitment to be more intentional in diversity, equity and inclusion.
"We hold these as key to building a welcoming community for all who learn and work at CSUSB. We cannot retreat to an ivory tower as we are part of the larger community which we serve," Morales said.  "The injustices and violence we have continued to see over the past year, targeted toward specific communities, cannot be ignored."
He reiterated that when groups of individuals were targeted with acts of hatred or injustice, CSUSB continues to stand in support:
of the Black community;
of the Asian American community;
of the Jewish American community;
of the Muslim American community;
of the Arab and Palestinian American communities;
of the Native American communities; and
of any identified community which is targeted by bigotry or violence. 
"We also refuse to accept the hatred and disrespect currently focused against this nation's undocumented as well as visiting international students," he said.
"The singling out of any community for scapegoating is fear-based and hateful. These are all acts of ignorance grounded in fear," Morales said. "In sum, this university rejects such behavior and remains committed to denouncing such actions, now and always, regardless of the source. I know you are all with me on this. I feel it. We declare zero tolerance of any such acts or incidents no matter where or when they occur."
He added that "there is no road to a better future that does not follow the path of social justice, and it will suffer neither color barriers nor cultural, spiritual, gender or sexual restrictions. We truly are all in this together."
He said the university will continue to hold teach-ins, special lectures and conversations on human rights and social justice issues.
"As we begin 2021-22, we do not forget that, together, we must continue to strive to be an inclusive community of diverse students and scholars, committed to the positive impact higher education affords our region," Morales said in closing. "Each of us has the opportunity to make a difference. It is fundamental to all we do and desire to achieve here at CSUSB."