CSUSB honored for work during pandemic in Exercise is Medicine Program
For the third consecutive year, Cal State San Bernardino has earned top honors for its work to encourage exercise professionals and health care providers to use physical activity as a form of medicine to prevent and treat a number of non-communicable diseases.
But more significantly, this year's Exercise is Medicine-On Campus (EIM-OC) Gold Level recognition from the American College of Sports Medicine (ASCM) included a special badge that distinguished CSUSB and 166 other colleges and universities for their efforts in working with students during the pandemic.
"Due to challenges presented by the COVID-19 pandemic, campuses who demonstrated creative adaptations to physical activity programming received the 'COVID Conqueror' badge," according to the ASCM website. The ASCM will hold a special virtual ceremony honoring the participating colleges and universities in June.
Jason Ng, a CSUSB associate professor of kinesiology who serves as advisor to the CSUSB EIM-OC program, said the pandemic forced the Student Health Center, the Student Recreation and Wellness Center (SRWC), and EIM-OC Student Organization to creatively adapt their provision of care, recommendations, and exercise programming to get and keep students active for good health and promote a culture of wellness.
"While we were physically separated for much of 2020, I am intrigued by how this pandemic seemed to pull us even closer in our collaborations," Ng said.
In non-pandemic times under the EIM-OC collaboration, a student going to the CSUSB Student Health Center for a physical examination, treatment or consultation, would also be asked about their physical activities, Ng said. Depending on the response, behavior, and health history such as weight gain, high blood pressure, high cholesterol, or being inactive, the student could be referred to kinesiology students from the EIM-OC serving as exercise consultant interns at the Student Health Center.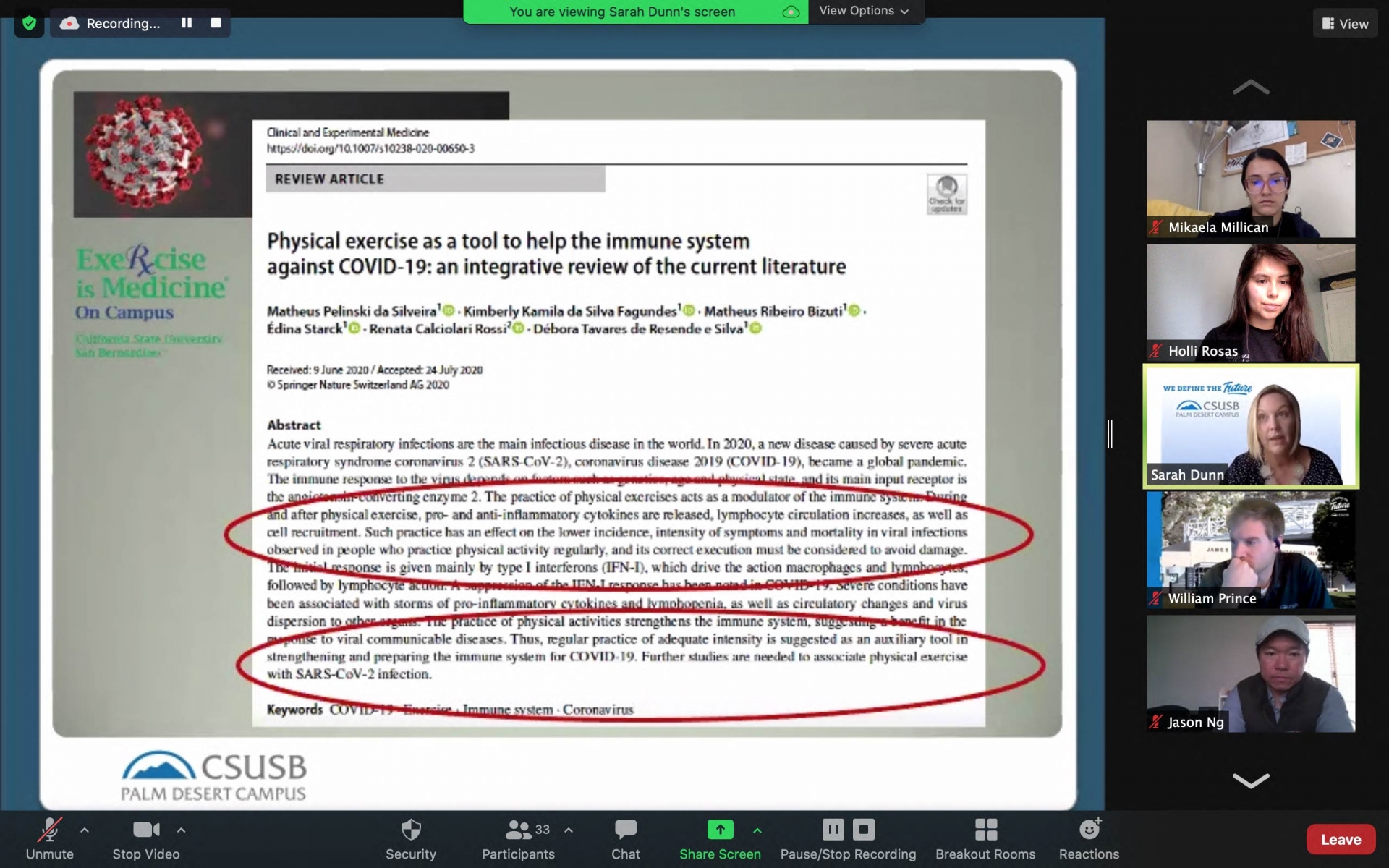 In turn, these exercise consultants could write basic individualized exercise programs and also refer the students to various physical activity resources, such as the SRWC, where they would have access to equipment, programs and services, as well as receive advice and direction about exercise or becoming fit from an exercise specialist at the recreation center, some of whom are also kinesiology interns.
The key, Ng said, is to educate students on how to incorporate physical activity in their life.
But that changed in March 2020 because of the pandemic as the university was forced to move to a virtual format and provide guidance remotely.
Ng said the Student Health Center, led by lead physician, Dr. Richelle Marracino, did amazing work in their commitment to students' overall health and well-being in that the center created a way to check the physical activity of students online as they were unable to do face-to-face examinations.
"I need to highlight how big of a deal this is because, while there are so many guidelines available right now on how to handle this COVID situation, some important recommendations for basic health that are overlooked include getting adequate rest; eating and hydrating well; and continuing to be physically active (despite quarantine challenges)," Ng said. "When students check in virtually for an appointment and are still getting asked about physical activity despite the COVID challenges, that communicates to them the importance of physical activity because it is coming from their doctor."
Marracino said pulling this off was not easy as the health center simultaneously juggled the pandemic and the challenges of delivering care virtually. "I'm certain I'm speaking for the entire EIM team when I say we were truly navigating uncharted waters simply orchestrating day-to-day tasks," she said.
The health center's virtual assessment was done with the help of its information technology analyst, Victoria Fleming, who figured out a way for students to complete the exercise screener form online within the medical record system, Marracino said.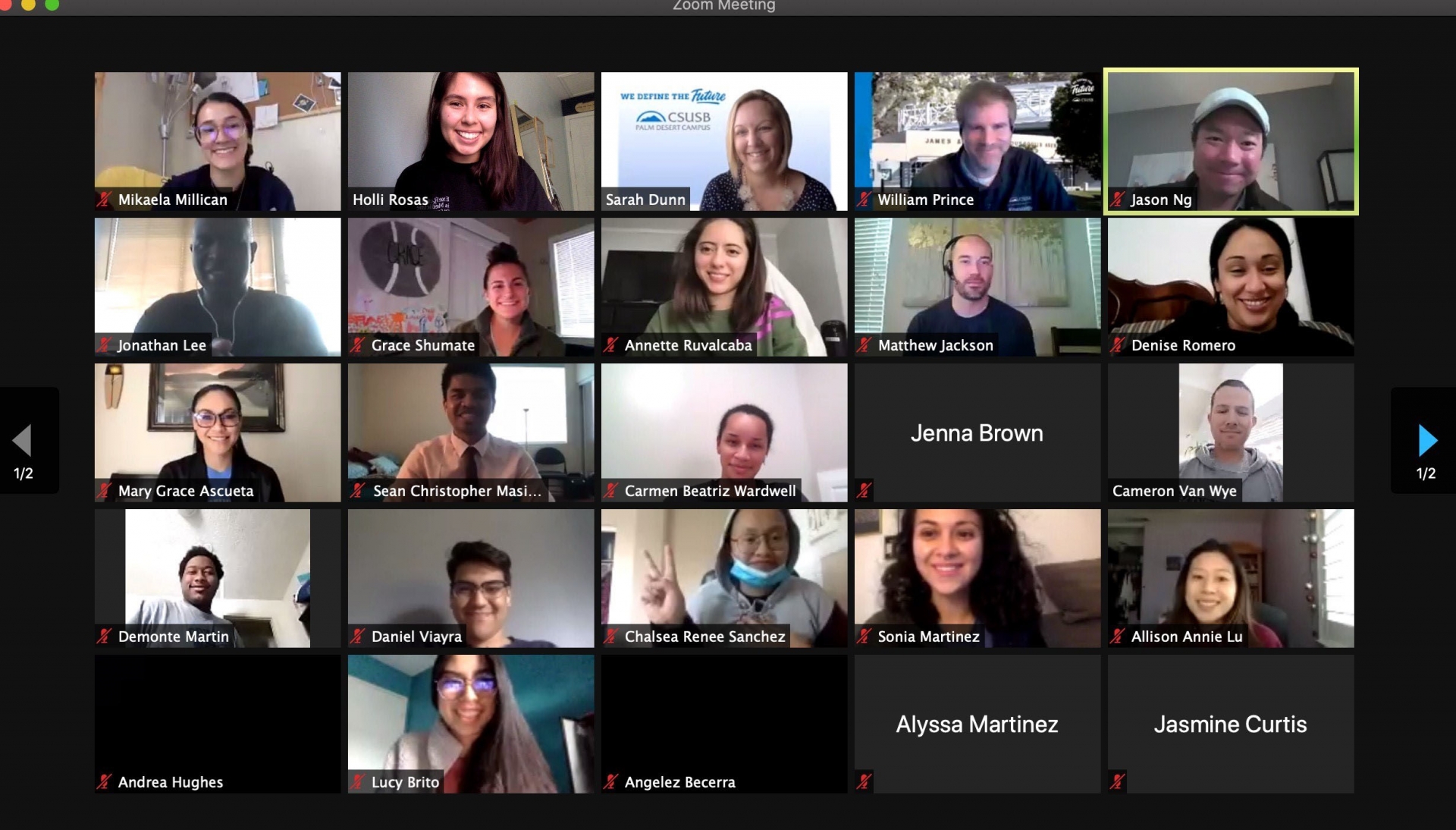 On the exercise side of things, the SRWC also had be creative in providing physical activity guidance to the campus. Sonia Martinez, an ACSM Certified Exercise Physiologist and SRWC wellness supervisor, said before the pandemic, their programs and events were marketed around campus as well as her promoting them by word of mouth.
With the shift to mostly virtual, they engaged students in physical activity remotely through social media.
"It has been challenging to outreach to students given the burnout from being on technology all day long," Martinez said. "Learning to navigate social media and modify our programs to fit the current needs of our students helped us in promoting and providing resources students need. Having our new wellness platform YOU@CSUSB aided in this process by allowing us to see the needs of our students and how to properly address them." Supported by the CSU Chancellor's Office, students can access the YOU@CSUSB resources at https://you.csusb.edu/ at no cost.
Ng said Martinez also leads the university's Be Well Yotes Collaborative, a multi-disciplinary collaboration on campus that includes EIM-OC, the CSUSB Department of Health Promotion, SAIL, Student Housing & Education, the kinesiology department, health science & human ecology, and others.
Similarly before the pandemic, the EIM-OC Student Organization relied on its campus presence in its promotion and education of physical activity, Ng said. For example, the group held monthly walks, hosted socials that involved sports such as hiking, volleyball and rock climbing, said group president Holli Rosas, who will be graduating this month with a bachelor's degree in kinesiology.
But because of the pandemic and its determination to get students involved in physical activity, the group held a number of events throughout the 2020-21 school year that included virtual 5Ks, a live stretch sequence, a month-long walking/running event, and simply promoting the free exercise classes offered at the CSUSB Recreation and Wellness Center, Rosas said.
"Our biggest event by far was our Walk Around the World Challenge, where teams of three to six participants competed against other teams to accomplish and even surpass the weekly step goal to rack up the most steps by the end of the month," Rosas said. "We had over 80 participants who were students, faculty, family members, and community members during this event. Collectively our participants recorded over 15 million steps for this event!"
Ng praised Martinez and Rosas and their groups' dedication.
"When it is so easy to be sedentary, these team members were committed to motivate as much of our campus to continue to be active through creative programming," Ng said. "Interestingly, because of the unique remote situation, Sonia and Holli's teams were also able to engage family members of our students at home."
But Ng said the program's success was because of the collective work of all those involved.
"I believe that the driving force behind this effort is that each team member on these aforementioned campus groups that comprise CSUSB EIM-OC genuinely and innately cares about the lives of others."