Joe Gutierrez | CSUSB Office of Strategic Communication | (951) 236-4522 | joeg@csusb.edu
CSUSB's Opera Theatre to release full-length motion picture
Have you ever heard an electric guitar in an opera? Well now is your chance with the full-length theatrical motion picture "Song from the Uproar," which features Cal State San Bernardino's Opera Theatre department. The opera, by Grammy-nominated Missy Mazzoli, was released on May 20 on the CSUSB Music YouTube channel.  
Complete with costumes, lighting, projections, a soundtrack from some of LA's top new music players, and choreography from critically acclaimed dancer/choreographer Faith Jensen-Ismay, the 70-minute film features 10 CSUSB opera students, who tell the story of the life of early 20th century feminist, nomad and novelist Isabelle Eberhardt (1877-1904), who left her native home of Geneva, Switzerland, to travel the deserts of North Africa.
The instrumentation for the work is unconventional and inspired by the composer's rock and roll roots: piano, clarinet, flute, electric guitar, double bass and electronics.
"Our Opera Theatre program is unique in that we produce projects that go beyond traditional opera," said Stacey Fraser, CSUSB professor and chair of the music department, who served as the stage director for the film. "I believe in appealing to a modern audience and making opera performance accessible to everyone."
Work on the film originally began in February 2020, right before the university suspended in-person instruction due to the COVID-19 pandemic. Despite the suspension, the team continued to work weekly throughout spring 2020 via Zoom.
"It was a challenging period, but the students persevered and remained committed to the production in the hope that they would indeed be able to perform the show at a later date," Fraser said.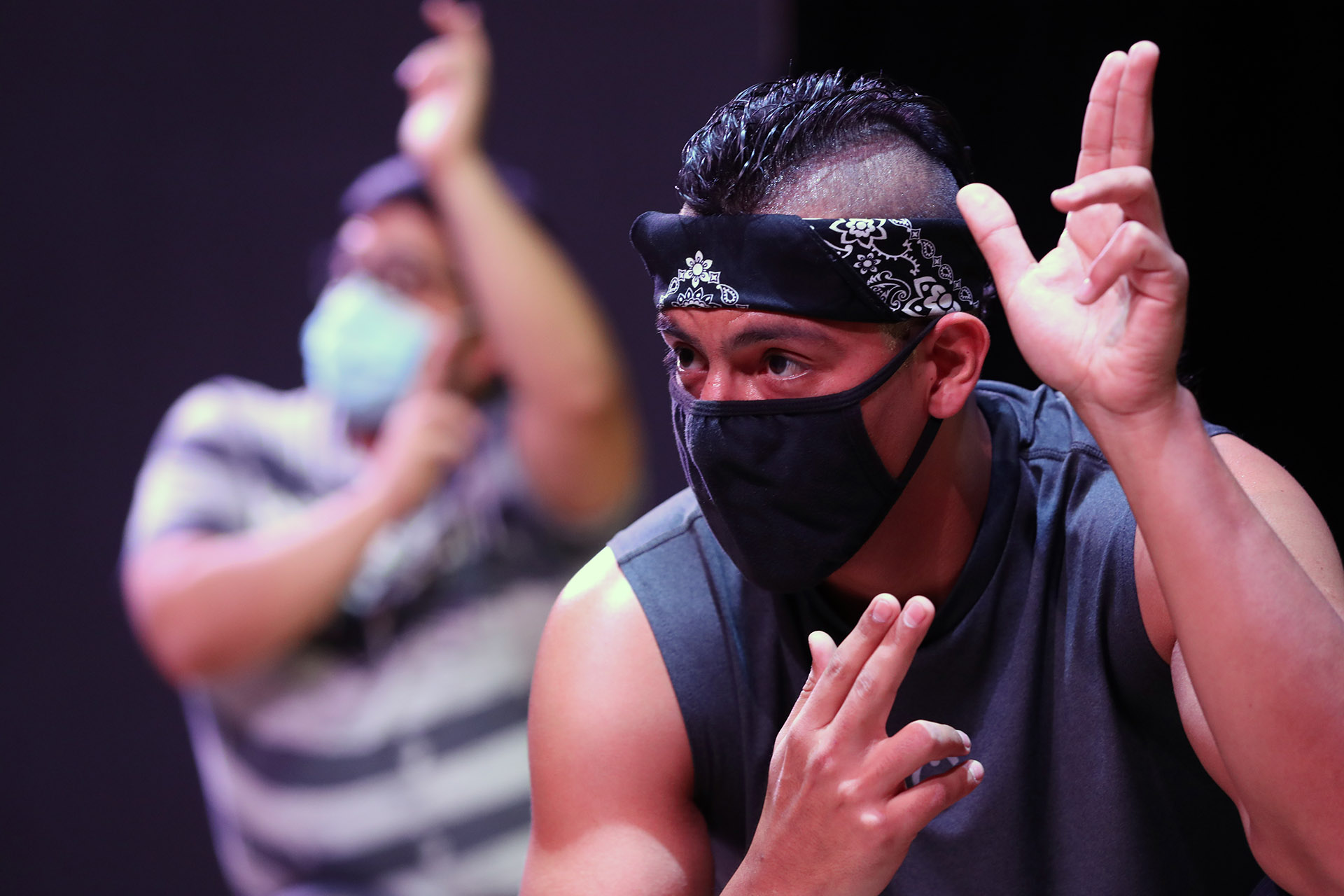 CSUSB ended up being one of the very few opera programs in the CSU system that was approved for hybrid teaching for fall 2020. As a result, production on the film resumed, but this time, with newer challenges.
"Masks were not my favorite part," said Trisha Owens, vocal performance major who performed in the production. "It was very difficult to sing opera with a mask as most of the time I would inhale my mask more than air, but it was necessary for us to make art, so we dealt with it."
Fellow performer and vocal performance major Ricardo Martinez agrees.
"Singing with a mask is not the most enjoyable thing, but it was great to be a part of one of the only productions in the Cal State system," he said.
Despite the challenges, the 10 students would meet on campus in the recital hall three times a week to rehearse. They recorded their singing parts individually and then lip-synched with clear masks on to their own soundtrack for the theatrical filming. The professional players came in and laid down their parts individually for the soundtrack. Recording was done by Cash Tijerina, instructional support technician for the CSUSB music department.
"There were a lot of elements to come together, especially since we were doing all of this in the middle of a pandemic," Fraser said. "The biggest challenge was making sure that everyone stayed healthy through the whole process."
In order to do so, in addition to masks and recording separately, Andre Harrington, CSUSB professor of theatre arts, designed the costumes from his home; costume technician Catherine Erickson put the garments together on campus, yet never worked directly with the performers; Alastair Edmonstone, CSUSB pianist and the musical director for the film, played the piano in a different room and would communicate with Fraser and others via mic and headset throughout the rehearsals and recording; and all of the production meetings were done via Zoom.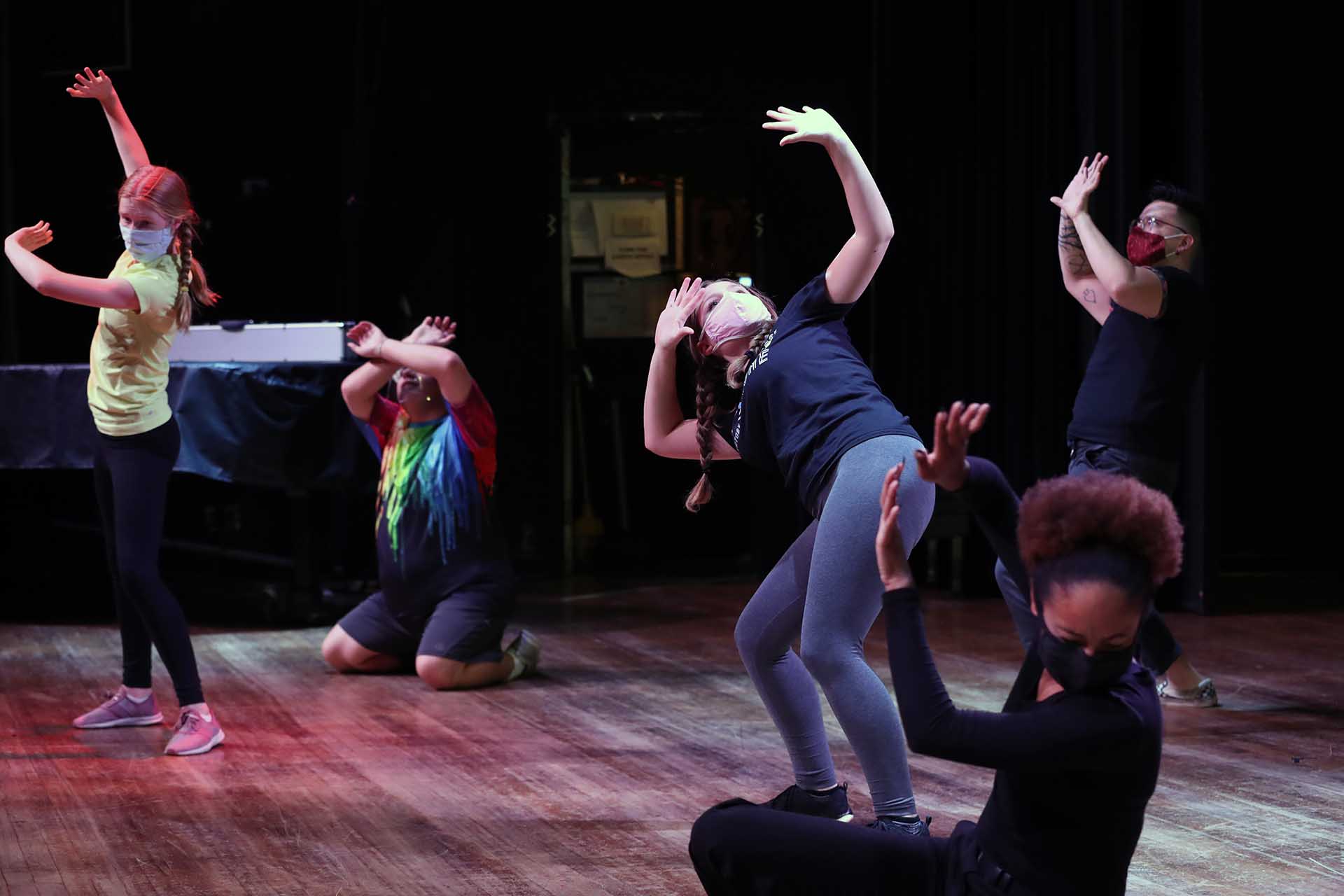 The theatrical footage, with lighting design by CSUSB assistant professor of theatre arts Jason Mann, was captured in the CSUSB theatre in November, and the off-campus footage took place at the Mormon Rocks National Park in January, in an attempt to emulate the Algerian desert where the protagonist spent much of her adult life.
James Trotter, CSUSB assistant director of Academic Technologies & Innovation (ATI), shot the film, Jaquai Patterson, ATI videographer, served as a camera operator and editor of the film, and Yutong Liu, ATI videographer, served as a photographer and camera operator for both the theatrical and on location footage.
"ATI has been amazing. I am so appreciative of their dedication to this project," Fraser said.
"The experience was phenomenal, considering a pandemic broke out and caused major turbulence in our performance schedule and practice space," said music education major Armando Salazar, who performed in the film. "It was still an experience that not everyone will get to witness or be a part of it. As an outcome, it made the cast grow ambitious in completing the opera. All of the hard work we started in February of 2020 wasn't going to go to waste."
"This was my first production with the CSUSB Opera Theatre and it turned into a much bigger and beautiful thing than I could have imagined," said Owens. "I enjoyed the studio work and the costuming and even had some fun walking barefoot in the desert."
For many students, the experience challenged them as artists and gave them an understanding of what goes on behind the scenes when filming a full-length motion picture.
"My overall experience making this film was pretty great," said Kimberly Benavides, voice music major who was part of the performance. "It was really great to see and get a first-hand experience of how the filming and recording part of the music industry work!"
For Owens, the experience challenged her "musically, mentally, and physically" and made her a "better artist."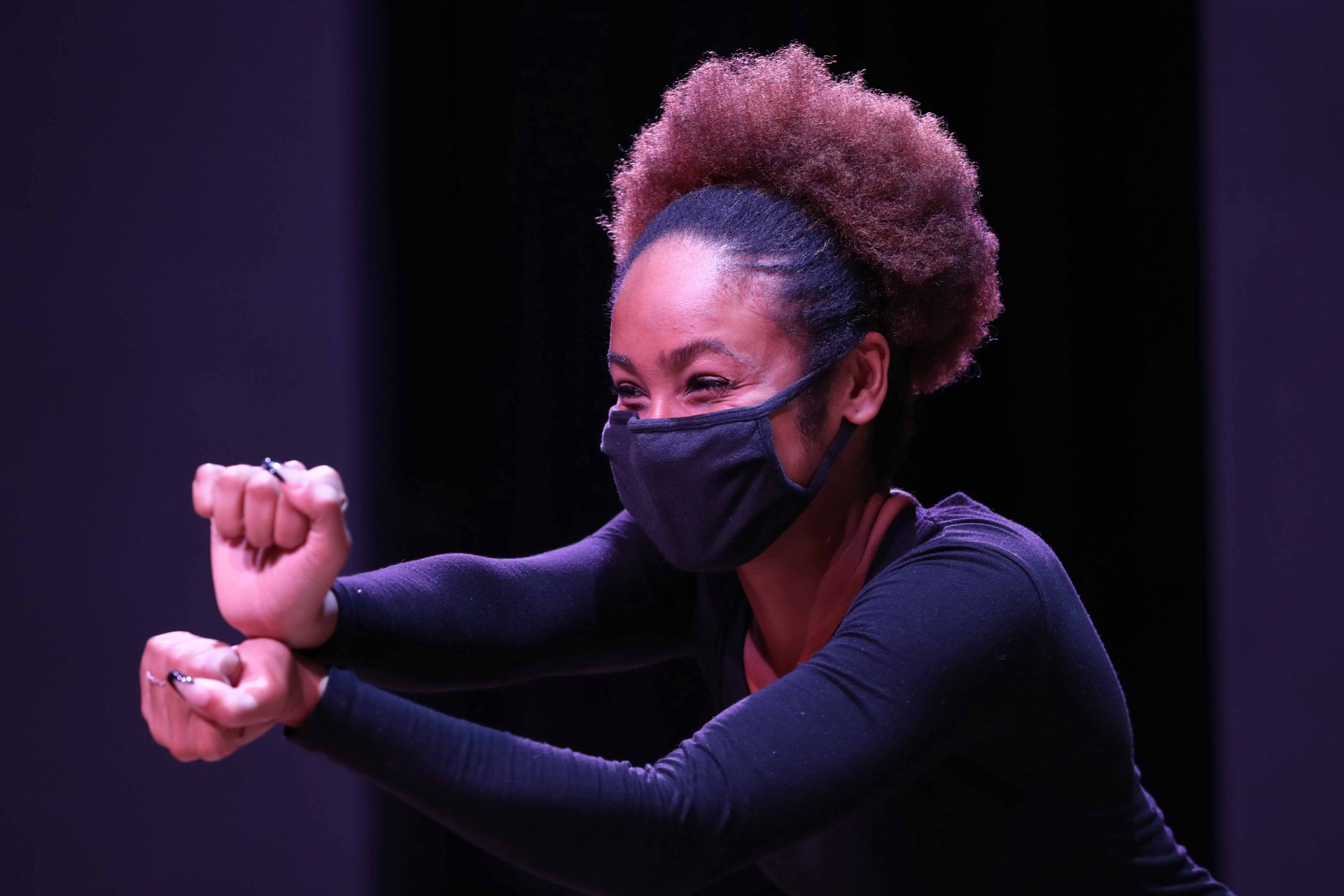 "Our film has definitely given me experience in many different areas that I can take with me in my professional journey," she said.  
For others, the experience forced them out of their comfort zones.
"I learned choreography, which is something I didn't imagine myself doing as a classically trained singer, and I got to sing the work of a living female composer," said Martinez. "It was a privilege to work alongside so many talented women."
Fraser acknowledges the challenges of the piece and is proud of her students' commitment, trust and passion for such a huge project.
"They had to learn this very difficult music, learn all of the choreography (rare for traditional opera), wear masks to every rehearsal, spend a grueling amount of time doing the studio recording for the soundtrack knowing that at any moment we could be shut down due to the pandemic," she said.
And the students are equally as grateful for Fraser's dedication.
"Thank you to our department chair, Dr. Stacey Fraser, who is always introducing her student to new and challenging music and also for going out of her way to make this film possible," said Benavides.
"In the midst of fear and confusion, she never gave up. She never gave up on her students. She never made us feel that the work was pointless," said Salazar. "She always found a way to make everything work for the best of her cast. She never gave up on anything. That is what made this opera: her support and her love for her ensemble."
Despite the odds, "Song from the Uproar" has been completed and is expected to be released on May 20. Until its release, view the trailer for "Song from the Uproar" on the College of Arts and Letters YouTube page.