Physics professor named CSUSB 2020-21 Outstanding Faculty Advisor
Carol Hood, Cal State San Bernardino professor of physics, was surprised April 28 via Zoom with the news that she had been named the recipient of the university's top honor for faculty advising.
Hood originally thought she was attending a meeting to discuss ideas for faculty research activities, but was instead greeted by cheers and congratulations by more than 50 university administrators, faculty and staff led by President Tomás D. Morales.
"This is indeed a very special occasion as we're here to present you with the 2020-21 Outstanding Faculty Advisor award," Morales said. "I've seen your passion, your commitment and your dedication to student success and providing really extraordinary mentoring and career and life guidance. I couldn't think of a better faculty advisor to recognize."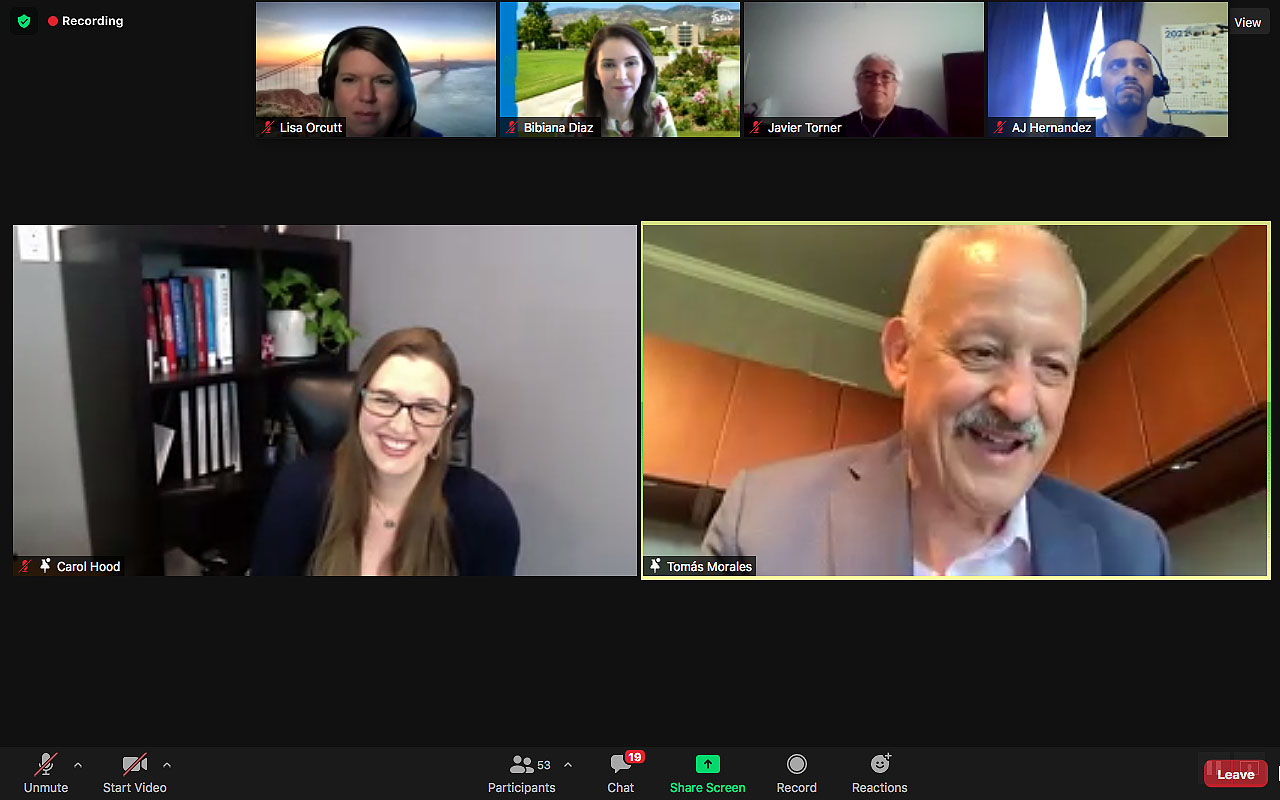 Clare Weber, CSUSB deputy provost and vice provost for Academic Programs, congratulated Hood.
"The excellence of our faculty advisors is a critical part of our university's aim to transform lives and students' lives and connect their academic goals with personal and career aspirations. You've played and are playing a vital role in that," said Weber, who filled in for Provost Shari McMahan, who was unable to attend. "Thank you and congratulations."
Sastry Pantula, dean of the College of Natural Sciences, praised Hood for her work.
"What an honor and what a wonderful job that you do. You're not only an outstanding faculty, you're an outstanding citizen for our physics department, for our college, for our university, but also for CSUs," Pantula said. "So I'm really, really proud of you and you have a lot to be proud of yourself."
Hood was still surprised by the announcement and the congratulatory comments.
"I am quite overwhelmed, very grateful to be recognized and honored in this way by my colleagues," Hood said. "I'm very grateful to be recognized for all the things that I do at CSUSB. They're all for our students in some way shape or form. I think without them that we wouldn't have a university and without them I wouldn't be doing the job that I love. The students are my reason for everything at CSUSB and everything I do with everyone else is in some way to give back to help them, help them reach their dreams."
Noting that approximately one-third of physics majors choose Hood as their advisor, associate professor of physics Sara Callori in a four-page nomination letter to the University Awards Committee detailed an array of ways how Hood's effort benefits students and CSUSB. Hood, for example, was an early adopter of online meetings well before the COVID-19 pandemic necessitated a move to remote learning.
"To me, that's Carol to a tee," Callori wrote. "She is always leading the way in our department, and really in the university, with finding more and more options to increase her availability to students and promote their success."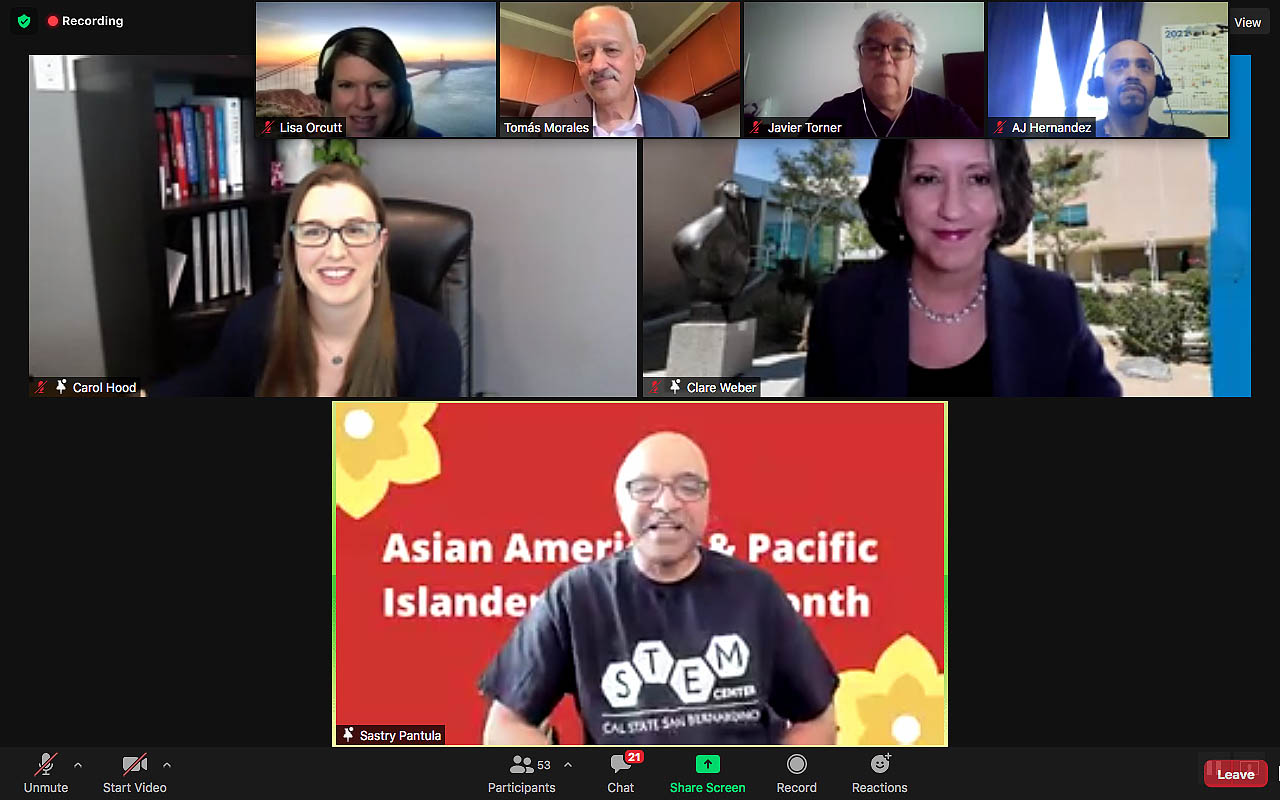 In nomination letters, students and alumni expressed an abiding appreciation and admiration for Hood's talent and dedication as an educator in the classroom and as a kind, giving and empathetic advisor outside it, recounting many incidents in which she championed their pursuit of academic and career goals by providing problem-solving assistance and helping track down resources ranging from leads on internships and employment to making sure an undocumented student had funds to continue their studies.
"She exemplifies what a great teacher, mentor and friend are," wrote one alumnus who earned a physics degree under Hood's tutelage. "I do not think I would be where I am today if it were not for her. She introduced me to Cal-Bridge, which put me on track to graduate school (I am now a graduate student at the University of California, Irvine) and also helped me find a passion for astronomy."
One physics major calls her "the kindest and most dedicated professor I've ever had," adding that Hood goes out of her way to keep textbooks and learning materials affordable or cost-free. "Just recently, she personally delivered cookies and a free textbook to my house and others' for the new semester to ensure we got it on time. I nearly cried. My own friends and family don't even do that for me."
Another student noted: "She makes me feel more than a student or a number. She remembers what I tell her even though she has many other students to advise."
Several colleagues credit Hood for initiating what one describes as "seismic changes in the culture and practice of advising in the physics department," where a consistent round of required advising appointments with faculty members helps keep majors on track to graduation.
To assist fellow faculty members, Hood created a manual to ease the transition to using new advising technology tools. Her contributions also have led to an increase in strong support for and retention of students from groups historically underrepresented in STEM fields, many of whom she has steered toward the Cal-Bridge program. Cal-Bridge offers scholarship assistance, research and internship opportunities for students to pursue doctorates in physics and astronomy at UC campuses. As associate director, she oversees statewide operations for Cal-Bridge and also serves as co-director for Cal-Bridge South.
Hood joined CSUSB in 2012 as an assistant professor and assistant director of the CSUSB Murillo Family Observatory. Today, she is a full professor and has served as director of the Murillo Family Observatory since 2015.
As the recipient of the Outstanding Faculty Advisor award, Hood will receive: One year's membership in the National Academic Advisors Association, covered by the Office of Undergraduate Studies; being CSUSB's nominee for national recognition by NACADA; $500 in travel funds; one year's designated parking spot once the university fully returns to on-campus operation; and the addition of her name to the CSUSB Outstanding Faculty Advisor Honor Plaque in University Hall.
Hood completed her doctorate and master's degree in physics and astronomy at UC Irvine and earned a B.S. in physics from Virginia Polytechnic Institute and State University.
"The students will refer to Dr. Hood as 'the best,' and I agree with them," wrote one colleague. "In my opinion, you cannot find a faculty member more devoted to our students than Dr. Carol Hood."