CSUSB panel, conversation on race and policing points to change
For positive change to come about in the aftermath of the death of a Minneapolis, Minn., man in police custody more than two weeks ago, people have to realize that the fight is a marathon, and that it will take a lot of work.
Those were some of the ideas discussed when Cal State San Bernardino hosted its second virtual forum on "Race and Policing" on June 10, as protests worldwide continued to bring attention to police brutality, racism and the death of George Floyd. Another program is planned for Wednesday, June 17, to continue the dialogue.
The forum took place on Zoom with nearly 250 participants; the video of the entire program, "Conversations on Race and Policing (2), CSUSB Panel Presentation and Discussion" is posted at the CSUSB History Club Lecture Series page on YouTube.
In addition to the protests, the videos of the incident posted on social media – Floyd was black and the officer is white – has led to the firing of four police officers, the arrest of one officer on a second-degree murder charge, and the other three with aiding and abetting second-degree murder.
Floyd's death is the latest in which race and policing have become a source of major debates, if not flashpoints for protests.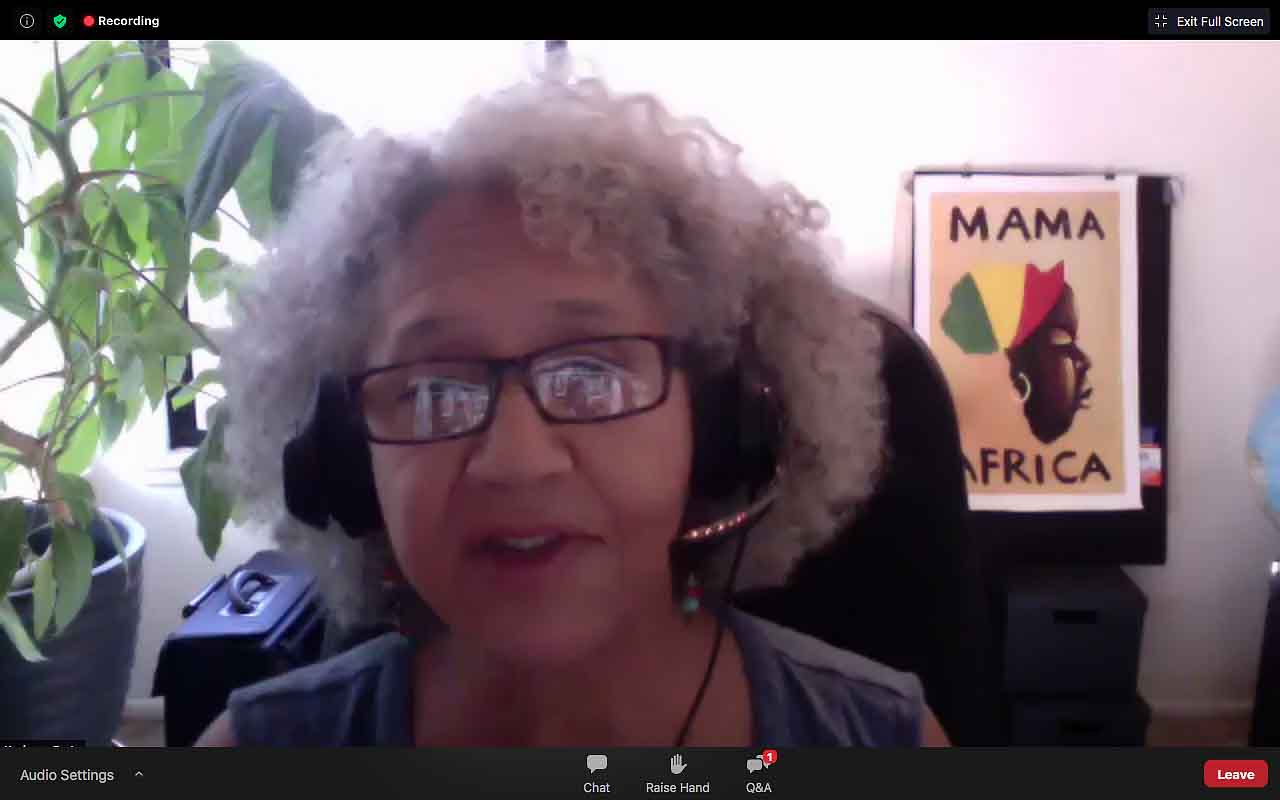 One of the panelists, Kathryn Ervin, a professor of theatre arts who spoke from the artists' and cultural perspective, said, "These have been some difficult days, and especially, my colleagues in the struggle, I want to remind you that this is a marathon. This is not a sprint. So if you thought this week was hard, get yourself together. It's not even over yet."
Ervin urged people to get involved if they wanted lasting change: "Nothing changes unless you get in there to change it."
One thing they can do, she said, was to "be attentive to the mythology that is feeding into the current moment. I was talking to a colleague about the fact, where do we get the idea that black men are dangerous, that black people are dangerous? How can you be the poorest people in the world, most economically disadvantaged, and be the most dangerous? So that's clearly a myth, right? That is not a fact. That is a myth that black people are dangerous.
"So how do we combat that myth? And that's the work of cultural warriorship," Ervin said. "That means that we all have an obligation to listen to what's being put out there, to hear what is being put out there, and to respond to what's being put out there – the stories that we tell, and the stories that are being put out about us. Right now, there are some very dark stories that are being told about black people that are not the truth about black people."
And she said they must overcome fear. "Keep in mind that courage is about overcoming fear moving forward," Ervin said. "Everyone is afraid. The courageous ones are the ones who choose to take the next step."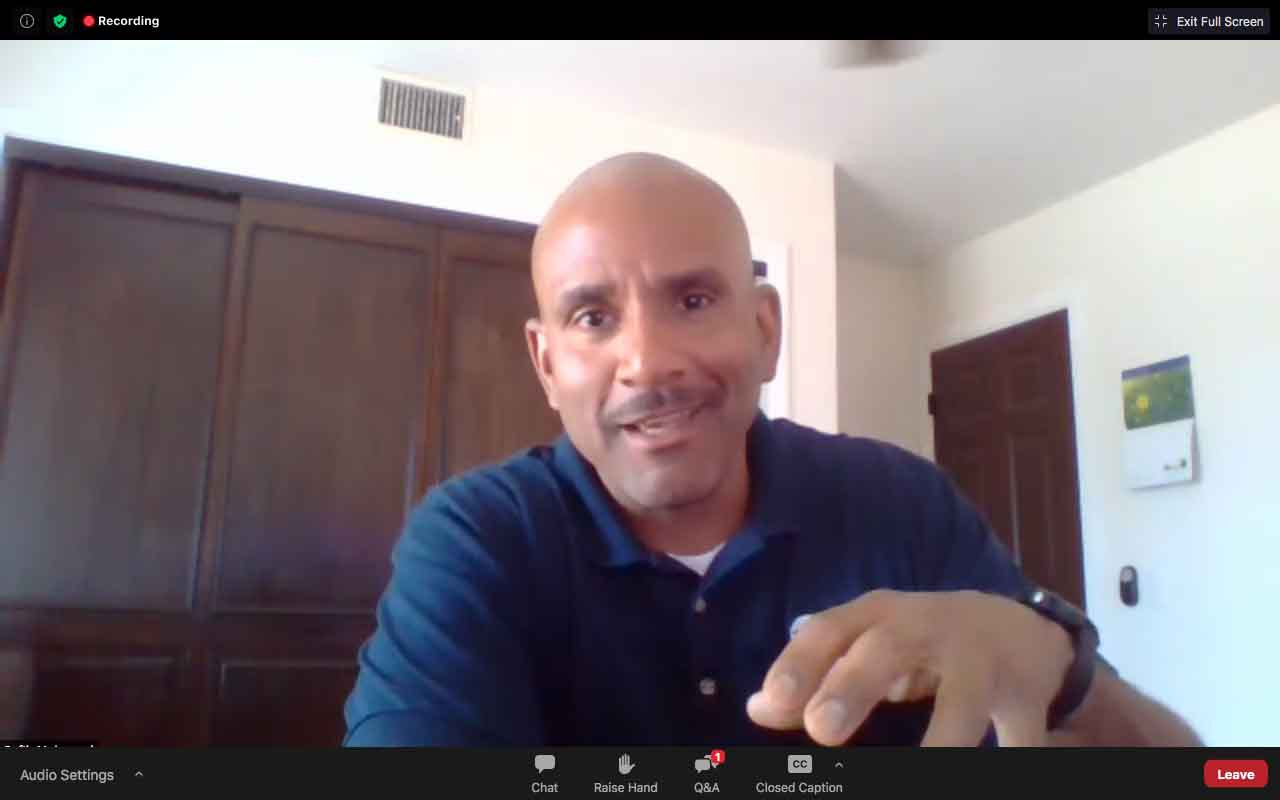 Another panelist, Rafik Mohamed, dean of CSUSB's College of Social and Behavioral Sciences, discussed Floyd's death and what followed from personal and professional perspectives.
On a personal level, he said that it was disappointing because he recalled that some years ago, when he spoke at a ceremony honoring the university's black graduates, he remarked that it was the same story happening when he was graduating from college in 1992, after the officers in the Rodney King beating were acquitted and Los Angeles burned from the resulting civil unrest.
"And it seemed in 1992 that there would be opportunity for some change," Mohamed said. "Obviously, fast-forward to any period after that, but certainly looking back at 2015, 2016 and now, that change hasn't come about. So personally, it really deeply affects me because I've seen this act before, and I hoped I wouldn't have to see it again."
Professionally, as a professor who taught sociology and criminology, and has studied this issue his whole career, he said it was disturbing.
"And it's frustrating to me that as I was working on my dissertation, or as I was working on my master's thesis, or as I was writing papers in college, that I was citing people who were saying exactly the same things that we're saying today," Mohamed said. "And yet, no change substantively has really come. So that is distressing to me as someone who's devoted an academic lifetime, at least, to these things."
Still, he said he senses something different this time around, such as the protests being multi-ethnic and multi-generational, which he has not seen in the past. And that brought to mind the epilogue in Adam Hochschild's "Bury the Chains: Prophets and Rebels in the Fight to Free an Empire's Slaves," which was about the abolitionist movement in the British empire. For hundreds of years prior to that point in the late 1700s, the efforts to end slavery failed. But what was different in thenn? Mohamed said that the 12 men whose effort Hochschild chronicled were religious, but they also shared a new kind of faith.
"They believed that since human beings had the capacity to care about the suffering of others, exposing the truth would move people to action," Mohamed said. And further on, Hochschild wrote that "the way to stir men and women to action is not by Biblical argument, but through the vivid, unforgettable description of acts of great injustice done to fellow human beings. The abolitionists placed the hopes not in sacred text, but human empathy."
Mohamed said that was not to diminish the important role religion played over time, but "what feels different to me now is when people saw, face-to-face, over and over again, the brutality that our criminal justice system so readily exacts against certain kinds of people, and also now, when they see those certain kinds of people have been joined by other kinds of people, and the criminal justice system has been reacting to them in much the same way, I think we are in a moment in time where real change might come about because the power of human empathy is significant.
"More people are empathizing with the plight of black people, and black men in particular, in this context," he said. "And I am hopeful that that will bring about some positive change. But it's going to take everybody in this room, and everybody else, to really work toward that goal."
The June 10 event was hosted by CSUSB students Marlo Brooks and Kameron Pyant, who both work for the Cross Cultural Center at the Santos Manuel Student Union. In addition to Ervin and Mohamed, the panelists were:
Alexis Norris and Zachary Powell, assistant professors of criminal justice;
Anthony Roberson, associate director of operations in the Santos Manuel Student Union; and
Marc Robinson, assistant professor of history.
View the first event online at "Race and Policing, A Panel Presentation and CSUSB Campus Conversation," which was held on June 4.
For more information, contact Jeremy Murray, CSUSB associate professor of history, at jmurray@csusb.edu.