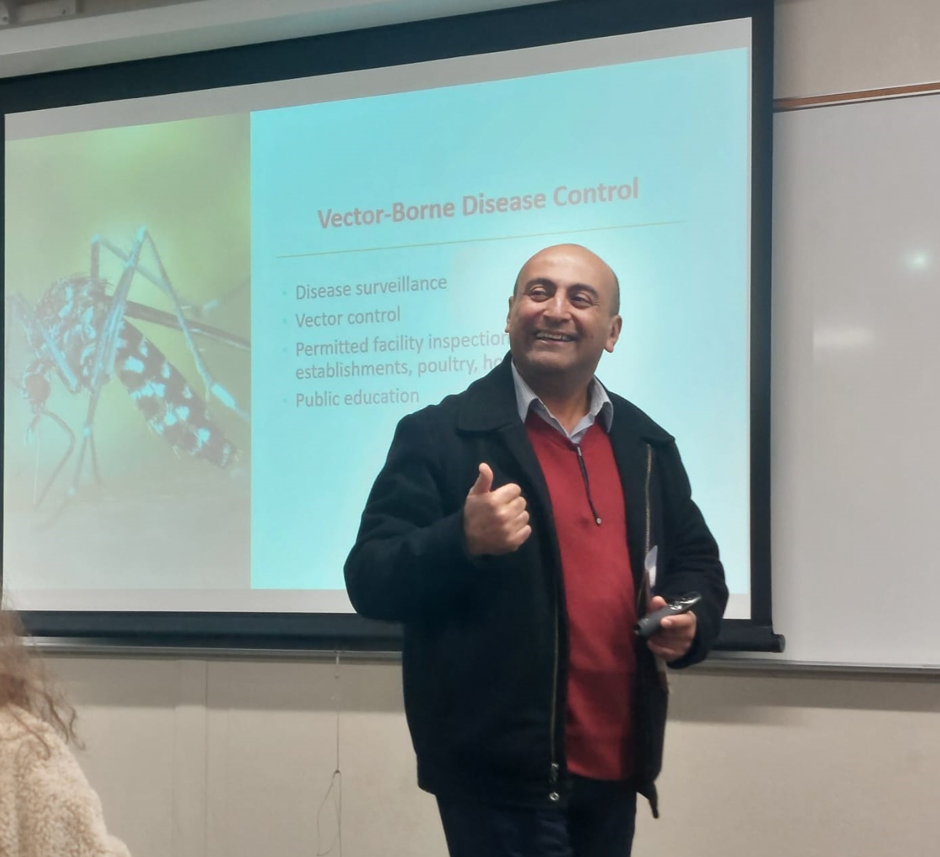 Welcome
Welcome to the Environmental Health Science Page at CSU San Bernardino! Whether you are a current Environmental Health Science (EHS) student or someone with a keen interest in our program, you have arrived at the ideal destination for comprehensive information.
Environmental Health Science is a captivating and interdisciplinary STEM field that seamlessly merges principles of public health with the fundamental sciences of biology, chemistry, and physics. At its core, it is dedicated to the practical application of scientific knowledge to safeguard human populations from a wide array of potentially harmful agents, including air & water pollutants, chemicals, radiation, noise, food-borne pathogens and insect-borne diseases.
Our EHS program at CSU San Bernardino is both dynamic and vibrant, promising a wealth of career opportunities in diverse settings, ranging from office-based research and analysis to hands-on fieldwork. The multifaceted nature of this major equips students with a broad skill set, making them well-prepared to tackle real-world challenges related to environmental health.
Our graduates are consistently the top candidates for Environmental Health Science (EHS) positions across a broad spectrum of sectors, including city, county, state, and federal agencies. Beyond government roles, numerous opportunities await them in non-governmental organizations (NGOs), international organizations, healthcare institutions, insurance companies, major retailers, as well as colleges and universities.
As an EHS major, you have the valuable opportunity to complement your studies with a minor in various fields, such as Chemistry and Biology. Furthermore, our EHS program can serve as a robust foundation for aspiring medical, dental, or pharmacy school applicants, effectively functioning as a pre-medical pathway. The versatility of our EHS program ensures that you have a breadth of options available to you, keeping your academic and career prospects wide open.
Should you have any inquiries or a desire to delve deeper into this fascinating discipline, please do not hesitate to get in touch with us. Our team is committed to providing you with the guidance and information you need to explore the vast potential that Environmental Health Science offers. We eagerly await your correspondence and are here to assist you on your academic journey.
Thank you!
Dr. Mahmood Nikbakhtzadeh
The EHS Program Coordinator
Mission
The mission of the Environmental Health Science (EHS) program at CSU San Bernardino is to provide high-quality education and cultural competencies to prepare students to serve their communities as environmental health specialists. This well-established program is committed to preparing graduates with sufficient knowledge to succeed in the California Registered Environmental Health Specialist (REHS) Exam. We prepare our students to take various positions in the government, private, and military sectors.
Vision
Our vision for the Environmental Health Science (EHS) major at CSU San Bernardino is deeply rooted in its practical applications within the job market. Our academic program has been meticulously crafted to equip our students with the skills and knowledge necessary to excel in their chosen careers. EHS offers a multitude of career opportunities, encompassing a wide spectrum of employers across various sectors.
Currently, there is a burgeoning demand for EHS graduates, both within and outside of the state, and recent studies indicate that this demand is poised to increase significantly in the years ahead. This trend can be attributed to several factors. Firstly, there is a growing public interest in environmental factors, underscored by heightened awareness of their impact on human well-being. Additionally, the escalating concerns regarding the effects of contemporary human lifestyles, synthetic compounds, and industrial activities on the environment have accentuated the need for EHS professionals who can navigate and mitigate these challenges.
Concurrently, the imminent retirement of a substantial number of seasoned EHS professionals presents an additional facet of this demand. The United States is anticipated to witness a need for approximately 10,000 new EHS hires in response to this impending generational shift.
In sum, our EHS program at CSU San Bernardino not only addresses the immediate needs of the job market but also recognizes the long-term trajectory of demand in this vital field, positioning our graduates for meaningful and impactful careers in environmental health science.
Our program at CSU San Bernardino focuses on the wide range of environmental factors that affect the health and safety of communities, including air quality, water quality, food safety, land use, housing, and more.
By joining our EHS program, you'll open doors to well-paid, full-time, and stable job opportunities right after graduation. As an Environmental Health Specialist (EHS), you can work for various entities such as the city, county, state, federal government, military, US Public Health Service, US Aid, and the private sector. The program offers diverse career paths in areas
such as food sanitation, air, and water quality, vector control, noise and radiation control, land use, solid and hazardous waste, toxic materials, housing, and institutional health.
For those aspiring to become a Registered Environmental Health Specialist (REHS), our program provides the shortest path to the registration process, administered by the California Department of Public Health (CDPH). Our program is accredited by CDPH and EHAC, making our graduates eligible for environmental health officer positions anywhere in the United States.
If you're considering medical school, our EHS program can fulfill your pre-med requirements.
Additionally, if you're seeking a minor in an applied science field, our EHS program is among the best choices campus-wide, significantly enhancing your job prospects after graduation.
For over 30 years, the EHS Program at CSU San Bernardino has produced high-quality graduates who have secured government positions throughout Southern California. Our recent graduates hold positions in San Bernardino, Riverside, Orange, and San Diego Counties, Vector Control Districts, Water Pollution Management Facilities, Air Quality Control Agencies, the Military, and the Private Sector.
Join our growing family of Environmental Health Specialists and experience job stability, generous benefits, and work flexibility. This is an exciting opportunity to make a difference in your local community, state, and nation.
We invite you to explore the possibilities and become part of our thriving program.
Accreditation
The Environmental Health Science program at CSU San Bernardino is accredited at the state level by the California Department of Public Health (CDPH) and at the national scale by the National Environmental Health Science & Protection Accreditation Council (EHAC). These two accreditations ensure that our program meets all the required standards, and our teaching and training match the set standards and the community needs.
As an accredited program, our EHS graduates will have the advantage of applying for a wide array of positions across the United States. They will be well-qualified to seek coveted positions within esteemed Federal agencies, including but not limited to the CDC, EPA, and FDA. Additionally, opportunities abound for them to contribute their expertise to critical roles within organizations such as the US Medical Health Service, US Aid, and various branches of the military, including the Air Force, Army, Navy, and the Coast Guard.
Clubs
A& WMA STUDENT CHAPTER - CSUSB
For more information visit A& WMA website or contact:
Faculty advisor: Dr. Mahmood Nikbakhtzadeh
Phone No: (909) 537-5393
Email: mahmood.nikbakhtzadeh@csusb.edu
ENVIRONMENTAL HEALTH SCIENCE CLUB
The Environmental Health Science Club at CSU San Bernardino was founded with the primary goal of acquainting and mentoring students in the multifaceted and ever-evolving realm of environmental health, situated within the broader domain of Health Science. The club's mission is rooted in several key objectives:
1. Fostering Professional Development and Leadership: One of our central aims is to facilitate the professional growth and leadership potential of our members. Through a range of activities and opportunities, we empower students to refine their skills and cultivate leadership qualities within the field of environmental health.
2. Promoting Environmental Awareness: The club is committed to raising awareness about environmental issues, be they local, national, or global in scope. By organizing discussions, workshops, and events, we strive to engage our community in meaningful conversations and actions that address pressing environmental concerns.
3. Facilitating Academic Engagement: We provide a platform for academic engagement, where members can delve deeper into the academic facets of environmental health. This includes access to resources, research opportunities, and discussions that enrich their educational journey.
4. Fostering a Sense of Community: Beyond academics, we recognize the importance of a supportive and inclusive community. The club organizes social activities and gatherings to create a sense of belonging and camaraderie among its members.
In essence, the Environmental Health Science Club at CSU San Bernardino serves as a vital conduit for students to immerse themselves in the dynamic field of environmental health, enabling their growth as professionals, leaders, and environmentally conscious individuals.
For more information about the Environmental Health Science Club contact :
Faculty Advisor : Dr. Mahmood Nikbakhtzadeh
Phone No : (909) 537-5393
Email : mahmood.nikbakhtzadeh@csusb.edu