Educating on Native Lands, People and Culture (DEI Event)
November 15, 2023
10:00am - 2:00pm
WCOE Atrium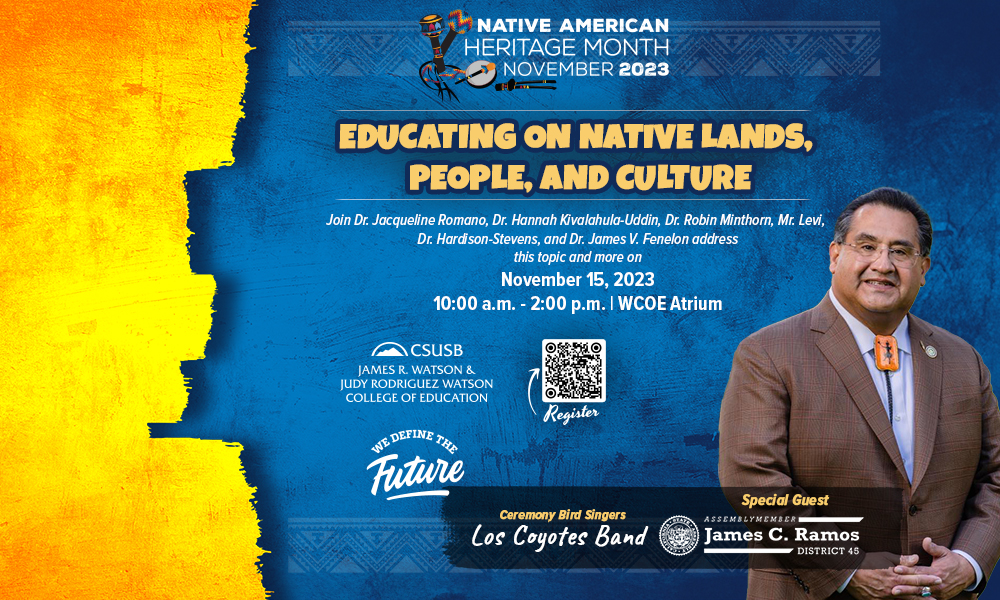 "Educating on Native Lands, People, and Culture" - A Special Event for Native American History Month
Join us in a profound journey of knowledge and recognition as Cal State San Bernardino commemorates Native American History Month. Dr. Jacqueline Romano invites you to an enriching Diversity, Equity, and Inclusion Event that aims to celebrate and educate on the rich heritage, enduring cultures, and vibrant traditions of Native American peoples.
Event Details:
Title: Educating on Native Lands, People, and Culture
Date: November 15, 2023
Time: 10:00 a.m.
Venue: Atrium, Cal State San Bernardino
Open to: Students, Faculty, Staff, and the General Public
Keynote Speaker: We are honored to welcome Assembly Member James C. Ramos, representing District 45, a renowned advocate for Native American history and culture. As the first California Native American elected to the State Assembly, his insights offer an invaluable perspective on the intersection of culture, policy, and education. The event will also feature Dr. Jacqueline Romano, Dr. Hannah Kivalahula-Uddin, Dr. Robin Minthorn, Mr. Levi, Dr. Hardison-Stevens, and Dr. James V. Fenelon.
Highlights of the Event Include:
Engaging Presentations: Discover the significant contributions of Native American communities to our shared history and society.
Interactive Discussions: Delve into meaningful conversations about the past, present, and future of Native American education.
Cultural Exhibitions: Experience a vibrant display of Native American art, crafts, and music.
Educational Workshops: Participate in workshops designed better to understand Native lands, people, and culture.
Special Activities:
Cultural Performance: Witness a captivating traditional performance by the Los Coyotes Band.
Resource Fair: Explore resources and initiatives that support the inclusion and success of Native American students.
RSVP & More Information:
Please RSVP by November 14, 2023, to secure your spot. For more information, visit https://csusb.az1.qualtrics.com/jfe/form/SV_3K3lqZxcqDIksd0 or contact Dr. Jacqueline Romano.
Join us as we embrace the essence of diversity, equity, and inclusion through a reflective examination of the histories and cultures that thrive on the land upon which our university stands. We look forward to your participation in this enlightening and inspirational event.
Acknowledgment:
We recognize that California State University, San Bernardino, sits on the territory and ancestral land of the San Manuel Band of Mission Indians (Yuhaaviatam). We recognize that every member of the California State University, San Bernardino community has benefitted and continues to benefit from the use and occupation of this land since the institution's founding in 1965.
Consistent with our values of community and diversity, we have a responsibility to acknowledge and make visible the university's relationship to Native peoples. By offering this Land Acknowledgement, we affirm Indigenous sovereignty and will work to hold California State University, San Bernardino, more accountable to the needs of American Indian and Indigenous peoples.