Book of the Month Giveaway - Backpacker's Field Manual
January 31, 2021
All Day
Your Mailbox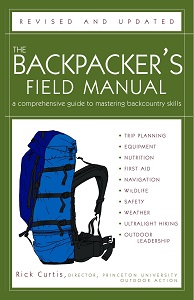 Each month CSUSB Adventure will feature one of our program's favorite books and giveaway 10 copies to CSUSB students! To be entered to win just register using the link below before the end of the month. Winners will be notified by email the first week of the following month. If you don't win try again next month! Limit 2 books per student.
January – The Backpacker's Field Manual

The Backpacker's Field Manual is a thorough guide to navigating the outdoors. This book offers packed information for beginners as well as a great reference for experts. This manual walks you through several key fundamentals of backpacking as well as newer modern trends such as ultra-light backpacking, leave no trace and newer technologies. The Backpacker's Field Manual will help you build your confidence as a backpacker and an outdoor adventurer.
Next Month: The Adventure Gap