Catalina Island Service Adventure - PDC and SBC
March 28, 2022 - April 1, 2022
6:30am - 7:00pm
Catalina Island, CA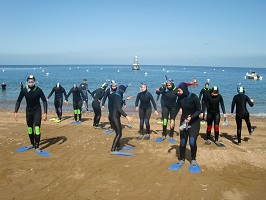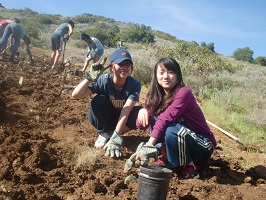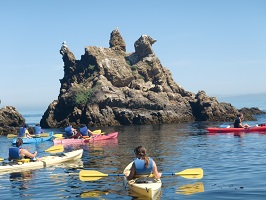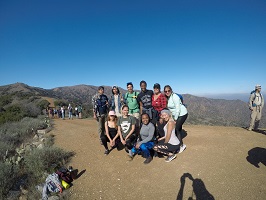 Join us as we ferry over to Catalina Island for 5 wonderful days of service and exploration. We will have the opportunity to snorkel, kayak, hike and swim in the amazing coves around Catalina Island. We will also be learning about and helping our hosts preserve the natural grounds of this fragile ecosystem by learning to compost, repair trails, remove invasive plants and many other useful projects. Our meals will be provided by the camps food service and we will be staying in cabins just a few feet from the ocean. This is the best deal you'll find for Catalina! The trip includes transportation from CSUSB to Catalina Island, meals, lodging in bunk cabins and activities. No special side trips are available and the group will be working and recreating together.

Trip Cost
SRWC Member: $300
Faculty, Staff, Non-Enrolled CSUSB Student, and Alumni Association: $330
Affiliate: $345
Sponsored Guest: $360

Pre-Trip Meeting / Sign-Up Deadline
March 22, 2022 @ 6pm
Trip Departs From
CSUSB Student Recreation and Wellness Center @ 9am
Pam Desert Campus, Meet in front of Indian Wells Theater @ 8am
Activity Level
3 - Adventurous
Itinerary:
Day 1 - We will meet at the PDC at 8:00am or SBC SRWC at 9:00am and head to the Catalina Terminal to depart on a boat to the island! Once arrival we will go to our camp and settle in the afternoon. Relaxing for the rest of the dat and getting a good night sleep.
Day 2-4 - We will be following the itinerary from the camp!
Day 5 - We will depart and arrive to SBC campus around 8:00pm and PDC around 9:00pm.
Trip participants will also receive a CSUSB Volunteer T-Shirt!
NOTE:
Participants will be putting in approximately 25 hours of manual community service during their one week stay. Projects take place in rural outdoor settings and are environmental in nature. Projects may include trail building, invasive plant removal, tree planting, native plant landscaping, gardening and composting. Participants are required to be appropriately dressed and prepared for the above projects.
Packing List
Weather
Food
12 meals are included, starting with dinner on day 1 (4 breakfasts, 4 lunched, and 4 dinners)
Lunch on day 1 and dinner of the way home is not provided. Bring money.
Hygiene and Comfort
We will be staying in gender specific reserved bunk houses The bunk houses are within close proximity to vault toilets and there are showers.
Risk / Hazards / Safety
Cancellation Policy
How to Register
Registration Opens 1/1/22