Black Canyon Canoe and Camp - SBC
November 10, 2022 - November 13, 2022
2:00pm - 8:00pm
Lake Mead National Recreation Area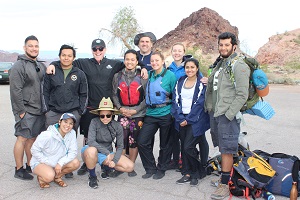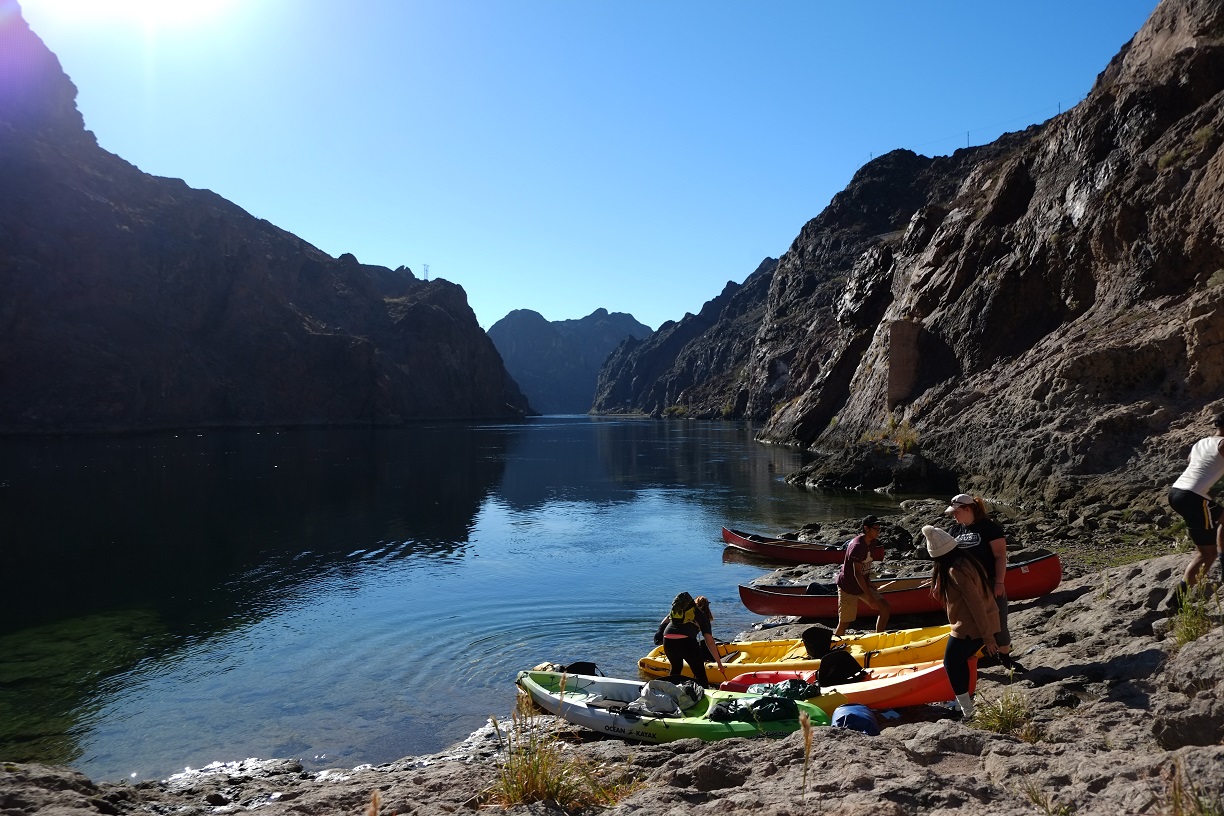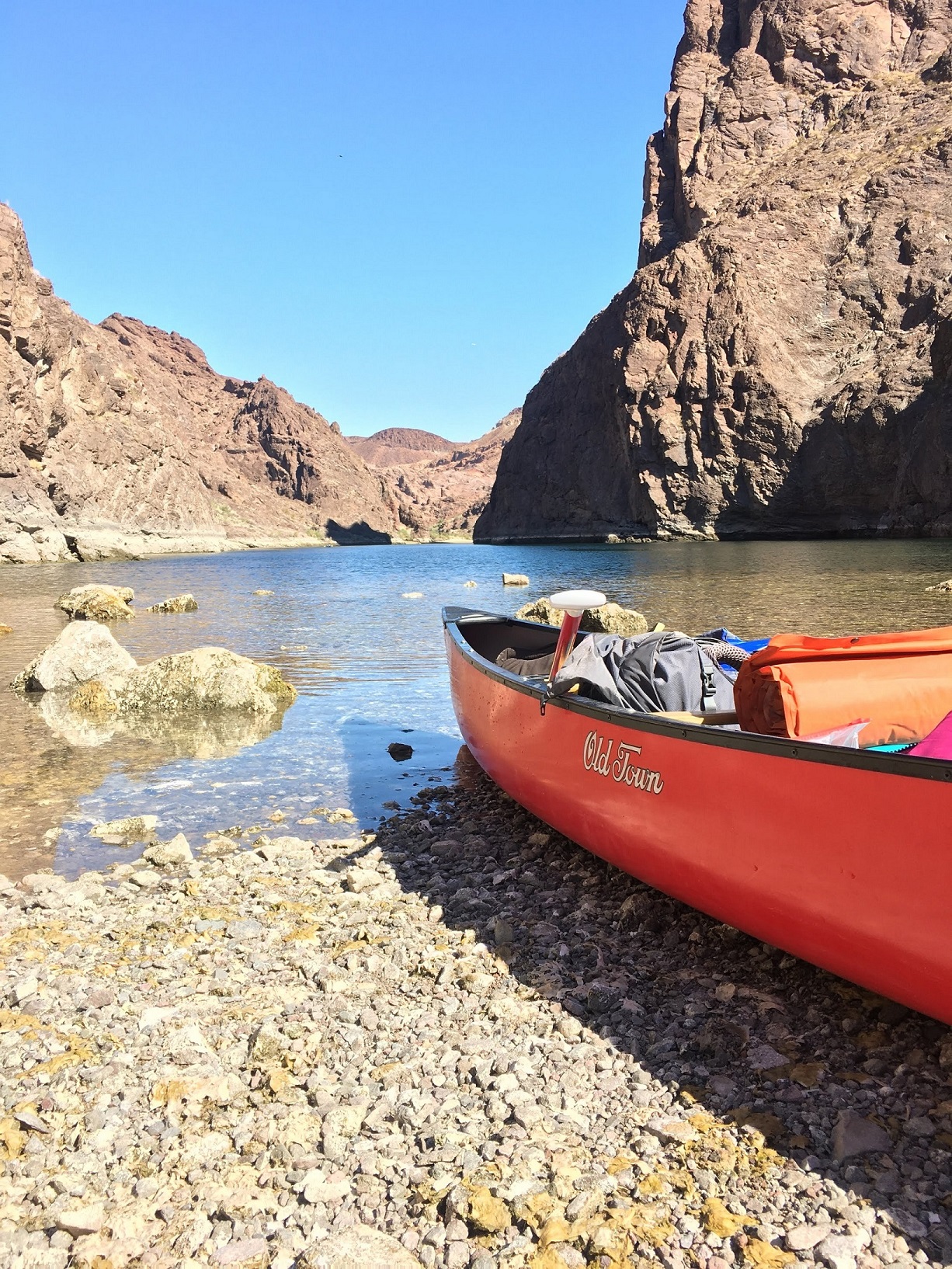 Canoeing the Black Canyon of the Colorado River below Hover Dam is awesome! It's the perfect canoe adventure in Black Canyon. The lower Colorado River is moving flat water with no rapids - just beautiful green waters. It is perfect for beginner and seasoned paddlers alike. On this 4 day trip we will canoe upriver between towering cliffs and looming canyon walls as we navigate the flat moving water of the river. After a long day of up river paddling we will set up camp and enjoy the nearby hot springs. The next day we will explore more side canyon and hot springs and enjoy another night on the river. On day 4 we will pack up camp, paddle down river and head for home. This trip requires strong paddlers but the rewards are worth it.
Pre-Trip Meeting / Sign-Up Deadline
November 9, 2022 @ 6pm

Activity Level
3 – Adventurous

Trip Departs From
CSUSB Student Recreation and Wellness Center

Itinerary
Day 1: We will meet at the Student Recreation and Wellness Center at 2pm on Thursday to pack up the van and make sure we all have the necessary and proper gear and attire for a successful trip. Our drive is roughly 240 mi / 386 km (4-5 hours) with stops for dinner and whenever we have to fill up our van with gas before heading to our campsite at Willow Beach Campground to set up camp, relax around the fire, and get a good night's sleep.
Day 2: Friday morning will be an early start. That morning will consist of packing up camp, having breakfast, and packing our camping gear into our dry bags and kayaks, ready to go into the water. We will then canoe UP river 8 miles to our beautiful campsite. When we finally get to the campsite, we will set up, make dinner and enjoy the rest of our night.
Day 3: On this day, we will wake up bright and early for breakfast and then begin our kayak adventure up river to Boy Scout Canyon and Gold Strike canyon for some nice day hikes. After we will have lunch by the river and then hike to the hot springs for a soak! After spending time in the springs, we will make our way back to the campsite for dinner and free time.
Day 4: Sunday morning we will wake up and enjoy breakfast and begin packing up camp. When camp is all packed we may enjoy one last soak in the hot springs before heading back to Willow Beach, having lunch on the way. Once at Willow Beach, we will strap down the kayaks and depart back to CSUSB!

Packing List

Weather
Food
8 meals are included, starting with breakfast on day 1 (3 breakfasts, 3 lunches, and 2 dinners).

Hygiene and Comfort
We will be staying at reserved campsites the first night that has flush toilets and drinking water. We will be carrying our all our food, shelter, clothing, drinking water, and equipment in canoes to our riverside campsite. Along the river we will practice Leave No Trace methods to dispose of trash and human waste. The campsite we will be at for night 2, night 3, and the morning of day 4 has a pit toilet, and no showers. You will have the option to share a tent with one or two people or sleep out under the cover of the stars. Light weight tents, warm synthetic sleeping bags, foam pads and ground tarps will be provided to ensure a comfortable night's sleep. The ground consists of sand, rocks, and soft soil.
Cancellation Policy
How to Register

Registration Opens August 1st at 8:00am