What is the vaccine requirement?
California State University (CSU) announced on July 27, 2021 that it requires faculty, staff and students who are accessing any university facility to be immunized against the virus that causes COVID-19.
This vaccination mandate was updated on December 22, 2021 to include a vaccine booster shot in order to be considered fully immunized against SARS-CoV-2. 
For more details, please see the CSU COVID-19 Vaccination Interim Policy that went into effect on July 29, 2021.
Where can I get vaccinated?
Vaccination and booster shots are available from most medical providers.  In addition, you may also check the State of California MyTurn website for the vaccination location nearest you and to schedule an appointment.
How do I upload my proof of vaccination?
Proof of vaccination can now be uploaded through the myCoyote portal under the Employee COVID-19 Vaccine Self-Certification or the Student COVID-19 Vaccine Self-Certification tiles. 
"Section III: Attachments of Proof of COVID-19 Vaccination" allows for the upload of a copy or picture of  your COVID-19 Vaccination Record Card, QR Code from the State of California, or letter from a health care provider indicating that you are fully vaccinated (see the screenshots below).

Selecting the "Attach" button will open a pop-up that will allow you to select the file.
Once you have selected the appropriate file select the "Upload" button the file name will appear on the page.  The final step is to select the "Submit" button. 
You will receive a message indicating that you have submitted your proof of vaccination.
What does a student or employee need to submit in terms of documentation to receive a medical or religious exemption to this policy requirement?
Those with qualifying exemptions must complete the self-certification form accordingly.  Medical exemptions must be verified by a certified licensed healthcare professional and provided upon campus request. 
Show Your Coyote Pride with a Zoom Background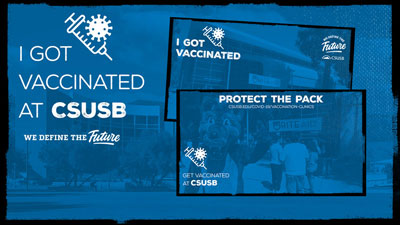 Zoom Background - I Got Vaccinated
Zoom Background - I Got Vaccinated at CSUSB