What is the vaccine requirement?
Starting April 6, 2023, the California State University system recommends COVID-19 vaccinations as a crucial safety measure to prevent serious illness. We are pleased to announce that CSUSB students and employees will no longer be required to be fully vaccinated, based on the latest guidance and evolving circumstances. 
Although vaccinations are no longer compulsory, it is important to continue following all other health and safety measures established by the university, as well as federal, state, and local laws and regulations. This includes reporting COVID-19 cases and exposures through the COVID-19 reporting tool, and following safety precautions such as wearing a face covering if exposed.  
Where can I get vaccinated?
Vaccination and booster shots are available from most medical providers.  In addition, you may also check the State of California MyTurn website for the vaccination location nearest you and to schedule an appointment.
Show Your Coyote Pride with a Zoom Background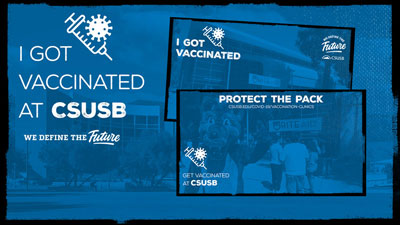 Zoom Background - I Got Vaccinated
Zoom Background - I Got Vaccinated at CSUSB