What is the vaccine requirement?
When will the policy be finalized?
Chancellor Castro has approved the COVID-19 Vaccination Interim Policy which was issued and took effect on July 29, 2021.  This policy demonstrates CSU's commitment to safeguarding the health and well-being of students, faculty, staff, administrators, and the communities we serve.  It is published in the CSU Policy Library.
Where can I get vaccinated?
When will the requirement begin?
This requirement becomes effective at the beginning of the fall 2021 term. CSUSB Students, Faculty and Staff will be required to submit their vaccination self-certification by September 20, 2021.
What should members of the community do now?
Members of the campus community who are not yet fully vaccinated should make an appointment for vaccination at the State of California MyTurn website as soon as possible. The process to become fully vaccinated can take up to six weeks for the two-dose vaccine, and up to three weeks for the one-dose vaccine.
Those students and employees who are fully vaccinated should complete the self-certification as soon as possible to avoid unnecessary COVID-19 testing. 
How can I inform the campus that I am already vaccinated?
Where and how is my vaccination information being stored?
Vaccination records will be managed in the Peoplesoft ERP system, via its student and employee self-service portal.  Vaccine information will be stored in the same information systems, and subject to the same usage and security protections, as other sensitive information that is already collected and stored by the CSU.
What will happen to students or employees who fail to get vaccinated?
Any student or employee who does not provide a certification of vaccination may be denied access to campus and/or campus programs.  Students and employees who are exempted from vaccination for medical or religious reasons must participate in additional public health and safety measures, such as routine COVID-19 surveillance testing, and face coverings to reduce the likelihood of transmission to the campus community.
I've already tested positive for COVID.  Do I still need to get vaccinated?
Yes, you will still need to get vaccinated.  The university policy does not allow for exemptions for those who have had COVID-19, and public health officials recommend vaccination for people who have previously tested positive for COVID-19.
What will happen to me if I am unable to get the second vaccine in time to be fully immunized before I go to campus?
This should not be a problem as ample time has been built in to allow for both shots and the two weeks following.  In the rare event that an individual has not completed the vaccination process, they will be required to participate in additional public health and safety measures including COVID-19 weekly testing.
What will be the disciplinary process for students who refuse to be vaccinated but still need access to campus facilities and services?
Any student who does not provide a self-certification may be denied access to campus, this includes in-person classes and off-campus internships or clinical experiences. 
If the health and safety of members of the campus community are jeopardized, students may be subject to the university's student discipline process.
If medical experts determine in the future that boosters are required, will the new policy also require proof of boosters?
The COVID-19 pandemic continues to evolve, and the CSU will continue to review the guidance from local, state, federal and global health agencies and revise the policy as needed based on the goal of maintaining the health and well-being of all members of the campus community.
What if a student or employee has lost of misplaced their COVID-19 vaccination card?  How can they demonstrate compliance with this policy?
CSUSB will allow students and employees to self-certify that they are current on their COVID-19 vaccination status.  Uploading of the vaccination card image is not required at this time.  If you have lost or misplaced your vaccination card and were vaccinated in California, you may access your record at the Digital COVID-19 Vaccine Record website.
What does a student or employee need to submit in terms of documentation to receive a medical or religious exemption to this policy requirement?
Medical exemptions must be verified by a certified licensed healthcare professional and provided upon campus request.  Religious exemptions must be supported by a statement describing the applicable religious or other comparable belief that is the basis for the exemption and provided upon campus request. 
Will the vaccination self-certification be required for represented personnel?
All employees are subject to this policy; however, the university must negotiate the impacts of the vaccine requirement with each applicable labor union.  Until the meet-and-confer process with labor unions has reached a conclusion, the university cannot subject represented employees to consequences for failing to meet the university requirement.  For students and employees who are unvaccinated during the grace period for obtaining full vaccination status (no later than September 20, 2021), other safety measures including weekly testing will apply, as with those who are exempted.
Show Your Coyote Pride with a Zoom Background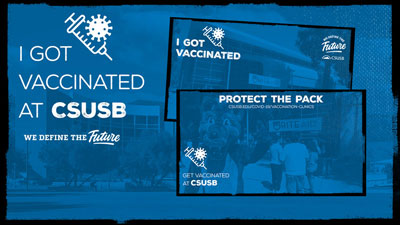 Zoom Background - I Got Vaccinated
Zoom Background - I Got Vaccinated at CSUSB