'Where We Belong,' by CSUSB's Daisy Ocampo Diaz, topic of next 'Provost Presents Faculty Research' talk

The sustaining preservation practices by Indigenous people to care for their sacred spaces will be the focus of the next "Provost Presents Faculty Research" talk, to be presented beginning at noon Wednesday, Nov. 15.
Daisy Ocampo Diaz, assistant professor of history, will share her research behind her latest book, "Where We Belong: Chemehuevi and Caxcan Preservation of Sacred Mountains," presented by the Office of the Provost and CSUSB Libraries.
The talk, free and open to the public, will take place from noon-1 p.m. in the John M. Pfau Library, room PL-4005, as well as on Zoom.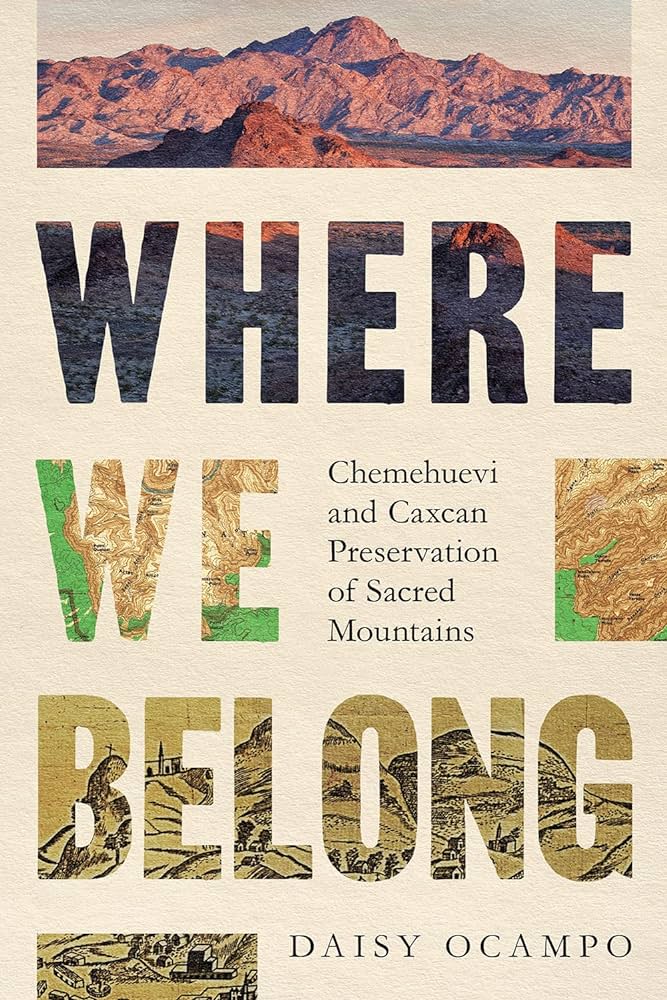 "'Where We Belong' shifts how we think about preservation, questions who we center in histories of sacred sites and invites us to support tribal sovereignty and cultural revitalization," Ocampo Diaz said.
From the book publisher's website: "This comparative work dispels the harmful myth that Native people are unfit stewards of their sacred places. This work establishes Indigenous preservation practices as sustaining approaches to the caretaking of the land that embody ecological sustainability, spiritual landscapes, and community well-being.
"The author brings together the history and experiences of the Chemehuevi people and their ties with Mamapukaib, or the Old Woman Mountains in the East Mojave Desert, and the Caxcan people and their relationship with Tlachialoyantepec, or Cerro de las Ventanas, in Zacatecas, Mexico. Through a trans-Indigenous approach, Daisy Ocampo weaves historical methodologies (oral histories, archival research, ethnography) with Native studies and historic preservation to reveal why Native communities are the most knowledgeable and transformational caretakers of their sacred places."
"It's a privilege to highlight this important work in the CSUSB Libraries, allowing the opportunity to have a conversation about restoring and promoting Indigenous practices to the land," said Rebecca Lubas, dean of the CSUSB Libraries.
The Provost Presents Faculty Research is co-sponsored by the Faculty Center for Excellence, John M. Pfau Library, Department of History, and the SMSU Cross Cultural Center.
For more information, contact Robie Madrigal, library outreach specialist, at rmadriga@csusb.edu or (909) 537-5104.