CSUSB president affiliates with Excelencia in Education's Presidents for Latino Student Success network
Excelencia in Education, the nation's premier authority in efforts accelerating Latino student success in higher education, announced that Tomás D. Morales, president of Cal State San Bernardino, has joined the Presidents for Latino Student Success network.
This important national network is comprised of college and university presidents and chancellors who commit to making their institutions learning environments where Latino students thrive. The institutions in Excelencia's network are transforming higher education. Through the network, Morales will collaborate with Excelencia to leverage collective expertise and resources, foster partnerships, and amplify current efforts at the national level.
"I am deeply honored and proud to be part of this amazing group of leaders who are dedicated to providing an exceptional higher education experience not only to Latino students but to all students," Morales said. "Though our campuses are located throughout the country, our goal is the same – create an educational environment where students not only succeed, but excel and are ready to lead our communities as the future leaders of our society.  
Of the thousands of colleges and universities across the country, the 175 institutions in the network enroll one in four of all Latino students in higher education.
More importantly, these institutions account for one in three of all Latino graduates. In fact, a subset of the Excelencia network – 30 institutions that have been certified with the Seal of Excelencia – represents 13 of all Latino enrollment and graduates 14 percent of all Latinos in the U.S.
Excelencia professionals, the leadership network, and their campus teams,  actively collaborate to put evidence-based practices and strategic analysis of student data to use supporting and advancing the talents, skills and contributions of Latino students and the institutions.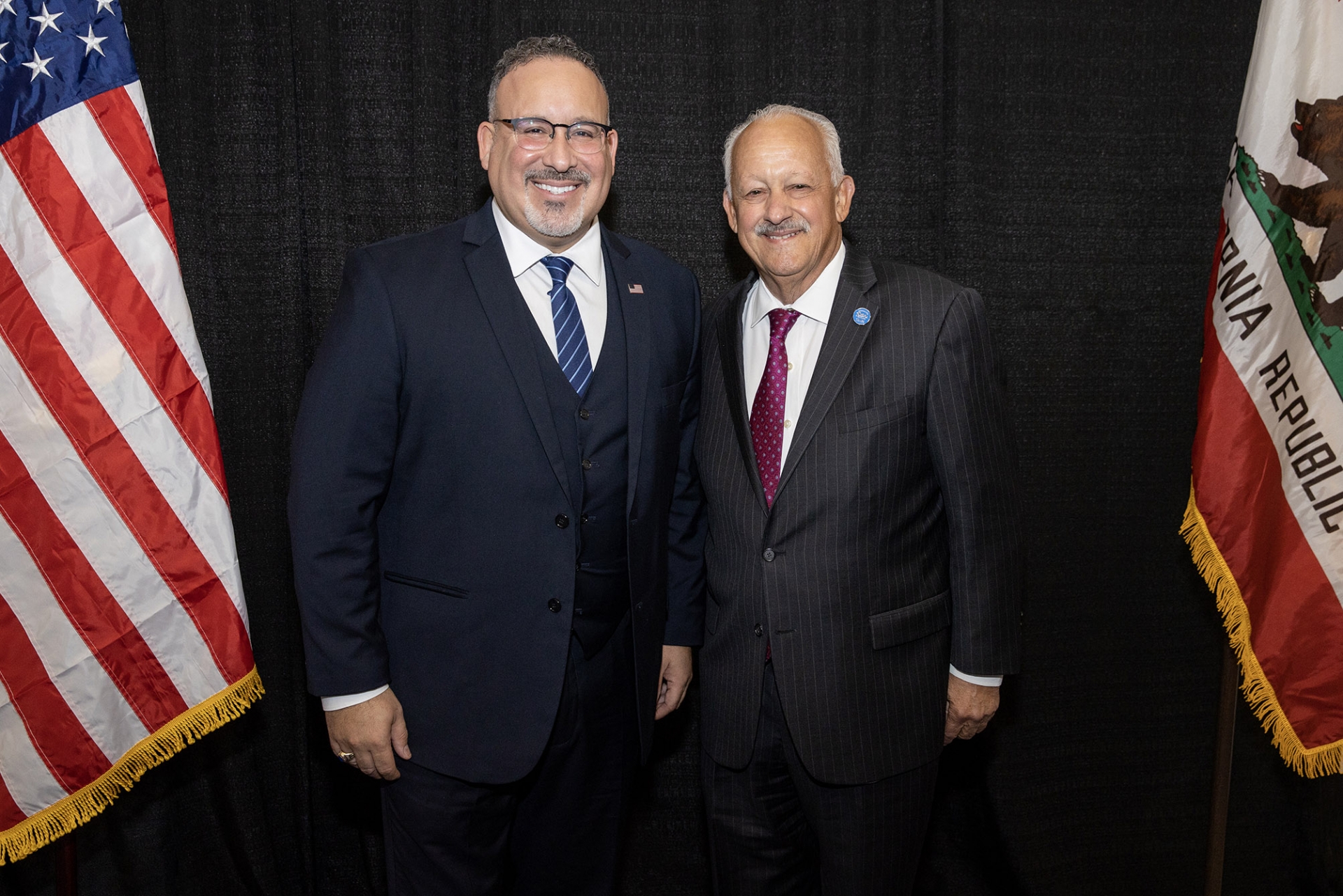 "Higher education leaders with skills and vision are fundamental to our country's strong recovery," Sarita Brown, co-founder and president of Excelencia, said. "Those prepared to engage and intentionally serve Latino students, while serving all their students, will lead the way."
Excelencia is honored to work with the trendsetting presidents and chancellors who have accepted this challenge as the  leaders in the network have made common cause with Excelencia to accelerate Latino student success in higher education, according to the organization.
Cal State San Bernardino, a designated Hispanic-Serving Institution since 1994, is now the second largest HSI in California and the 16th largest in the country. As of the fall 2022 semester, 67 percent of the CSUSB student body is Hispanic with the fall 2018 cohort of full-time, first-time freshmen having a four-year graduation rate of 24.2 percent, and the CSUSB fall 2016 cohort of full-time, first-time freshmen having a six-year graduation rate of 54.3 percent.
As an HSI, CSUSB has also shown its effectiveness in how well it serves its low-income students.
In a 2022 Economic Mobility Index (EMI) ranking by the national think tank, Third Way, CSUSB was listed  No. 8 in the nation. Unlike prioritizing selectivity and test scores like traditional rankings, the think tank took a different approach: They defined value based on how well institutions serve their low-income students, in addition to the proportion of low- and moderate-income students a school serves. The report saw a group of Hispanic-Serving Institutions topping the list, including CSUSB.
Visit the Presidents for Latino Student Success webpage to learn more about the network and other institutional leaders across the country affiliated with Excelencia.
About Excelencia in Education
Excelencia in Education accelerates Latino student success in higher education by promoting Latino student achievement, conducting analysis to inform educational policies, and advancing institutional practices while collaborating with those committed and ready to meet the mission. Launched in 2004 in the nation's capital, Excelencia has established a network of results-oriented educators and policymakers to address the U.S. economy's needs for a highly educated workforce and engaged civic leaders. Visit the Excelencia in Education website for more information.