Syeda Jafri | Communication/Media Services | Rialto Unified School District | (909) 820-7700 Ext. 2123, or 2126 | sjafri@rialtousd.org
Joe Gutierrez | Office of Strategic Communication | (909) 537-3007 | joeg@csusb.edu
CSUSB and Rialto Unified School District team up to Teach Rialto
Among the incoming Class of 2028 in the Rialto Unified School District will be the first cohort of students who will one day return to teach in their home district.
On Wednesday, March 15, the Rialto Unified School District (RUSD) and California State University, San Bernardino (CSUSB) launched Teach Rialto, an initiative that will provide ninth grade students, beginning with the 2023-24 school year, a rigorous program of study and support services through their senior year in high school. That will put them in a position to meet the requirements for admission to CSUSB, where they will earn their bachelor's degree and teaching credentials so that they could return to teach in Rialto's schools.
The agreement, in the form of a memorandum of understanding, is the first of its kind. The RUSD Board of Education formally approved the program at its meeting in November 2022.
"As an anchor institution – and a leader in training the region's teachers – we are committed to bolstering the education of our youth so that they can define their future and that of the Inland Empire," said CSUSB President Tomás D. Morales. "Our partnership with RUSD through Teach Rialto will play a major role in that, by training homegrown teachers who will take pride in giving back to their community as well as continuing the work to pay it forward. And we hope it will be a model for other school districts to emulate."
Cuauhtémoc Avila, superintendent of the Rialto Unified School District, echoed the idea of the shared effort for Teach Rialto.
"Aristotle argued that it is the shared pursuit of virtue that builds a strong community," he said. "Strong communities are achieved through strong partnerships. And through Teach Rialto, we are excited to strengthen our partnership with California State University, San Bernardino to enable our youth to serve others through the noble profession that is teaching."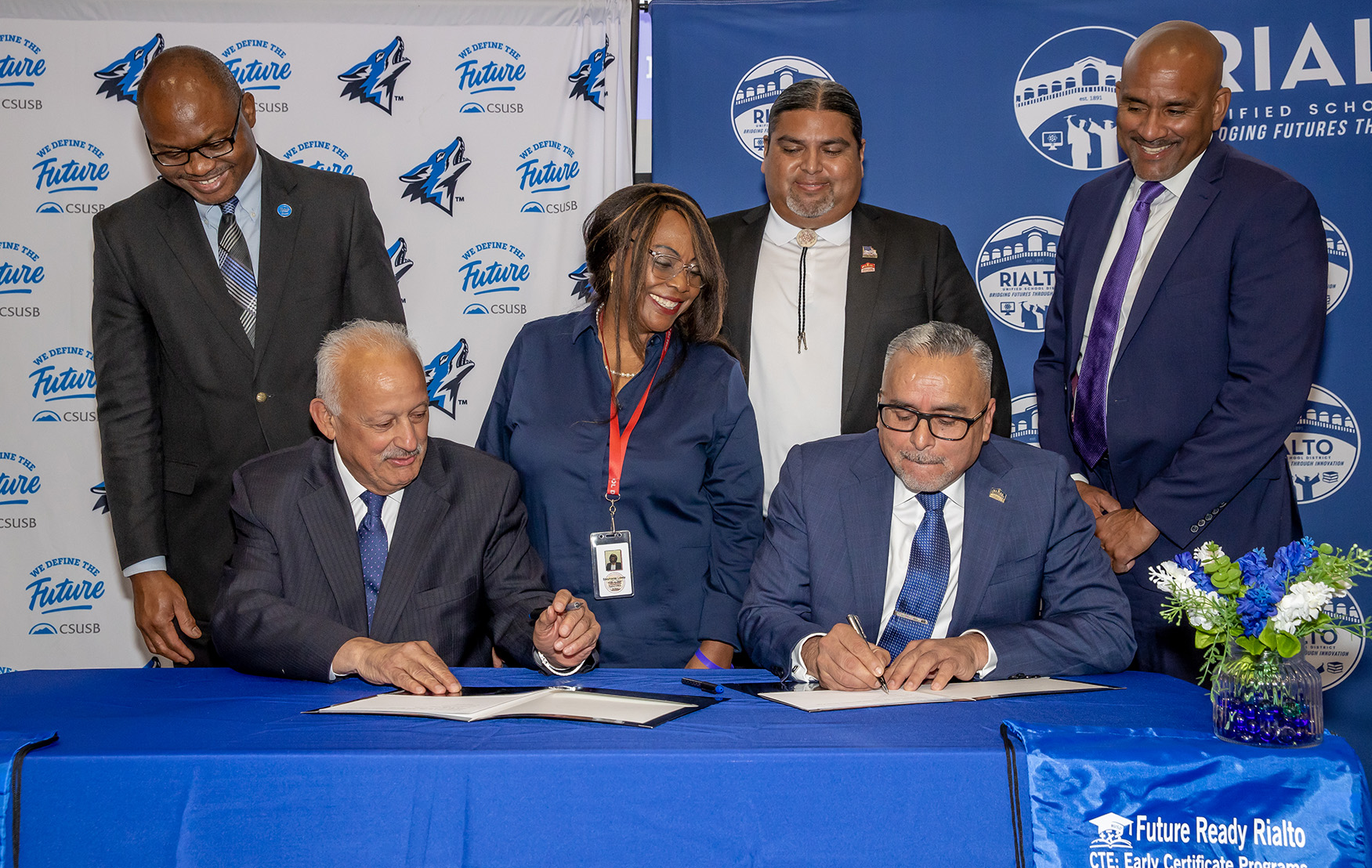 Teach Rialto will help bring students into positions of leadership and community engagement through the teaching profession, said Rachel Beech, associate vice president of Enrollment Management at CSUSB.
"The program was spurred by the needs of the district to find qualified teachers for various programs where it is often hard to find educators," Beech said. "This includes high school teachers in sciences and math, special education and other specialized fields."
Patricia Chavez, the lead innovation agent for the Rialto Unified School District, said Teach Rialto is "a grassroots movement, aimed to inspire Rialto Unified students to serve the community by entering the teaching field. … This program is truly about growing our own to serve our own."
One of RUSD's own, Rachel Rincon, an alumna of Eisenhower High School and now a freshman at CSUSB, is in a pilot cohort of Teach Rialto. Majoring in child development, she shared with the audience what inspired her to want to be a teacher.
While in high school, she had the opportunity to help at a district elementary school as a student aide, assisting fourth grade teachers in the classroom, working with their students. That, Rincon said, also gave her the opportunity to know the students as individuals. She spoke about one student who was behind in her academics, and how she was able to assist her in catching up to her classmates.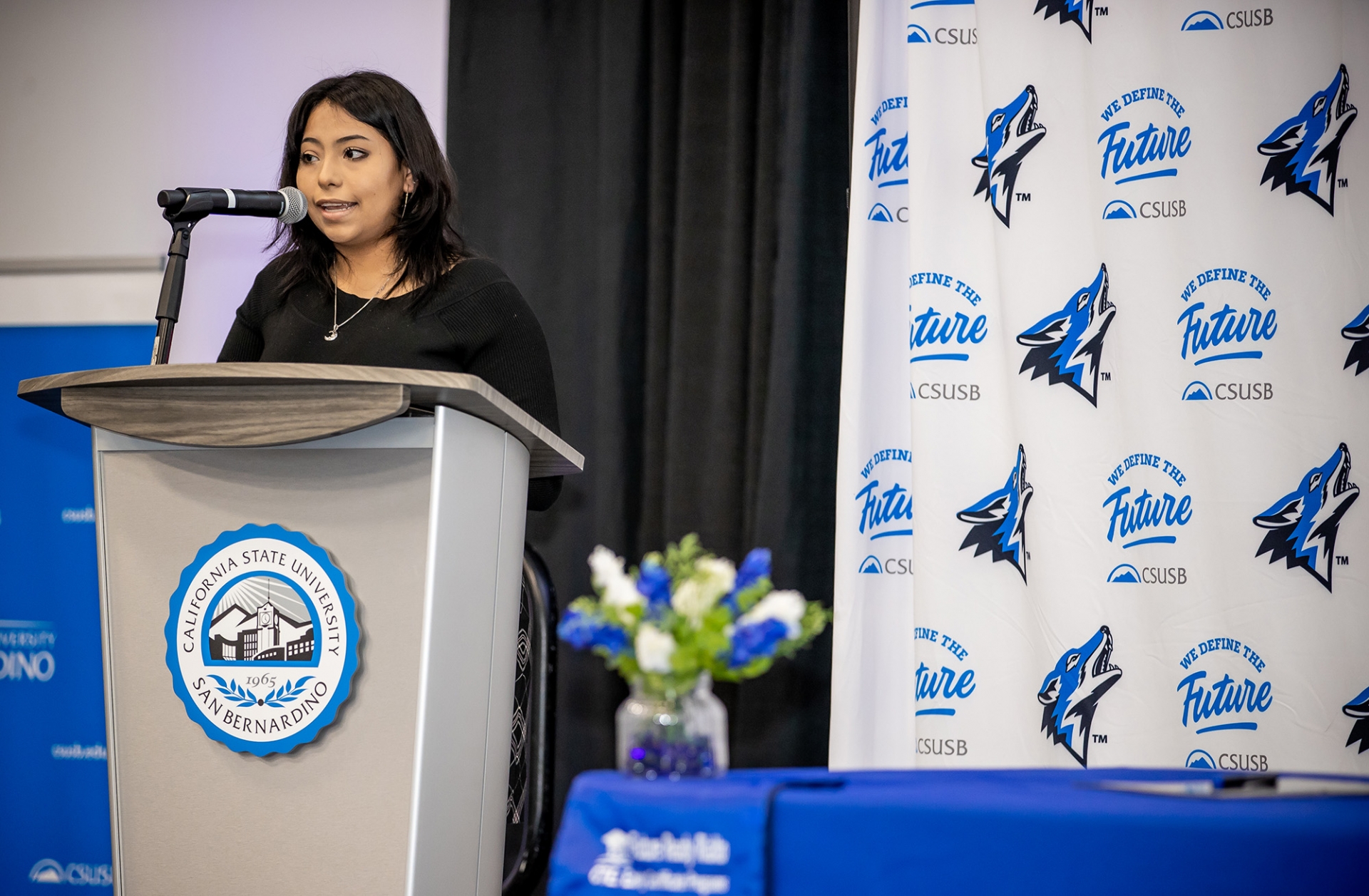 "I admired how quickly she was catching up in math, reading and writing," Rincon said. "At the end of the year, I received great news. Because of all our hard work she not only progressed one grade level, but two reading grade levels. The beauty of having my student succeed brought me so much joy, I couldn't believe it. I was so proud of her and all the students."
And she shared how one of her high school teachers took an interest in her as a person, which inspired her to be an educator who not only teaches, but cares about her students, to help mold them into the best people they can be.
"I want to be teacher," Rincon said. "I want to Teach Rialto."
Beginning in the fall 2023, Teach Rialto will identify ninth grade students who express an interest in a career in education. They will be guided during their high school career to complete the required classes for admission to CSUSB, without the need for remediation courses. Also, parents will be involved in the process through a systematic program of communication and education, which will include frequent notification to students and parents of the students' academic progress, as well as ongoing teacher counselor and parent training regarding CSUSB's admission requirements, and the steps needed to complete the application process and how to apply for financial aid.
Students who meet the admissions requirements for CSUSB will receive priority registration, and after completing their undergraduate degrees, will be enrolled in the university's Teach Foundation Credential and the James R. Watson and Judy Rodriguez Watson College of Education. As students at the university, they will be grouped into a cohort where they will receive assistance and support through programs to help them fulfill the requirements for graduating and completing work for their teaching credential.
The Rialto district, Chavez said, will give the graduates priority employment opportunities to those who complete the Teach Rialto program.