Joe Gutierrez | Office of Strategic Communication | (909) 537-3007 | joeg@csusb.edu
With the sound of a bell tolling 14 times, the CSUSB community gathered together to remember.
The College of Natural Sciences hosted its annual Day of Remembrance on December 2 to honor the memories of the 14 people – including five Department of Biology and Department of Health Science alumni – who were killed seven years ago during a mass  shooting in San Bernardino.
"Let us also remember the cherished memories of all 14 individuals we lost seven years ago," said Sastry Pantula, dean of the college, during his opening remarks. "Your lives touched so many. Your service and your passion were examples for us to emulate. Your dedication to serving our communities, continues to resonate in my family, the families gathered here today, and our College of Natural Sciences family."
He also added, "Let us work hard, to eliminate the gun violence, eliminate guns to the extent possible, and invest in mental health. Let us not be callused and get numb to the mass shootings across our country each week. Let us not make December 2, 2015, be a blip in massive numbers of mass shootings."
The annual ceremony, one of two held in the community, was held in the Peace Garden, located on the south side of the Chemical Sciences Building, which was planted in memory of the fallen alumni. As part of the solemn proceedings, a bell is rung 14 times to mark each victim at the beginning and end of the ceremony.
The Day of Remembrance memorializes the following alumni:
Robert Adams, Yucaipa (public health education, 2011)

Juan Espinoza, Highland (biology, 2002)

Shannon Johnson, Los Angeles (environmental health science, 2004)

Yvette Velasco, Fontana (environmental health science, 2013)

Michael Wetzel, Lake Arrowhead (biology, 2001)
More than 50 people attended the event, including several members of the Velasco and Wetzel families; university faculty, staff, and leadership, including interim Provost Rafik Mohamed, and Chief Information Officer and Vice President for Information Technology Services Sam Sudhakar; a representative from the San Bernardino Police Department, and community members. Mike Chao, chair of the Department of Biology, and Terezie Tolar-Peterson, chair of the Department of Health Science and Human Ecology, also attended, as did Brian Levin, professor of criminal justice and director of the CSUSB's Center for the Study of Hate and Extremism.
Michael Nguyen, a former adjunct faculty member in the Department of Health Science and Human Ecology who personally knew some of the shooting victims, rang the bell. William Van Dyke, also a health science faculty member,  delivered remarks.
"We face our pain headlong, not with fear but with the love that brought us to this point, the tears of unfaded memories for all our suffering that each and every one of us has had to overcome," he said. "Be strong in your conviction. Hold tight to your faith. Never let the dark diminish the light in your hearts. And know that you are loved."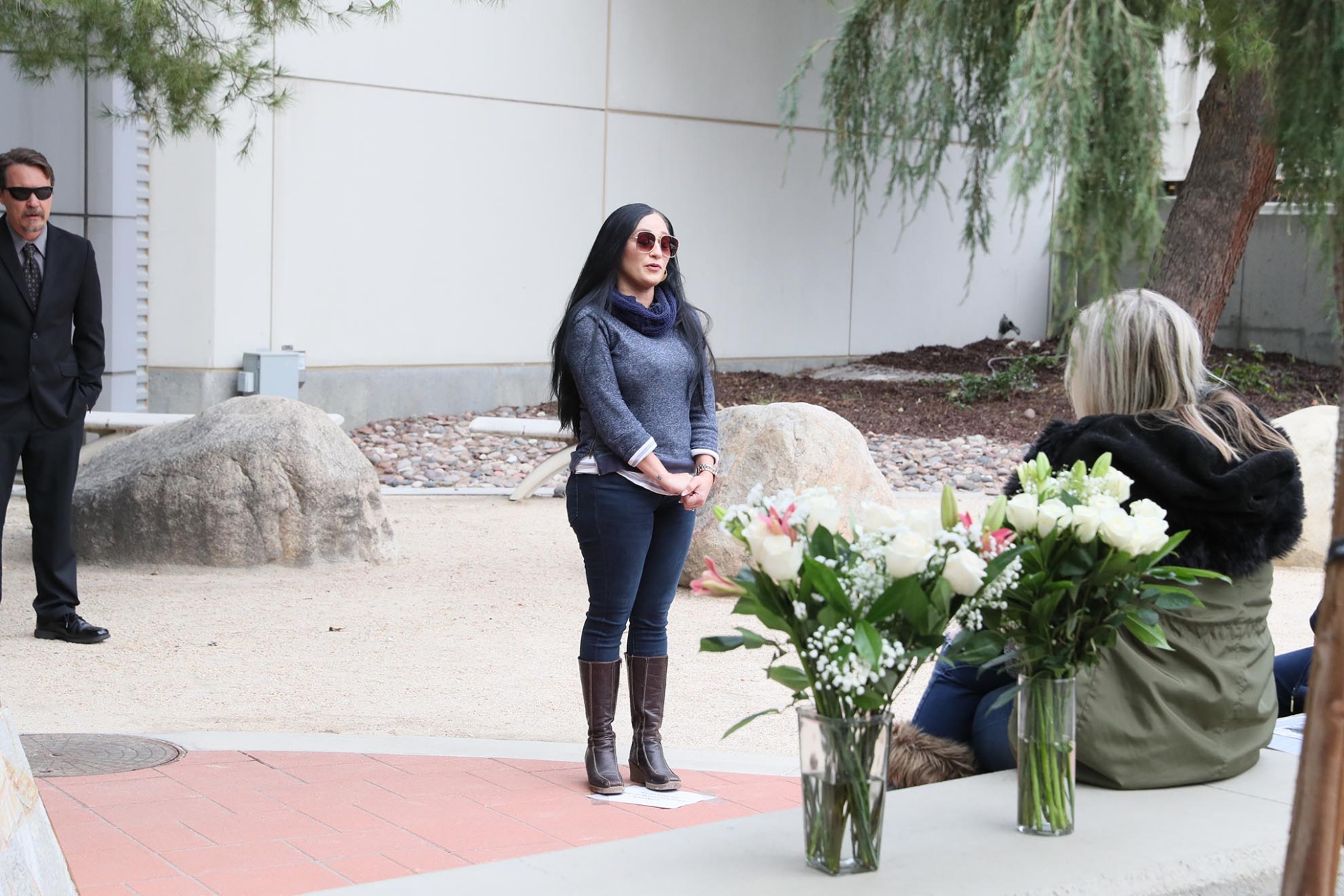 Erica Porteous, the sister of Yvette Velasco, also spoke, thanking the college and CSUSB community for keeping the Day of Remembrance tradition alive.
The other individuals who were honored were Isaac Amanios, Fontana; Bennett Bet-Badal, Rialto; Harry Bowman, Upland; Sierra Clayborn, Moreno Valley; Aurora Godoy, San Jacinto; Larry Daniel Kaufman, Rialto; Damien Meins, Riverside; Tin Nguyen, Santa Ana; and Nicholas Thalasinos, Colton.
All 14 individuals were San Bernardino County Department of Public Health employees who were attending a training session and holiday gathering at the Inland Regional Center in San Bernardino on Dec. 2, 2015.
"May our time together today continue to echo in the weeks and months ahead," Pantula said in his closing remarks. "May we continue to find great, heartfelt meaning in the lives of our dear departed."