CSUSB awards inaugural President's Medal to Richard 'Cheech' Marin
The annual President's Holiday Dinner is a showcase of Cal State San Bernardino's accomplishments and also a time to honor supporters, donors and its Philanthropic Foundation Board of Directors.
But the highlight for this year's event, held at the Mission Inn in Riverside on Nov. 30, was the first-ever awarding of the President's Medal, which was presented by CSUSB President Tomás D. Morales to Richard "Cheech" Marin.
"Mr. Marin was selected because of his accomplishments as an actor, author of children's books and a preeminent collector of Chicano art," said Morales. "His recent partnership with the Riverside Art Museum to establish The Cheech Marin Center for Chicano Art and Culture is having a huge positive impact right here in the Inland Empire. 'The Cheech,' as this museum is affectionately named, has already become a cultural icon and destination."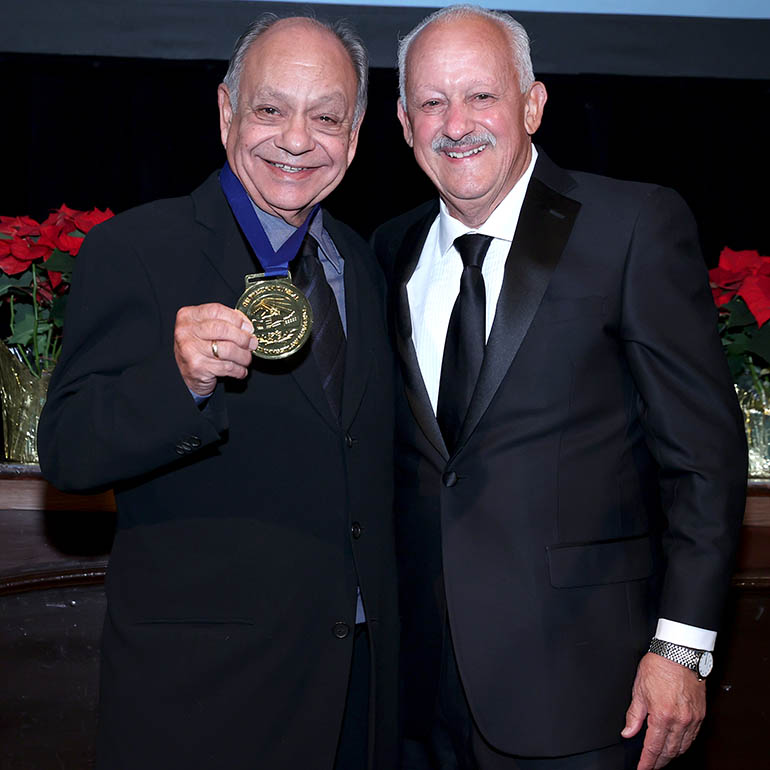 "Literally born in East L.A., this multi-talented man has refused to rest on his laurels and has instead continued to create, to perform and to give back to the community. He has become an icon, and one who is now sharing his energy and largesse with the people of the Inland Empire," Morales said. "We are incredibly honored that he has graciously accepted this inaugural CSUSB President's Medal."
The CSUSB President's Medal was created and presented in recognition of an individual's extraordinary achievements to a field, profession or our nation, and/or to individuals who have made outstanding contributions to the wellbeing of others. The recipients have not attended and/or are not graduates of CSUSB.
The university's leadership and alumni regard the CSUSB President's Medal as evidence of genuine eminent distinction.
Best known as one half of the hilariously irreverent, satirical, counter-culture, no-holds-barred duo Cheech and Chong, Marin is a multi-generational star and widely acknowledged as a cultural icon. His memoir, entitled "Cheech is Not My Real Name…But Don't Call Me Chong!," was released in 2017. Along with films and award-winning albums as the comedy duo, Marin wrote, directed and starred in the comedy "Born In East L.A," has appeared in over 20 films, and has been a television staple from many years appearing in action, dramas and comedies.
He has appeared in animation film roles ("Oliver & Company," "The Lion King," "Cars" and more) and as an author of children's books, such as "Cheech the School Bus Driver," 
Marin is recognized as a preeminent Chicano art advocate. In the mid-1980s, he began developing what is now arguably the finest private collection of Chicano art. Much of it formed the core of his inaugural exhibition, "Chicano Visions: American Painters on the Verge," which broke attendance records during its groundbreaking 15‐city tour during 2001‐2007 to major art museums across the U.S.
Following the success of Chicano Visions, over a dozen additional exhibitions drawn from the Cheech Marin Collection have toured more than 50 major art museums across the U.S. and Europe under the direction of Melissa Richardson Banks.
Marin's goal to introduce Chicano art to a wider audience has resulted in his partnership with the city of Riverside and the Riverside Art Museum. The Cheech, which opened on June 18, serves as the permanent home for his more than 700 works of Chicano art, including paintings, sculptures and photography. Collectively, it is the most renowned Chicano art collection in the United States and already a must-visit location in the Inland Empire.
Marin is a nationally ranked golfer, active in the charity circuit. Married to Russian-born classical pianist Natasha Marin, the couple resides in Pacific Palisades.