CSUSB accelerates research through connections to high performance computing
California State University, San Bernardino has been selected as a sub-awardee, along with San Diego State University (SDSU), in a National Science Foundation (NSF) grant.
The five-year, $6.7 million grant will help train and create cyber infrastructure professional positions to support faculty research. CSUSB and SDSU will lead the way to serve Hispanic-Serving Institutions and Minority-Serving Institutions. CSUSB's portion of the sub-award is $1.2 million over five years.
Last year, due to the volume of research computing by CSUSB faculty, Cal State San Bernardino was selected to have its own graphics processing unit (GPU) node, providing access to computing resources normally available only to Research 1-classified universities.
The new GPU node provides a boost to CSUSB's High Performance Computing Initiative (HPCI), which provides the university's faculty, students and staff with access to high-performance computing resources at various supercomputing centers. All the university's faculty and student projects that can use these resources are welcome and can begin immediately.
As described by Intel, GPUs are used in graphics and video rendering. Originally tied to gaming, they are becoming increasingly important in artificial intelligence, or AI. GPUs complement central processing units (CPUs) in computers and accelerate computer graphics workloads.
One of the top five institutions in the CSU for faculty-led research, CSUSB's need for increased computing power has grown over the years. Originally, faculty worked on their own to garner resources from colleagues and partner institutions. However, in order to support its faculty and grow CSUSB's research infrastructure, the university took over the role of identifying high performance computing resources.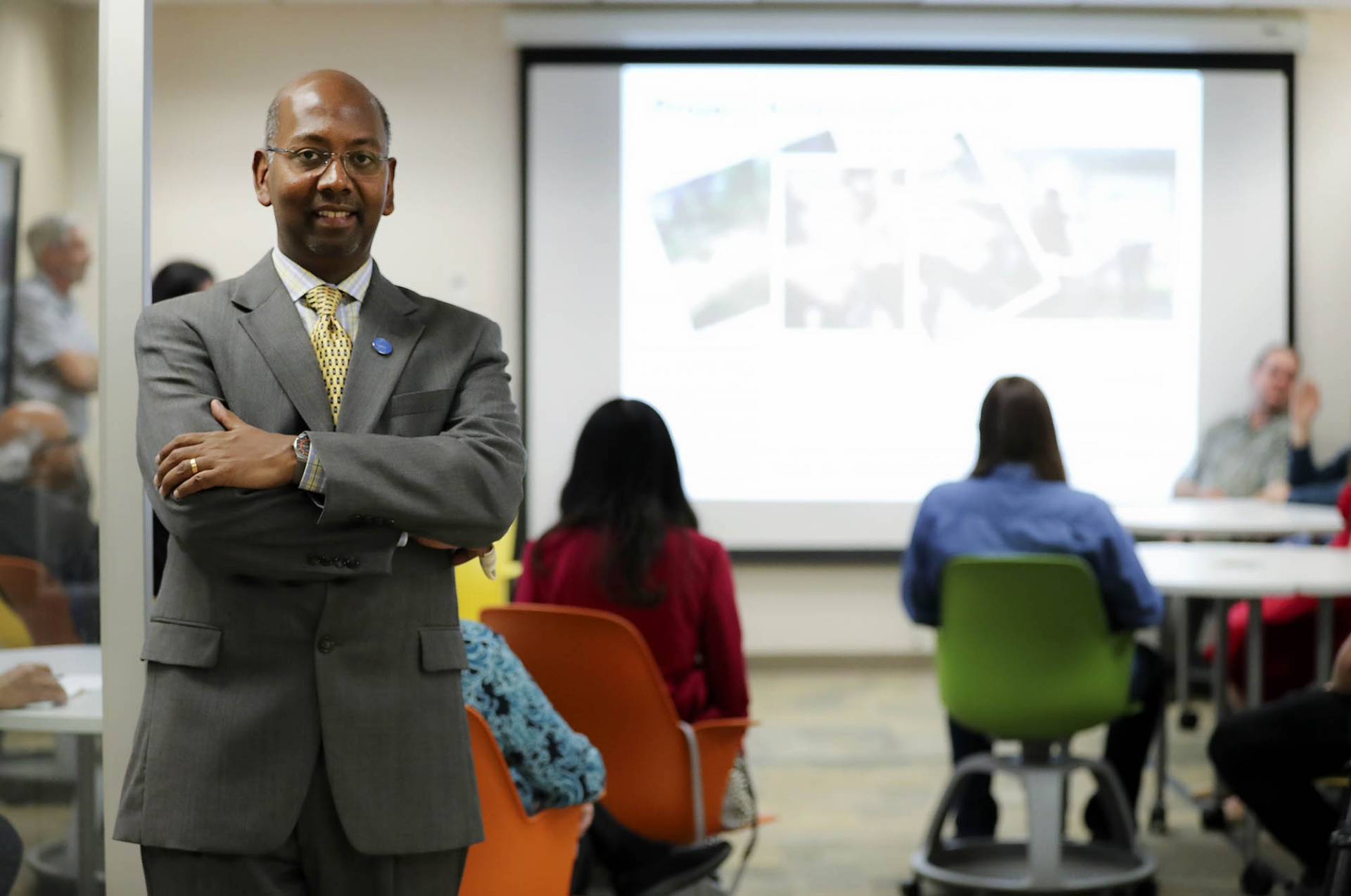 Through a years-long process of investigation, outreach and partnership building, CSUSB was the second CSU to join the Pacific Research Platform, or PRP, in 2017. A partnership of more than 50 institutions, PRP was introduced by CENIC (Corporation for Education Network Initiatives in California) that same year. It is led by researchers at UC San Diego and UC Berkeley and includes the National Science Foundation, Department of Energy, and multiple research universities in the U.S. and around the world.
"The PRP builds on the optical backbone of Pacific Wave, a joint project of CENIC and the Pacific Northwest GigaPOP (PNWGP), to create a seamless research platform that encourages collaboration on a broad range of data-intensive fields and projects," shared Sam Sudhakar, chief information officer and vice president of CSUSB's Information Technology Services.
He said that ensuring CSUSB is a part of partnerships such as this increase access and grow the university's high-performance computing ability significantly. The university's commitment to research has also garnered attention.
"For example, CSUSB was one of eight CSU campuses in 2018 upgraded to a 100 Gig link to California Research and Education Network (CalREN), operated by CENIC. One of the reasons CSUSB was chosen for this upgrade was its focus on supporting faculty-led research," Sudhakar added.
Members of the HPCI include: deputy CIO and chief information security officer Gerard Au; analyst/programmer Dung Vu (information security and emerging technologies); lead infrastructure analyst James Macdonell (information security and emerging technologies); HPCI Faculty Fellow and assistant professor (mathematics) Youngsu Kim; and associate vice president for faculty development and chief academic technologies officer Bradford Owen. 
The full list of HPCI-affiliated faculty include: Kate Liszka, associate professor of history, Benson and Pamela Harer Fellow in Egyptology, and director of the Wadi el Hudi Expedition; Bryan Kraemer, research Egyptologist, educator at the CSUSB Robert and Frances Fullerton Museum of Art and co-director of the Wadi el Hudi expedition; Joyce Pham, assistant professor of chemistry and biochemistry; Suthakaran Ratnasingam, assistant professor of mathematics; Benjamin J. Becerra, assistant professor of information and decision sciences; Essia Hamouda, associate professor of information and decision sciences; Jeffrey Meyer, associate professor of mathematics; and Youngsu Kim, assistant professor of mathematics.
ITS' mission is to support student, faculty and staff success by providing world-class customer service, fostering faculty-led innovation and research, and enhancing operational efficiency through the effective use of information technologies. Learn more at the ITS website.