Exploring racial equity in early childhood education
Research shows that as early as 6 months, children start grouping people by the color of their skin and children as young as 3 years old can start showing bias toward preferred skin color.
"The idea around being 'colorblind' doesn't exist," says Amy van Schagen, associate professor in the child development department at Cal State San Bernardino. "I think that it's something some people say, but they don't necessarily know that there's research around it that shows otherwise."
Van Schagen is a researcher who examines racial, ethnic and cultural diversity; teacher development and work environments; and access to high quality early childhood education for marginalized groups. With her extensive background, she decided to explore potential race inequity and experiences in racism with the early childhood workforce in San Bernardino County.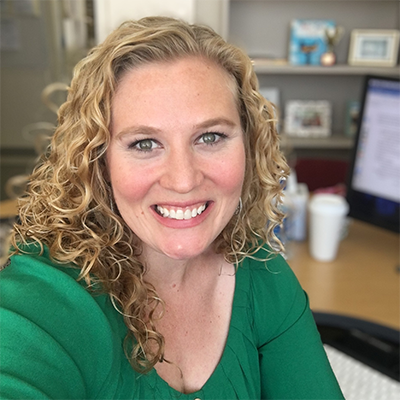 The project's principal investigator, Amy van Schagen developed a survey and an interview component as part of the grant.
"It is my responsibility in my position to ensure areas of inequities based on race are identified," she says.
Her work with Quality Start San Bernardino County, a nonprofit organization working to raise the quality of early learning programs in the county, influenced her to dig deeper in her research.
"There are lots of players at the table, and something that came up last year was thinking about whether our Quality Start initiatives are equitable, and if they have embedded racial inequities," she explains. "That was something we wanted to think about – more largely within early childhood education within our county."
Thanks to First 5 San Bernardino, a government organization that serves children prenatal through age 5 and their families, a grant of nearly $168,000 was awarded to the Institute for Child Development and Family Relations at CSUSB to explore the topic.
The project's principal investigator, van Schagen developed a survey and an interview component, conducted by student research assistants, for early childhood educators in San Bernardino County. This includes childcare teachers, assistant teachers and directors, who work with infants to children up to 5 years old.
"What we're really looking at is perceived experiences with racism within early childhood education within their workplace," van Schagen says. "What are teachers, directors, assistant teachers of color reporting and what are they experiencing?"
The reactions of those who have been asked to participate, she says, have been understandably mixed.
"There are some folks that have reached out individually and thanked the team for doing this and exploring this avenue; we've also had others who are hesitant," she says. "That's not super surprising since it is a sensitive topic, and it can be a really hard topic for some folks to talk about."
Other topics explored in the surveys and interviews include microaggressions, mental health, wages and how teachers feel about discussing racism inside the classroom.
"It's one piece of the puzzle," van Schagen says. "We're really thinking about racial equity and being purposeful and thinking about the whole system of early childhood education. Being able to think about what these results mean, coming up with an action plan, and sharing it with both First 5 San Bernardino and Quality Start San Bernardino."
Together, with First 5 and Quality Start, they will analyze the results once the survey concludes at the end of September, address the microaggressions and the systemic inequities they may be seeing, and create meaningful work that can create change.
The next piece of the puzzle, van Schagen explains, includes creating workshops and education supports for teachers currently in the field. Eventually, she would like to explore higher education and see how – or if – institutions in the county with childhood development and childhood-focused programs are being purposeful and ensuring that biases aren't seeping into their curriculum.
"There are multiple moving parts that we see, and this will continue in the years to come, because we can't solve racial equity issues overnight," van Schagen says. "It's a long-term process that we really want to be intentional about."