Joe Gutierrez | Office of Strategic Communication | (909) 537-3007 | joeg@csusb.edu
French instructor named CSUSB's 2021-22 Outstanding Lecturer
Valérie Morgan, who has been an instructor of French at Cal State San Bernardino since 2003, was praised for her work as she was surprised with the news that she had been named the university's Outstanding Lecturer for 2021-22.
Morgan, who was teaching a class on May 11, was startled when CSUSB President Tomás D. Morales entered the room accompanied by more than a dozen faculty colleagues, previous outstanding faculty winners, staff and university administrators.
"This is a special occasion as we are here to present the 2021-22 Outstanding Lecturer Award to Valérie Morgan," Morales said. "She is receiving this award based on her exceptional instruction, capacity to engage her students and the extremely positive feedback she receives from those she has taught."
"Morgan is a dedicated educator, has an extraordinary teaching record, and is a tremendous asset to CSUSB," Morales said.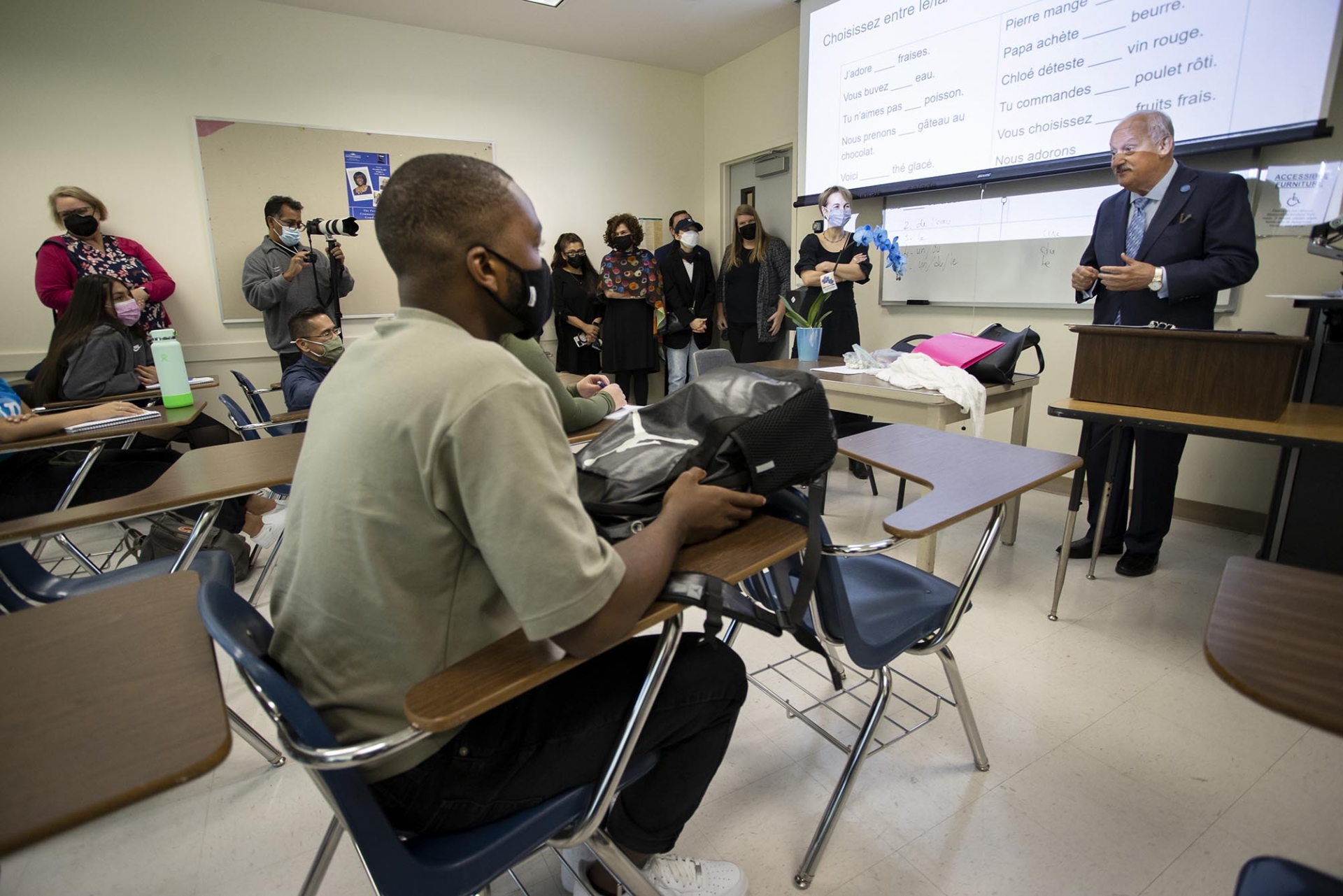 Provost Shari McMahan told Morgan's students, "We have about 2,000 classes each semester that are taught by lecturers, so having your professor be the Outstanding Lecturer is quite an honor."
McMahan then addressed Morgan directly. "We are so proud of you," she said. "You serve as a role model for all our lecturers. We know you have a thirst for knowledge with all your professional development."
Rueyling Chuang, dean of the College of Arts and Letters, told Morgan, "I am very proud of you. This is a very prestigious award." She also noted that she remembers Morgan being an early adopter of online teaching when CSUSB was still on a quarter system, and Morgan's classes quickly became a model for online courses. "You are an excellent professor for your French language classes and also for French literature … Thank you so much for helping us in educating our future."
Morgan was speechless.
"I really don't know what to say," she laughed. "Most importantly, I want to thank my students for being here because it's been a tough time these past few years and you really rock!"
"Thank you so much," she said. "This is amazing and really, really unexpected, so I am very moved."
As the Outstanding Lecturer, Morgan will receive a $1,000 faculty professional development grant, recognition at the College of Arts & Letters commencement ceremony on May 21 and will be honored along with the outstanding faculty awardees at the faculty recognition luncheon.
Morgan, a lecturer in French in the Department of World Languages and Literatures (WLL), teaches or has taught all levels of French, has created two new courses, Online French Literature in Translation and French 101 (as online and then hybrid), and reinvigorated WLL 3120 Pedagogies in Foreign Language Teaching, wrote the co-chairs of the 2021-22 University Awards Committee, Kelly Campbell, a professor of psychology and 2020-21 Golden Apple award winner, and Katherine Gray, chair of the art and design department and 2021-21 Outstanding Professor award winner, in a nominating letter to Morales.
Along with Campbell and Gray, the committee members were Todd A. Johnson, professor of music, College of Arts and Letters; Christopher Gentry, associate professor of kinesiology, College of Natural Sciences; and Richard Samuelson, associate professor of history, College of Social and Behavioral Sciences.
Since the beginning of the semester system, Morgan has prepared and taught nine different courses, as compared to the usual one or two for part-time lecturers, the co-chairs wrote.
In her Student Evaluations of Teaching Effectiveness (SOTE) scores, "Ms. Morgan's students all praise her helpfulness, preparedness, and devotion to their success in her courses. Comments commonly include "makes sure everyone understands," "very helpful" and "excellent!" the co-chairs wrote.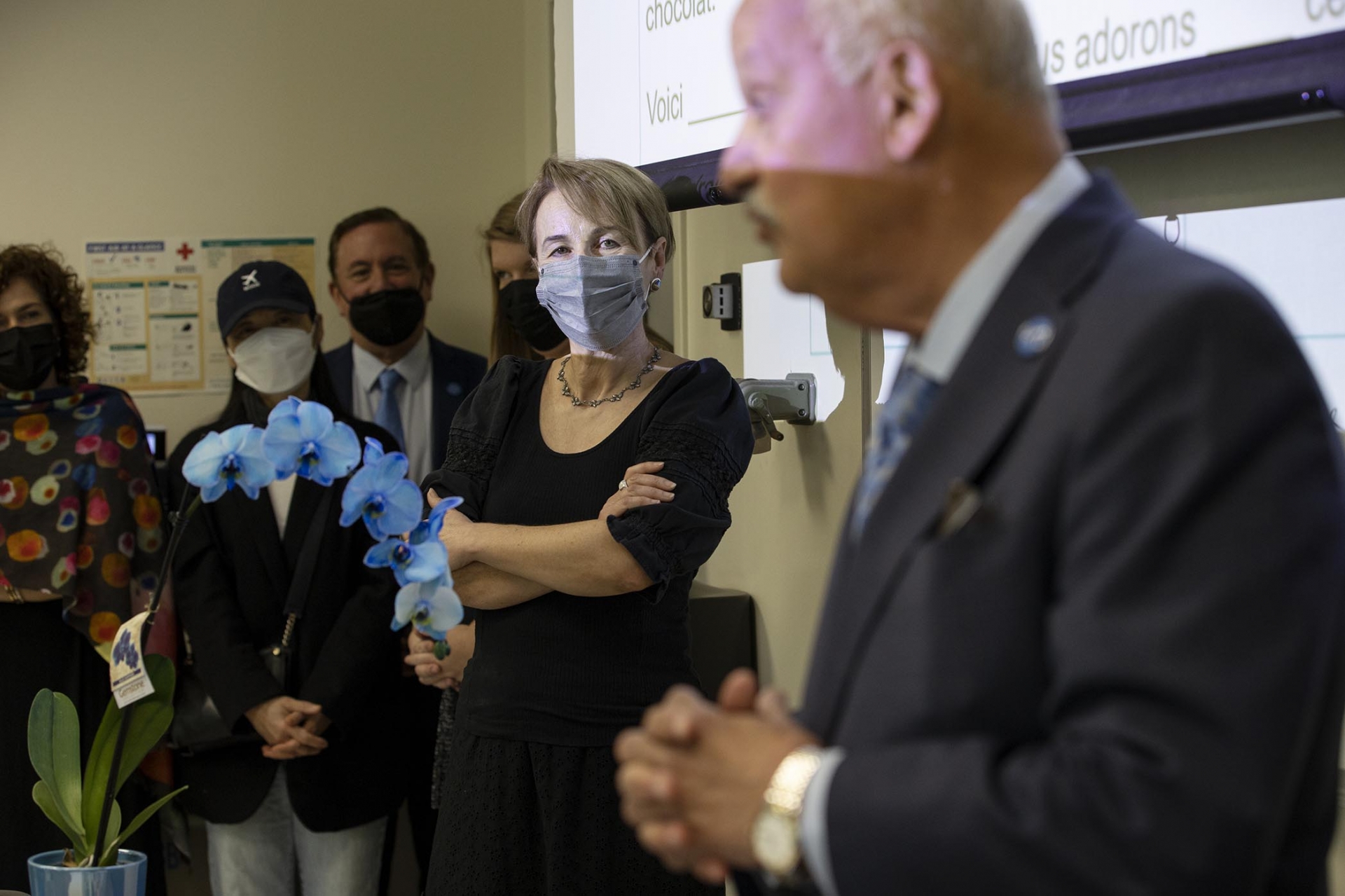 One of Morgan's classroom visitation reports "cites an innovative teacher who is always trying to engage her students in new ways, and this came after 15 years of teaching under her belt."
Morgan was also lauded as an early adapter of online technologies to enhance student learning, creating fully online and successful courses that allows students to learn at their own schedule within a certain timeframe, which proved to be models used by her colleagues in the world languages and literatures department.
"It should be that at that time, she very generously gave of her time and expertise to her colleagues who were not adept in the online world, to help them (and their students) flourish in the unfamiliar modality," the co-chairs wrote. "To wit, as part of a Professional Development Workshop Series for Future Language Teachers sponsored by the National Collegiate Hispanic Honor Society, she gave a workshop entitled Review And Discussion: Activities For Small and Large Groups in the Foreign Language Classroom."
The committee also quoted a letter from WWL department chair George Thomas.
"The content and organization of Professor Morgan's courses are always impressive. Her pedagogical practices and teaching materials (particularly her rubrics, classroom activities, and Blackboard/LMS sites) are consistently impressive," Thomas wrote. "Her teaching practices and materials are a model for what all professors should emulate in their classrooms because they clearly demonstrate that she has spent a lot of time thinking about her course learning objectives and creating a broad range of creative assignments, activities, and assessments to help students achieve these objectives."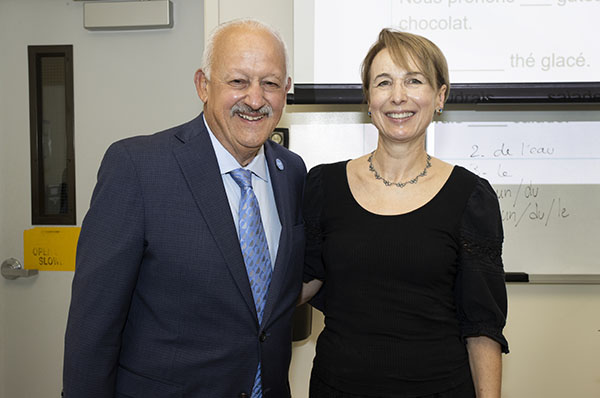 Morgan is also a regular participant in various workshops offered by the CSUSB Academic Technology & Innovation, the CSUSB Teaching Resource Center, the American Council of the Teaching of Foreign Languages (ACTFL), the California Language Teacher Association (CLTA) and the Inland Empire Foreign Language Association (IEFLA). She is also an active participant in the Affordable Learning Solutions Program, seeking the best quality open-source materials for her students.
And according to her former department chair, Professor Terri Nelson, Morgan, in reviving a once dormant course, "has created a course that helps prospective language teachers gain insights about how to apply theories of language acquisition to create classrooms that are dynamic and engaging. She regularly attracts not only students in majors and minors from the Department of World Languages and Literatures but also liberal studies students and students from other degree programs who are considering using their language skills to pursue teaching careers!"
Prior to joining CSUSB, Morgan was a lecturer of French at the University of California, Riverside and before that taught French at the Colton Unified School District.
Morgan has a bachelor of arts degree and a master of arts degree both in English from Université Jean Moulin, Lyon, France. She holds a master of arts in French and a master of advanced studies in French, both from Université Stendhal, Grenoble, France.