Geological sciences professor surprised with Outstanding Scholarship Award
Erik Melchiorre, a professor of geological sciences at Cal State San Bernardino, was walking with Sastry Pantula, dean of the College of Natural Science, as part of a meeting.
They approached the college's Peace Garden when they saw CSUSB President Tomás Morales standing in the garden with about 25 faculty, staff and administrators, who all began applauding.
"We're gathered here to recognize our colleague, Dr. Erik Melchiorre, for his impressive record of professional accomplishments and recognition this year and his many, many contributions to the field of geological sciences," Morales said. "His colleagues, our colleagues have voted to present Erik with the 2021-22 Outstanding Scholarship, Research, Creativity Award."
Melchiorre, who joined CSUSB in 2002, had just experienced a campus tradition known as the "faculty ambush," a long-time and much celebrated CSUSB tradition in recognizing outstanding faculty.
In receiving the award, Melchiorre will receive a $2,000 faculty development grant, receive recognition at this year's College of Natural Sciences Commencement ceremonies and be honored at the annual faculty luncheon, Morales said.
"The provost and I feel very, very fortunate, we should all feel very fortunate, to call Erik a friend and colleague here at Cal State San Bernardino," Morales said.
Provost Shari McMahan thanked Melchiorre for his work with students.
"I really appreciate your efforts to enrich student learning and make that a high-end practice for our students," said McMahan. "You and your students have mapped and studied abandoned mine lands and environmental issues in the Mohave Desert and captured 3-D imagery to assist environmental studies. These high impact practices, which include using cutting-edge technology and field-based learning, which we know is a high impact practice, play a critical role in the success of our students and that's why we're all here, for our students."
Dean Pantula said Melchiorre is a committed instructor, committed researcher and great communicator who is successful in getting support for the department and its programs from foundations, and is a strong advocate for the department for student funding and equipment funding.
"He's a very, very dedicated researcher. He's very dedicated when it comes to student success. He is also very dedicated in terms of mentoring junior faculty in the department," Pantula said.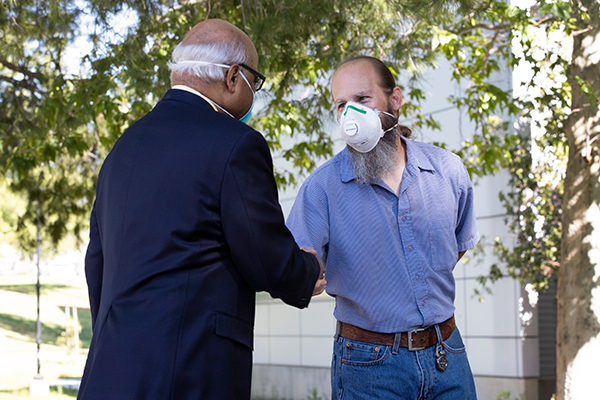 Melchiorre gave credit to geological sciences faculty and administrators he has worked with over the years.
"It's been through mentorship over the years by a number of really strong colleagues including those who are not here right now. I miss Lou Fernandez (the former provost and vice president for academic affairs, who passed away on March 28). That was a big loss," Melchiorre said. "The mentorship of people over the years such as Dean Kirstie Fleming has been really, really important in helping guide me."
"I'm just the tip of the spear. The geology department deserves a lot of the credit for working hard with our students and that makes it easy for someone to excel," Melchiorre said. "Thank you for honoring me with this. I really do appreciate it."
CSUSB's 2021-22 University Awards committee, which recommended Melchiorre for the award, wrote in a letter to Morales that the geological sciences professor "has collaborated interdisciplinarily with colleagues and students at the university. He has maintained a high level of productivity throughout his years at CSUSB, including during the most recent COVID pandemic, which has been a particularly challenging time for research."
The awards committee, co-chaired by psychology professor Kelly Campbell, and art and design department chair and professor Katherine Gray, wrote that since Melchiorre joined the university, he has authored 36 peer-reviewed journal articles, including 23 that are first authored, and 21 that have included student co-authors. His publications are consistently in high-impact journals.
The other members of the committee were Todd A. Johnson, a professor in the music department,  Christopher Gentry, an associate professor in the kinesiology department, and Richard Samuelson, an associate professor in the history department.
In his most recent activities, "Melchiorre published three first-authored manuscripts in 2017, three in 2018, two in 2019, one in 2020, one in 2021, and already one in 2022! He has additionally co-authored numerous articles during the past several years, including five in 2021 with student authors listed first."
Melchiorre also has a track record of securing external funding for his work. The committee wrote, "Along with his collaborators, he has acquired over $2 million in external awards, and his funding comes from reputable, highly competitive agencies including the National Science Foundation and NASA."
Melchiorre is also recognized as a leader in his field, regularly collaborating with international scholars, including hosting foreign students and serving on international doctoral dissertation committees.
He also includes his students in international research, including taking students from the U.S. on field work assignments abroad to countries such as Australia and Chile.
He has also been called upon by the media to convey research-based information to the general public. For example, he has appeared on the Australian Broadcast Channel and served as a technical advisor for the Discovery Channel series "Gold Fever."
Melchiorre was recently elected to serve as the 2021-22 chair of the CSU Desert Studies Center Board of Governors, and he maintains active membership in several professional associations including the American Indian Science & Engineering Society and the Society of Chicanos and Native Americans in Science (SACNAS).
Prior to joining CSUSB, Melchiorre was an assistant professor of geology at DePauw University, an adjunct professor of geology at the University of Wisconsin, director of the sustainable development department at College of the Menominee Nation, an AWU Fellow at Isotope Science Division Lawrence Livermore National Lab, and a summer mine geologist for Cypress Bagdad Copper Corp.
Melchiorre holds a bachelor's degree in geological sciences from the University of Southern California, a master's degree in geology from Arizona State University and a doctorate of philosophy in earth and planetary science from Washington University in St. Louis.