Two powerful voices join the CSUSB Womxn's Leadership Conference
Nalleli Cobo, environmental activist, and Funmilola Fagbamila, playwright, scholar and artist, joined Cal State San Bernardino's Womxn's Leadership Conference on March 24 to share their stories and empower the audience to stand up and make positive changes within the community.
First, Cobo joined the conference via Zoom to discuss her and her community's battle against environmental racism. Growing up next to an oilwell in University Park, a low-income, mainly Latino neighborhood in Los Angeles, Cobo and many others within her community became physically ill.
"It's a toxic silent killer," she explained, who started feeling the effects of an AllenCo oilwell at the age of nine. "My nosebleeds got to the point where I couldn't sleep in my own bed at night and had to sleep in a chair to prevent choking on my own blood."
Along with stomach cramps, nausea, headaches and the eventual development of asthma, her experiences were not isolated, as numerous people within her neighborhood had the same debilitating symptoms. And they had enough.
Cobo, as young as she was, began her journey in activism and started going door to door after school, and helping arrange townhall meetings and organize hearings to share their stories.
"As a community we turned ourselves from victims to fighters and activists. We began raising our fists in the air to demand our rights," she said.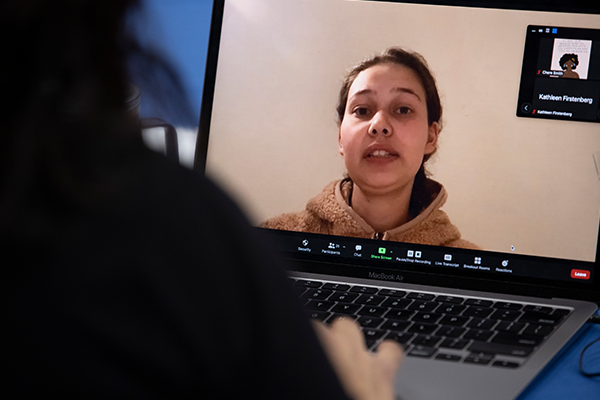 After the Los Angeles Times got ahold of their story, Cobo and her community finally started getting the attention they needed. In 2013, when Cobo was 12, AllenCo suspended operations at the well.
Two years later, in 2015, the South Central Youth Leadership Coalition, which Cobo co-founded, joined other organizations to sue to city of Los Angeles for rubber stamping oil projects in communities of color. As a result, the city adopted new requirements for drilling applications. The oil industry countersued and lost.
In 2020, at the age of 19, Cobo was diagnosed with stage 2 cancer. "It was invasive and aggressive. It affected my entire reproductive system," she said, noting that she remembers reading a sign multiple times growing up on AllenCo's wall that read, "Dangerous chemicals known to cause cancer, birth defects and reproductive harm."
She had six organs and 22 lymph nodes removed, followed by numerous rounds of chemotherapy and radiotherapy. She says she lost a lot to cancer, including her ability to have children, but she "did not lose her strength." She is now cancer free.
"I encourage you all to be a leader. To stand up first and let people follow," she said to attendees in her closing remarks. "It just takes one person."
Fagbamila took the stage in the afternoon to talk about "meeting at the intersection."
"When we talk about meeting at the intersection, we're talking about doing the work of creating space for sisters of all sorts to express their honest truth regardless of how it may make any one of us feel," she explained. "The work that we have to do is so serious. It's work that we have not actually been trained to do, which is to put our comforts to the side a lot of the time and create space for sisters that might have a different experience than us."
Fagbamila says she constantly "checks herself" to make sure she is creating that space, noting that it becomes our work to sit at the uncomfortable intersection, at the complexities of all of our different identities. Leadership, she says, is about creating that very space.
"Leadership is not about getting on a podium and saying something that sounds very charismatic," she said. "It is about what you do to lend yourself to the betterment of the processes, practices, cultures and systems that exist in this generation in order to get better for the next generation."
Fagbamila discussed the importance of putting our egos aside and dropping our anxiety of being judged in order to move forward, an act that she calls "walking through the fire."
"Hiding will not cure that anxiety; it might exacerbate it," she explained. "The anxiety will come either way. If you walk forward through the anxiety, you may help someone and help yourself in that mission … I call it walking through the fire."
She acknowledged how we are still working hard to create a world where we can be our fullest selves without getting the constant cultural pushback – pushback that makes women want to make themselves smaller. She encouraged attendees to continue to walk forward courageously.
"There will be days when it feels challenging to be courageous," she said, "but on the other side of that fire, you will feel happy that you walked through it."
CSUSB's Womxn's Leadership Conference also included breakout sessions and a panel discussion.
This March, CSUSB is celebrating Womxn's History Month with the theme "Meeting at the Intersections: What's HERstory?" to highlight the significance of intersectionality in the movement for justice and gender equality.
The term "womxn" is used as an objection to the patriarchal idea that womxn are an extension to men and the inclusion of all womxn go beyond just cisgender (non-transgender) women.